The term "aquarium", coined by English naturalist Philip Henry Gosse, combines the Latin root aqua, meaning water, with the suffix -arium, meaning "a place for relating to". The aquarium was launched in early Victorian England by Gosse, who created and stocked the first public aquarium at the London Zoo in 1853, and published the first manual, The Aquarium: An Unveiling of the Wonders of the Deep Sea in 1854. An aquarium is a water-filled tank in which fish swim about. Small aquariums are kept in the home by hobbyists. There are larger public aquariums in many cities. This kind of aquarium is a building with fish and other aquatic animals in large tanks. A large aquarium may have otters, turtles, dolphins, and other sea animals. This project I will carry out in a turtle aquarium of 75x45x35 cm.

GOALS:

The DHT11 sensor, will measures the temperature and humidity of the environment of our aquarium.
The SRF04 sensor, will measures the distance from our sensor to the water in our aquarium, and so we can have an idea of the level water.
The ADXL345 sensor, will detects the vibrations of our air pump, or when our turtles are in motion.
We are going to use Beam method, and the data will transmitt from the Wio LTE board to the end point of Beam on a 3G/4G/LTE closed network, communication encrypted and the data can be safely delivered to the Amazon Web Services.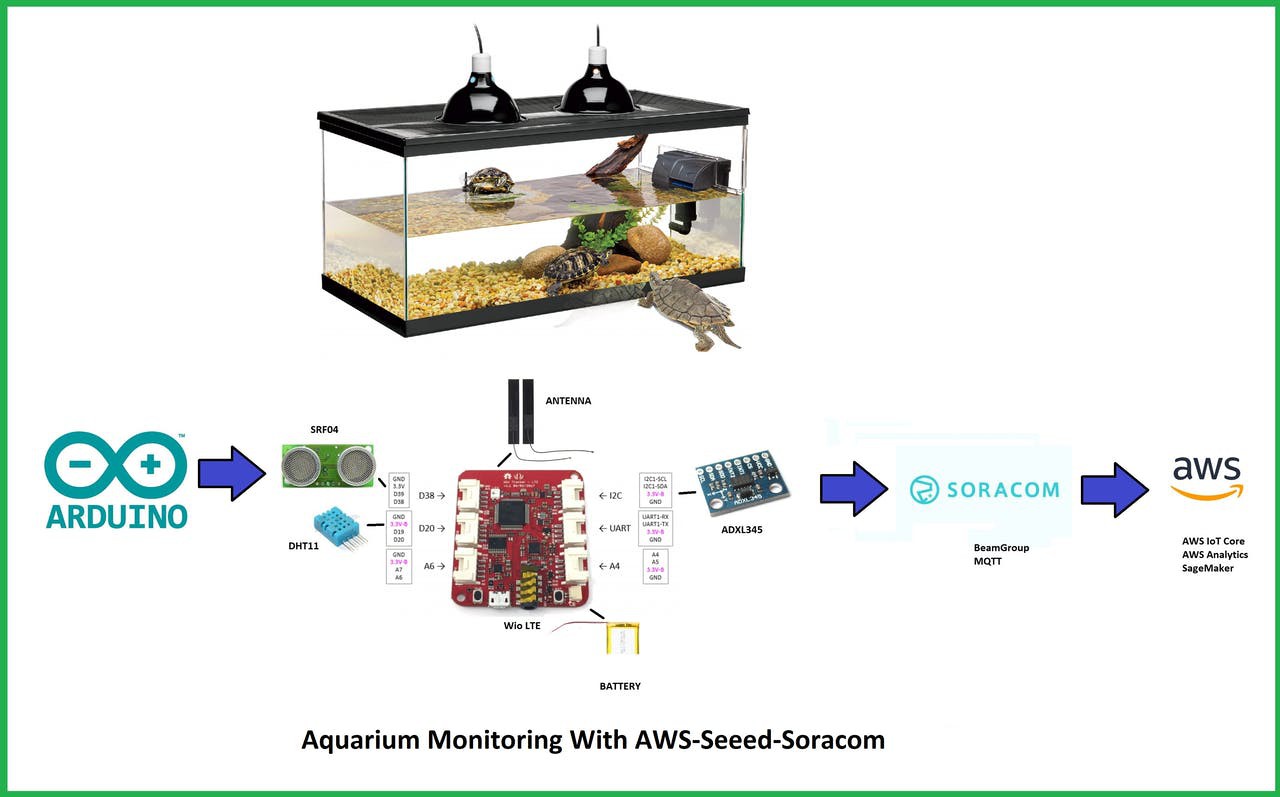 To well the understanding of this project, we have divided it into the following sections: 
COST EFFECTIVENESS
SEEED's HARDWARE
SEEED's SOFTWARE
SORACOM BEAM
AWS IoT
AWS IoT ANALYTICS
AMAZON SageMaker
TEST AND ANALYSIS
CONCLUSION
REPOSITORIES ON GITHUB
You can see my complete project at: https://www.hackster.io/guillengap/aquarium-monitoring-with-aws-seeed-soracom-a361eb