Problem with the output is that the tracks are very narrow. When soldering or working with the PCB, any metal debris or mis-soldering causes short-circuits.  The etched away tracks are so small that you need magnifying glasses to troubleshoot. Very time consuming.

So, since the gcode created, runs over the same tracks twice. I could make each run shifted from the adjacent run. Now the etched tracks are larger.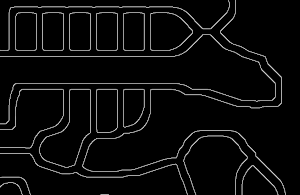 At 30pixels per mm setting the track seperation is circa 0.5mm.
Will update on real etched PCB.