Almost all the remaining parts arrived Friday.  A bundle of cut-to-length 2020 profiles, and the tempered glass panels.  See gallery.
Despite triple checking my numbers, I mis-ordered on length of profile, requesting 630 instead of 650mm.  Corrected pieces ordered Saturday, should get here Monday or Tuesday.
I also had one heck of a time with gasket materials to keep the glass securely in place.  As you will see (when I finally upload my drawings), I had a careful plan that a pair of 3mm gaskets with circular cross-sections would be perfect.  Alas, it proved to be a bear to install them.  First problem was how to install the gaskets.  I basically had two cylindrical rubber "ropes" that I had to squeeze in between the glass edges and the insides of the 2020 profile.  This was proving to be quite awkward.  The second problem was even when I had only one gasket installed, the force required to bring the frame corners together was scary.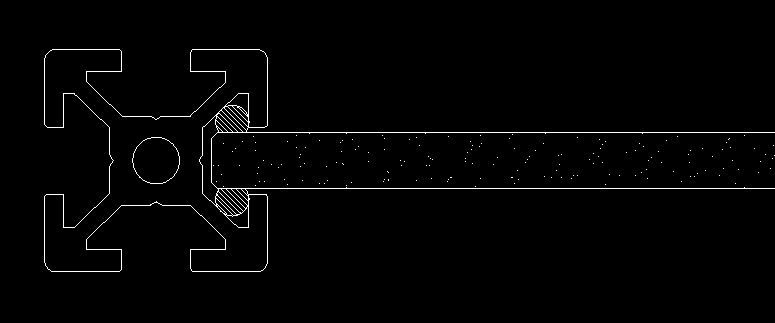 In the end, I decided this idea was overkill.  Unlike ordinary gaskets on windows, whose goal is to prevent leaks, in my application the main function is to just keep the glass from rattling in the frame.  I pulled most of the gasket material, and just left a short pieces along each edge.  Problem solved.
This discussion might be getting ahead of myself, since I still haven't posted drawings yet, but you can get the idea of the problem from this sketch above and picture of the test panel in the gallery (that test panel didn't have any gasket, and taught me that I needed one).