Introduction
In this project, we show how to use the SLG46824 / SLG46826 Arduino programming sketch to program a Dialog SLG46824/6 GreenPAK™ Multiple-Time Programmable (MTP) device. 
Most GreenPAK devices are One-Time Programmable (OTP), meaning that once their Non-Volatile Memory bank (NVM) is written, it cannot be overwritten. GreenPAKs with the MTP feature, like the SLG46824 and SLG46826, have a different type of NVM memory bank that can be programmed more than once.
We've written an Arduino sketch that allows the user to program an MTP GreenPAK with a few simple serial monitor commands. In this project we use an SLG46826 as our GreenPAK with MTP.
We provide sample code for the Arduino Uno using an open-source platform based on C/C++. Designers should extrapolate the techniques used in the Arduino code for their specific platform. 
For specific information regarding I²C signal specifications, I²C addressing, and memory spaces, please reference the GreenPAK In-System Programming Guide provided on the SLG46826 product page. This project description provides a simple implementation of this programming guide.
Below we described steps needed to understand how the IC has been programmed. However, if you just want to get the result of programming, download GreenPAK software to view the already completed GreenPAK Design File. Plug the GreenPAK Development Kit to your computer and hit the program to design the solution.
Arduino-GreenPAK Connections
To program the NVM of our SLG46826 GreenPAK with our Arduino sketch, we'll first need to connect four Arduino Uno pins to our GreenPAK. You can connect these pins directly to the GreenPAK Socket Adapter or to a breakout board with the GreenPAK soldered down.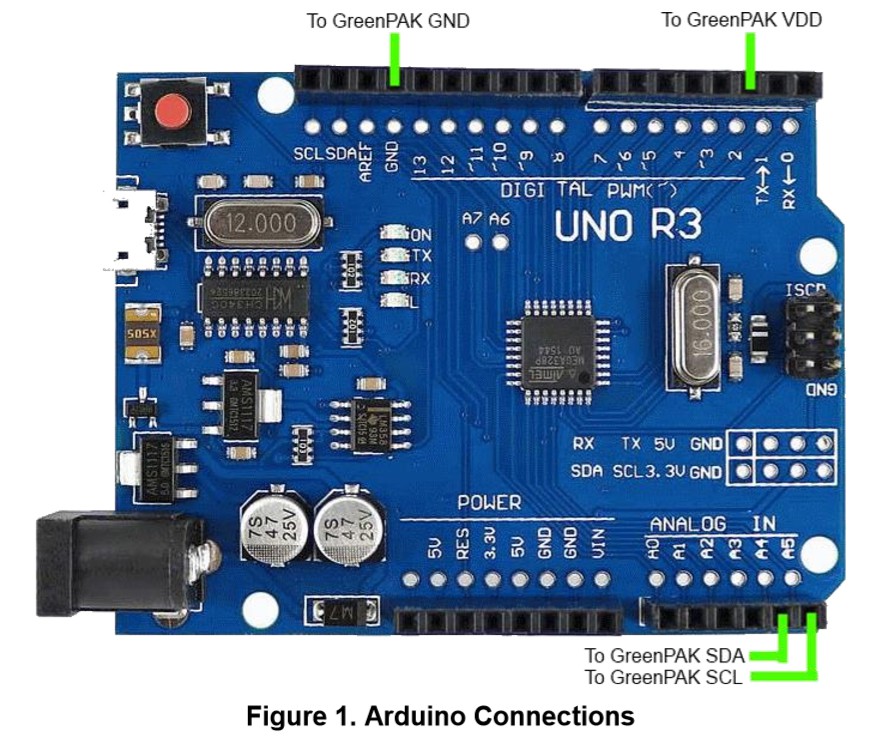 Read more »