We fixed the belt on with our new belt holder!
Also, we finished most of our optical train assembly, referencing the 
Since the base plate for the optical train lacks a ditch on it,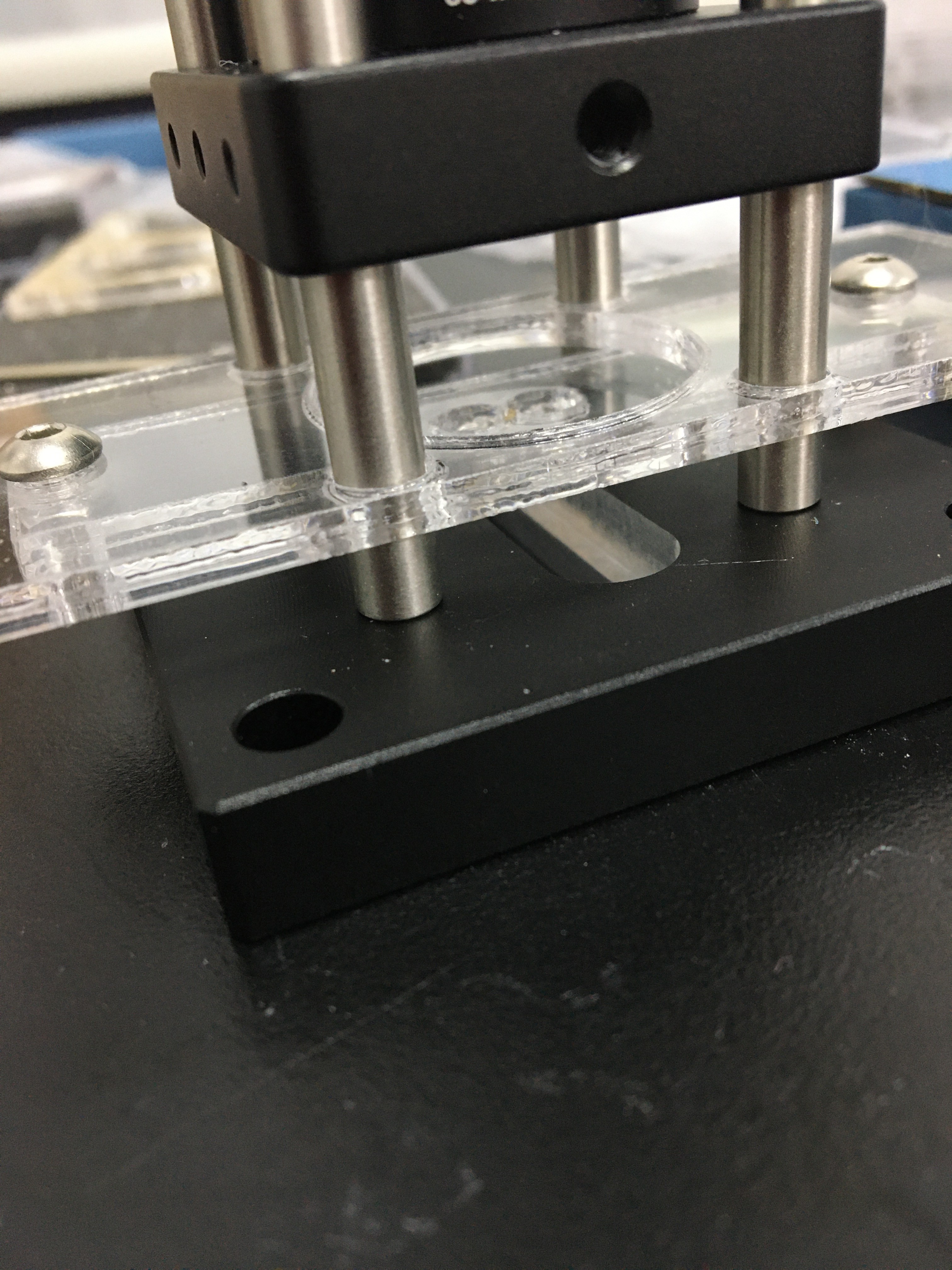 we used CNC coupled with the 360 Fusion to cut.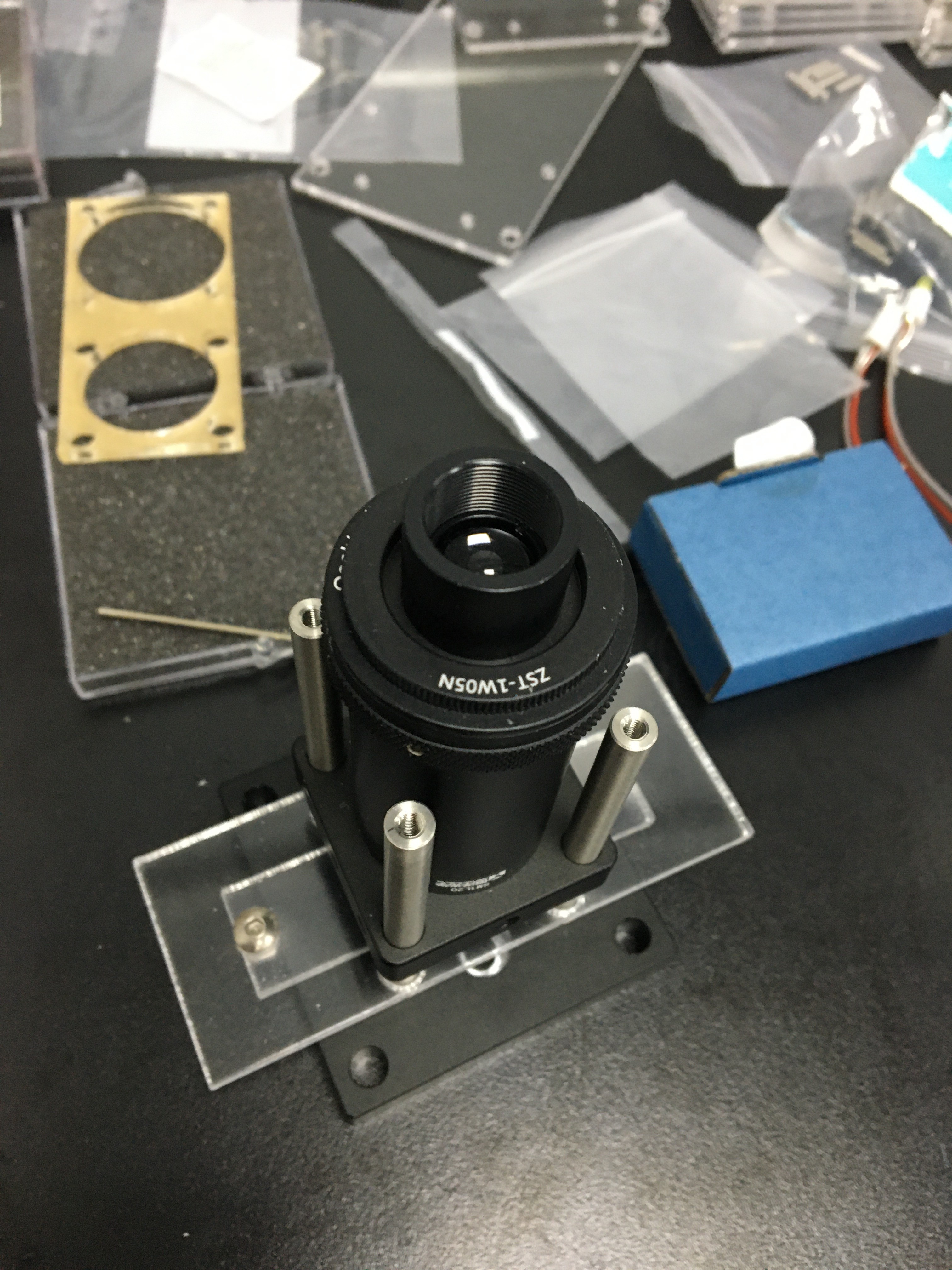 Lastly, we perfected the code for xy-axis movement.
String protocolString = ""; boolean protocolWait = false; String parsedString = ""; int startIndex = 0; String totalString = "";
String ledString = "";
unsigned long Xstepcount = 0;
unsigned long Ystepcount = 0; 
unsigned long Xstep = 0;
unsigned long Ystep = 0;
unsigned long Xmili = 0;
unsigned long Ymili = 0;
unsigned long Xstep1 = 0;
unsigned long Ystep1 = 0;
unsigned long Xstep_prev = 0;
unsigned long Ystep_prev = 0;
int period = 0;
void initOutput() {
  //digitalWrite(ENNpin,HIGH);   // Disable motors
  //We are going to overwrite the Timer1 to use the stepper motors
  // STEPPER MOTORS INITIALIZATION
  // TIMER1 CTC MODE
  TCCR1B &= ~(1<<WGM13);
  TCCR1B |=  (1<<WGM12);
  TCCR1A &= ~(1<<WGM11); 
  TCCR1A &= ~(1<<WGM10);
  // output mode = 00 (disconnected)
  TCCR1A &= ~(3<<COM1A0); 
  TCCR1A &= ~(3<<COM1B0); 
  // Set the timer pre-scaler
  // Generally we use a divider of 8, resulting in a 2MHz timer on 16MHz CPU
  TCCR1B = (TCCR1B & ~(0x07<<CS10)) | (2<<CS10);
  //OCR1A = 125;  // 16Khz
  //OCR1A = 100;  // 20Khz
  OCR1A = 80;   // 25Khz
  TCNT1 = 0;
  TIMSK1 |= (1<<OCIE1A);  // Enable Timer1 interrupt
  //digitalWrite(ENNpin, LOW);   // Enable stepper drivers
}// System Inialization Setup
const int dirpin = 13;
const int steppin =  12;
const int enpin = 8;
const int dirpin2 = 4;
const int steppin2 =  7;
int stepstate = LOW;
unsigned long pM = 0;
unsigned long pM2 = 0;
int vt = 1000;
void setup() {
  pinMode(dirpin, OUTPUT);
  pinMode(dirpin2, OUTPUT);
  pinMode(steppin, OUTPUT);
  pinMode(steppin2, OUTPUT);
  pinMode(enpin, OUTPUT);
  digitalWrite(dirpin, HIGH);
  digitalWrite(dirpin2, LOW);
  digitalWrite(steppin, LOW);
  digitalWrite(steppin2, LOW);
  digitalWrite(enpin, LOW);
  pinMode(2, INPUT);
  // put your setup code here, to run once:
  Serial.begin(115200);
  while (!Serial) {
    ; // wait for serial port to connect. Needed for native USB
  }
  pinMode(2, OUTPUT);
  pinMode(3, OUTPUT);
  initOutput();
}
void loop() {
//  Serial.println("pass");
  if (Serial.available() > 0) {
    protocol