I got a chance to test out my new drag knife holder and it works great!  I was worried it would still wiggle around a bit so I lowered it onto the bed with the blade retracted and ran it around for a while and it looked great.  I still think you want to be careful not to lower it too much to reduce friction.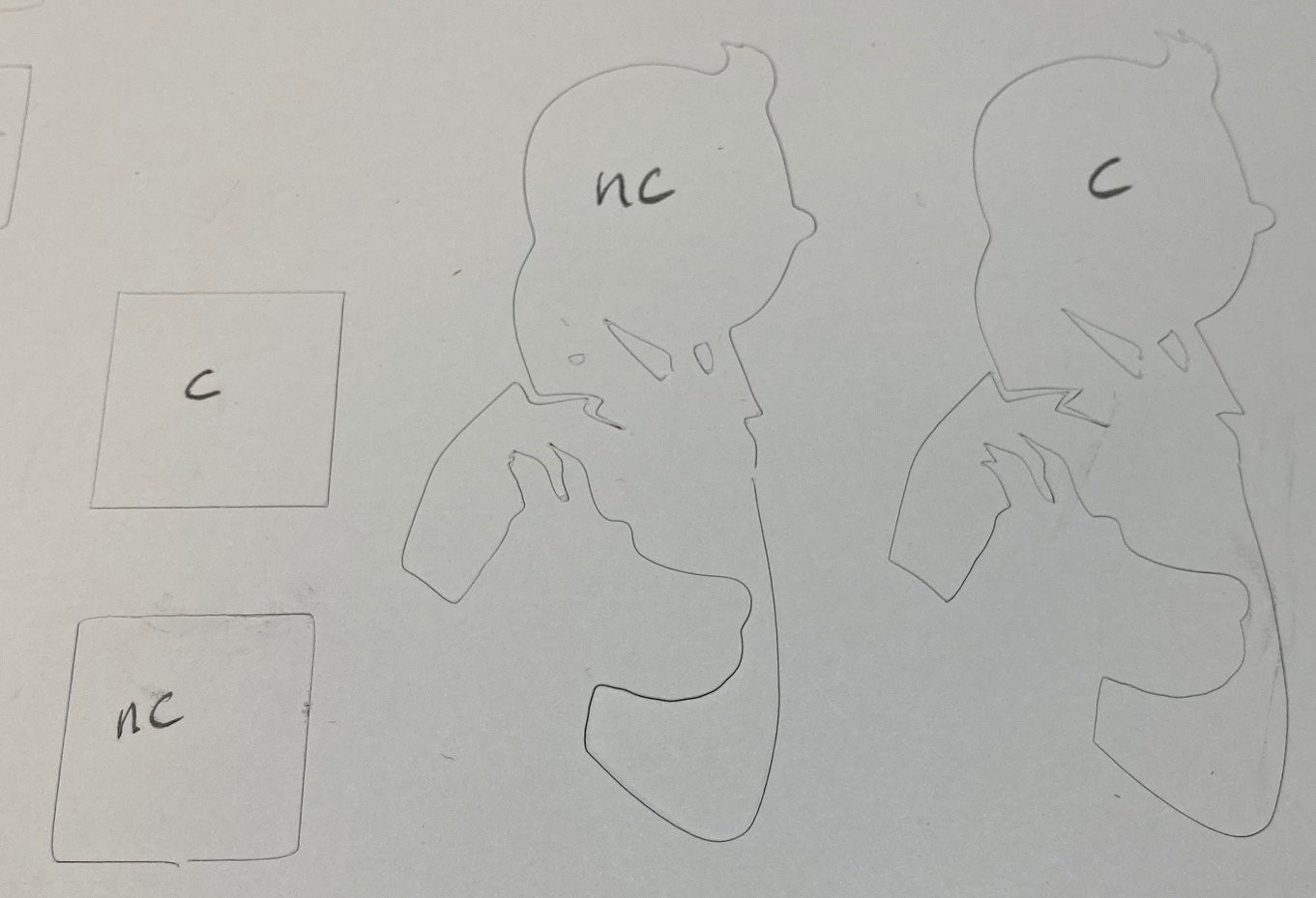 I ran two tests, one a 20 mm square and then a 70 mm tall Tin-Tin and Snowy.  I ran each twice, once with the raw gcode from Fusion 360 (marked NC above) and again with the correction using the DragKnife plugin for Fusion360.  I had previously experimented with different values and settled on a blade offset of 0.6mm and a swivel height of 0.2mm and the default tolerance of 20 degrees.  These seem to work ok, although I think the blade offset is set too high, I may try 0.5mm next time.
You can see from the pictures above that without correction the corners are soft and sharp turns tend to be lost.  The correction seems to have helped a lot.  I'm not sure that this blade needs any lift at all to work, it is so small and the cardstock paper is so thin (0.3mm) that it did not seem to do much at all.  I need to experiment with setting the lift height to 0 to see if we can save time on the corners by avoiding the lift motion.
I just taped the corners of the paper to my waste board and I ended up having trouble with the paper moving a bit.  I had to hold the paper down during the cut to keep it all stable.  I really need to look into how to apply a sticky substance to my cutting mat that will hold the paper still without holding it too well. You can buy special matts with sticky applied that are made for cricut style cutters from Amazon as well.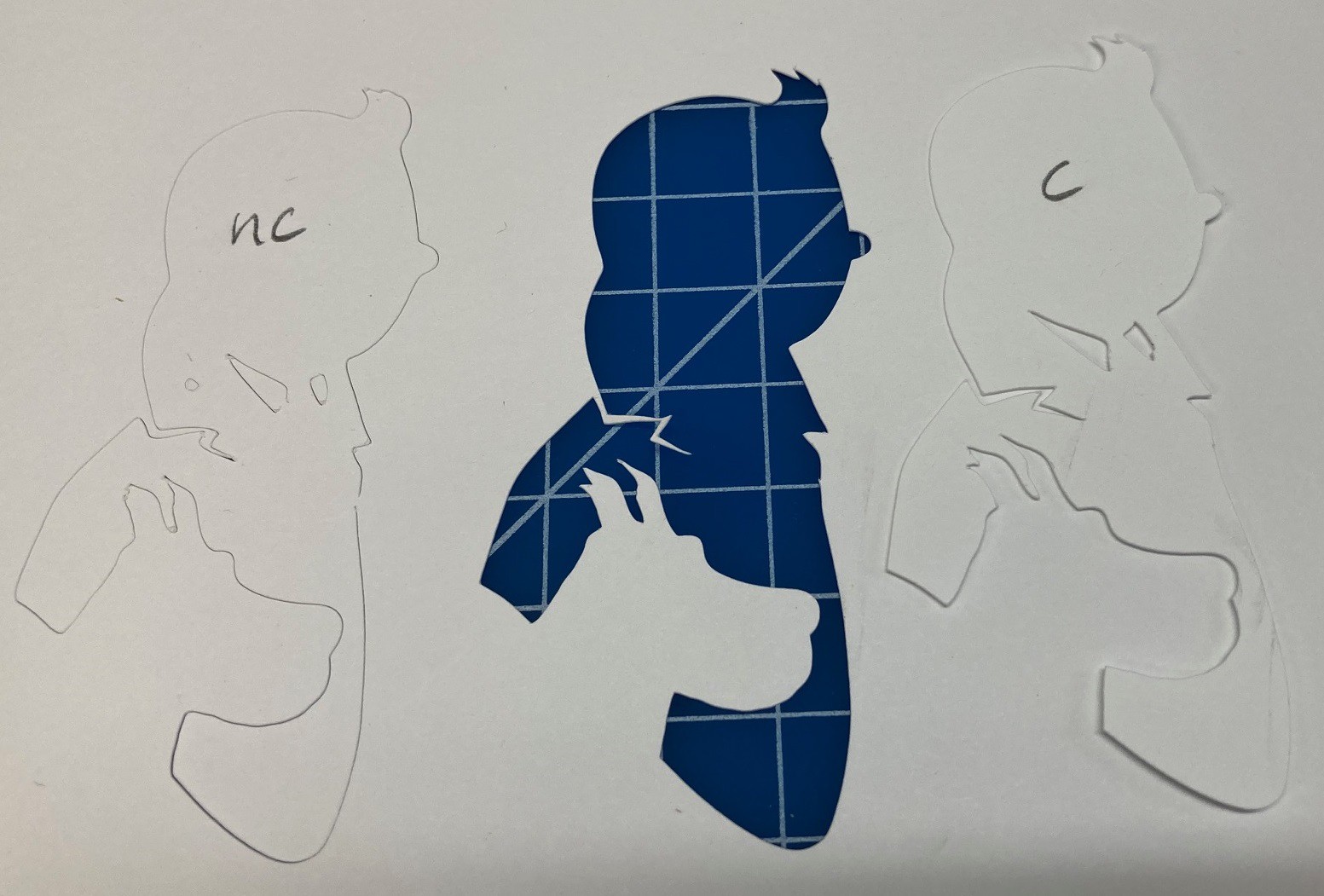 The details are amazing, it looks as good as with the laser cutter, or at least close enough. That brings us to the question of what is better, a laser or a drag knife.  The answer is (as always) it depends.

Drag knife pro's:
Clean, safe and quiet. You can run this indoors without any worry and without needing to watch it while it runs.  If the material comes loose the job is lost but there is zero danger of fire or serious damage.
Kid friendly(er). Nothing about this machine is really kid friendly, there are too many exposed parts, however a cricut or other personal drag knife machine would be quite safe, with only a small chance of nicking your finger if you got ahold of the blade.
You can cut materials like vinyl stickers without worry of dangerous chlorine fumes.
You can cut foam, cork, thin clear plastics and coated paper that lasers won't penetrate.
Can cut really fast on certain materials, I used a cutting federate of 2000 mm/min, although I doubt we ever got close to those speeds with these small cuts.
You can cut partially through the material by controlling the blade height (how far out of the holder it sticks out) .
Laser pro's:
You can cut harder and thicker materials like plywood that the drag knife won't penetrate.
You can etch certain materials like metal and glass (with the right laser and accelerant).
Can burn the surface of certain materials such as wood and some plastics to draw as well as cut.
It never touches the material so there is less chance of tearing on thin details.
Material setup is simpler, no need for a sticky backing. However dealing with fumes probably counters this benefit.
More tolerant of any warp in the material or waste board.  Keep in mind that neither are very tolerant, but the drag knife blade sticks out less than 0.5 mm so you need a very flat working surface. While a laser can probably handle several mm of deviation without too much trouble.
Can more easily cut perforations.
Better accuracy, the drag knife can still fail if you are not careful to start each cut in the same direction as the previous cut ended.
Lasers Baby!
I'm not sorry to have both, I'm sure I will use each.  For now I'm more attracted to the laser but the drag knife really is the better place to start.  I have the parts to try and make a larger drag knife based on a utility blade.  This would allow me to cut thicker material like cardboard and cork.  I'm working on a 3D printed holder that is strong enough for the job but that only uses a few bolts and some skateboard bearings.