I finally got a new piece of 1/8" balsa wood that is denser and easier to cut with the laser. I was able to cut it out at 80% power, 150 mm/min, and 2 passes.  It took over 20 minutes to cut out the fuselage at this rate, much too slow to be useful.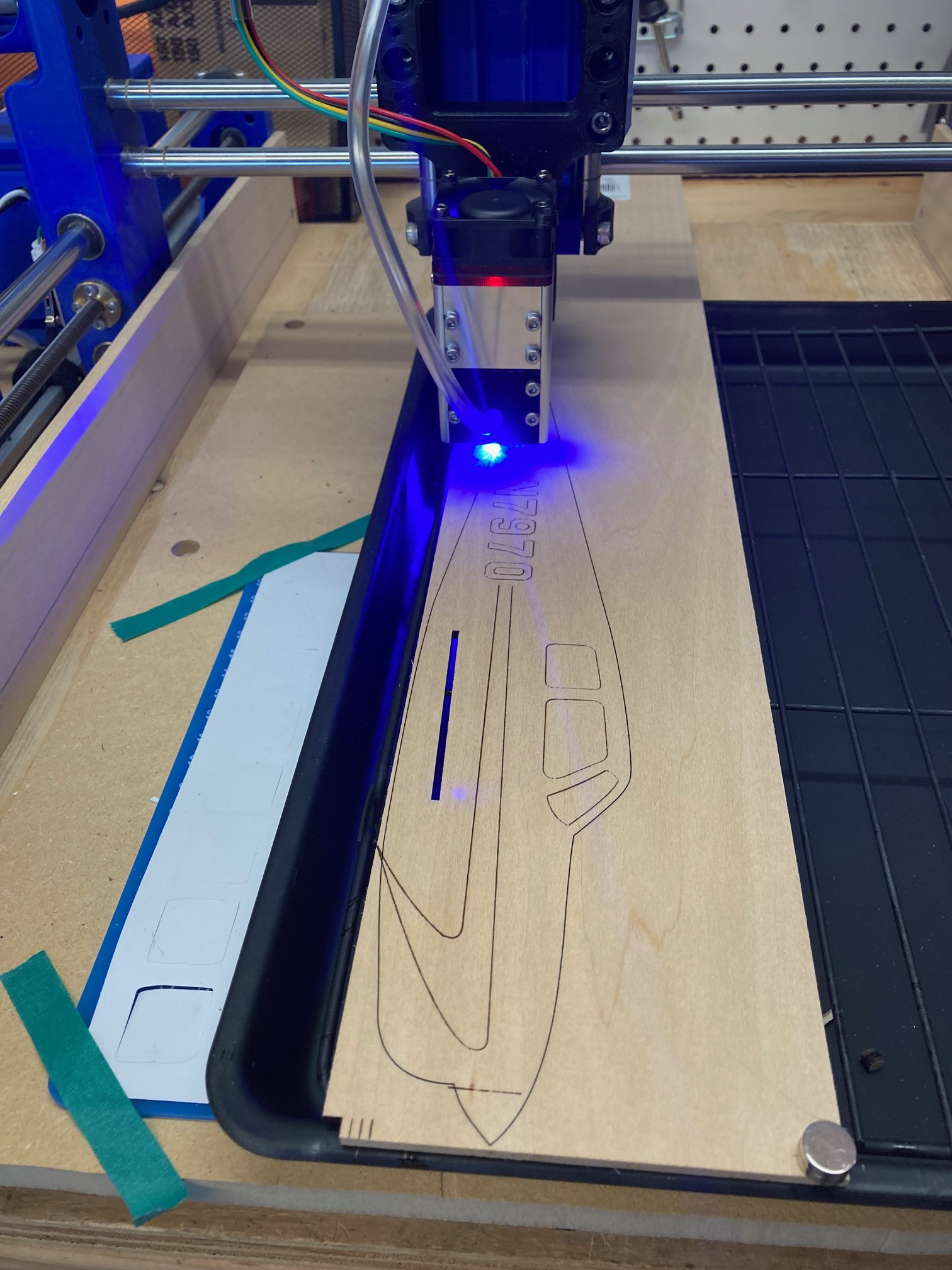 I probably could have gone with 200 mm/min to make it go a bit faster, but even that would not be enough to really make this worth the effort.  I think going with the larger 40 watt laser you could speed this up to 400 mm/min at 2 passes and end up with less than 10 minutes per cut.  That would be fast enough to be worthwhile (it would be close to the time it would take you to cut it out by hand).  A 5 minute cut would be even better, that would be faster than what you could do by hand and with better accuracy, but you probably need to go over to a K40 laser to get those speeds.
There is a small shift in the engraving above, I moved the work over a bit between engraving and cutting because I got my starting position off by a bit and the cut was not going to start on the wood.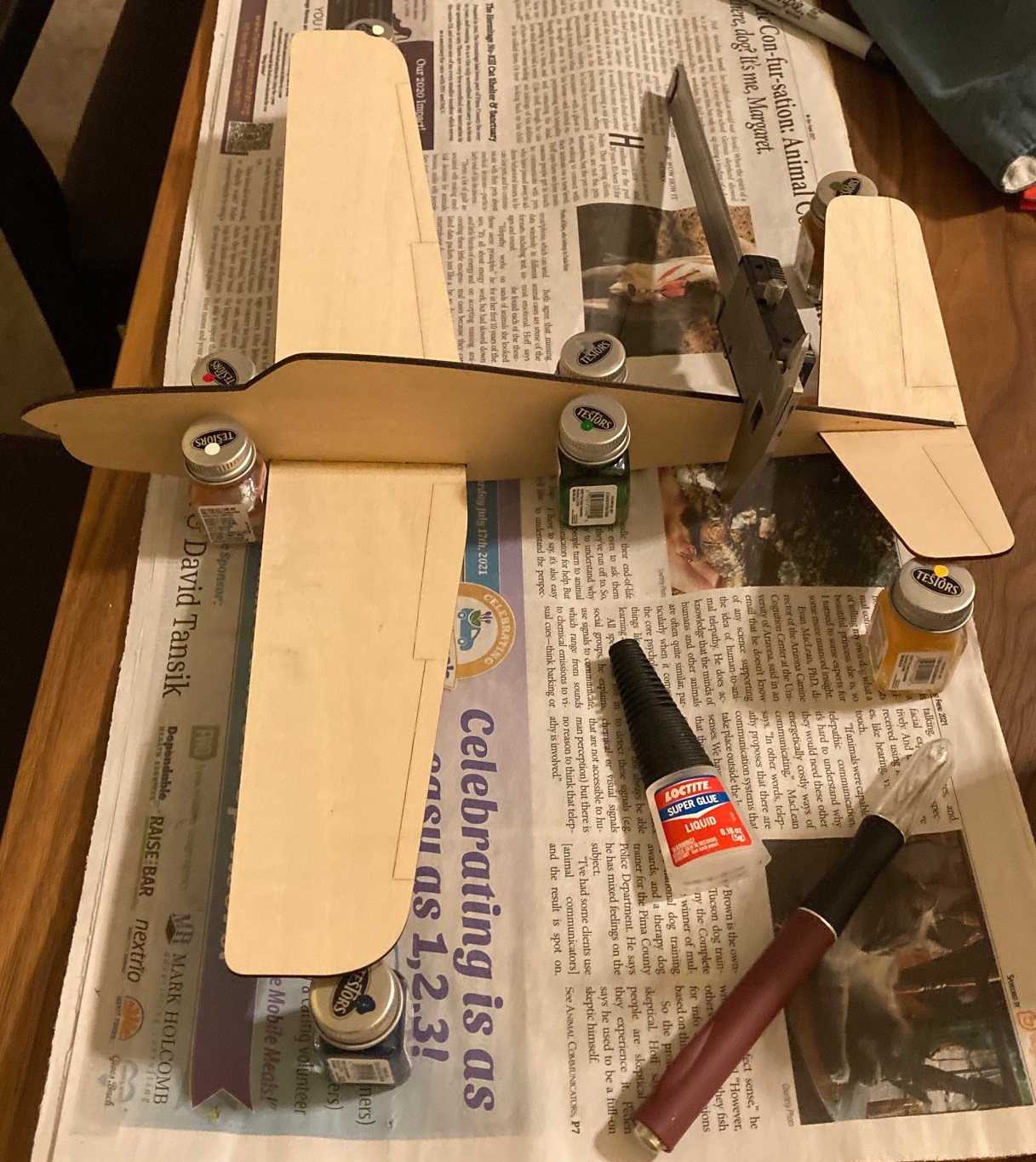 I tried gluing this up with super glue but it was soaking too much into the wood and did not form a strong bond, maybe a thicker glue would have worked better.  In the end I used some wood glue and that seems to be holding well.
I went ahead and used the paint bottles to set dihedral just like the original plans, that seemed to work well.  To set the tail I needed to add weight to the body to help keep it from lifting up.   I let it dry for an hour then released the pressure and double checked that the tail was well aligned with the wings.  The wood glue is slow to dry so you have time to tweak it.  Remember to add the braces back after you make your adjustments so the wings don't move under there own weight.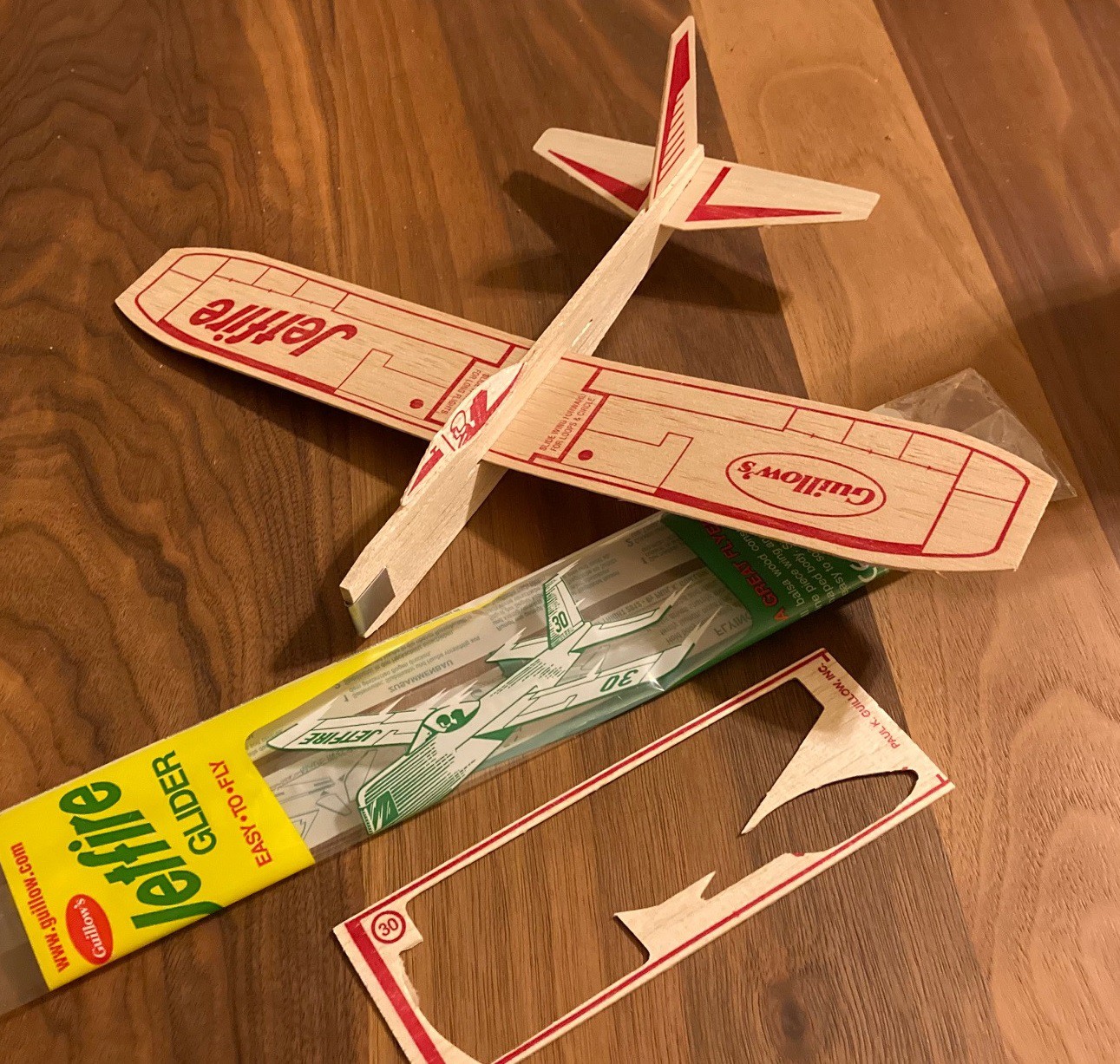 As a comparison I picked up a $3 glider from the hobby store where I picked up the balsa wood.  The quality is much lower, with poorly punch cut parts and very pithy wood that can easily be snapped.  Even though it is a simple design installing the pilot and tail was tricky because the wood was so soft.
The weather is wet outside so I have not had a chance to really fly either of these, but I did toss them across the room into the couch and the $3 model seems to glide better (with a light push).  I think a big part of the problem is that I'm using rather dense wood for the body. I got it all from ACE hardware and they only had very dense pieces and very pithy pieces to choose from.  Going to a proper hobby store would probably work better. 
Anyway I won't know for sure till the weather gets better but I have some hope that my model will work better outside than the $3 one, once the wind is a factor.
To sum it up, the laser seems to be quite good at cutting 1/16" balsa wood.  It is almost completely useless for cutting 1/4" balsawood, it would have taken over an hour to cut the body at 50 mm/min, 80% power and 3 passes.  And for 1/8" balsa wood it gets the job done but very slowly.  It is possible that a better quality but lighter piece of 1/8" balsa wood would cut better, if I could stop it from catching on fire.  I need to circle back and test my pithy piece of 1/8" balsa wood with a much lower power level and see if that makes a difference as well.
The accuracy is great, that could allow for much more detailed cuts and complex shapes.  It is certainly something to experiment further with.