Typical paragliders that human pilots fly have 6:1 -> 12:1 glide ratios. high performance sail planes are incredible with up to 70:1 glide ratio. I'm confident we will see cooperative free flight flocks in the near future. 
Full size paraglider wings carry 60-220kg. I fly a wing rated to 95kg, 105kg, and a tandem rated to 220kg. 
Typical descent wings like speed wings and ram-foil parachutes are in the <3:1 area... with some exceptions. This limits operations mostly to waypoint tracking and arrival in a 4-D manner. This is still novel and unique. You can see groups like space-x and worldview successfully conduct these operations. What if you open much higher, what if you had the skills of a trained free flight pilot, and finally what if you could talk to your friends of all types to find out where the best lift is and what conditions are like elsewhere. 
A human pilot who is skilled, in the right place, on the right day, with the right mindset and gear can fly over 12hours and over 500km in a single flight. 
It is much easier to fly when you are observing the other creatures, bugs, birds, pilots around you. This naturally leads to a flock can always fly faster and farther.
What is the most simple form of this?  What is the most advanced, complex tech saturated form?
Think about a butterfly, Monarchs travel 1000s of miles. They do not fight the conditions. Or take a bigger engine. They use the environment and timing to travel far.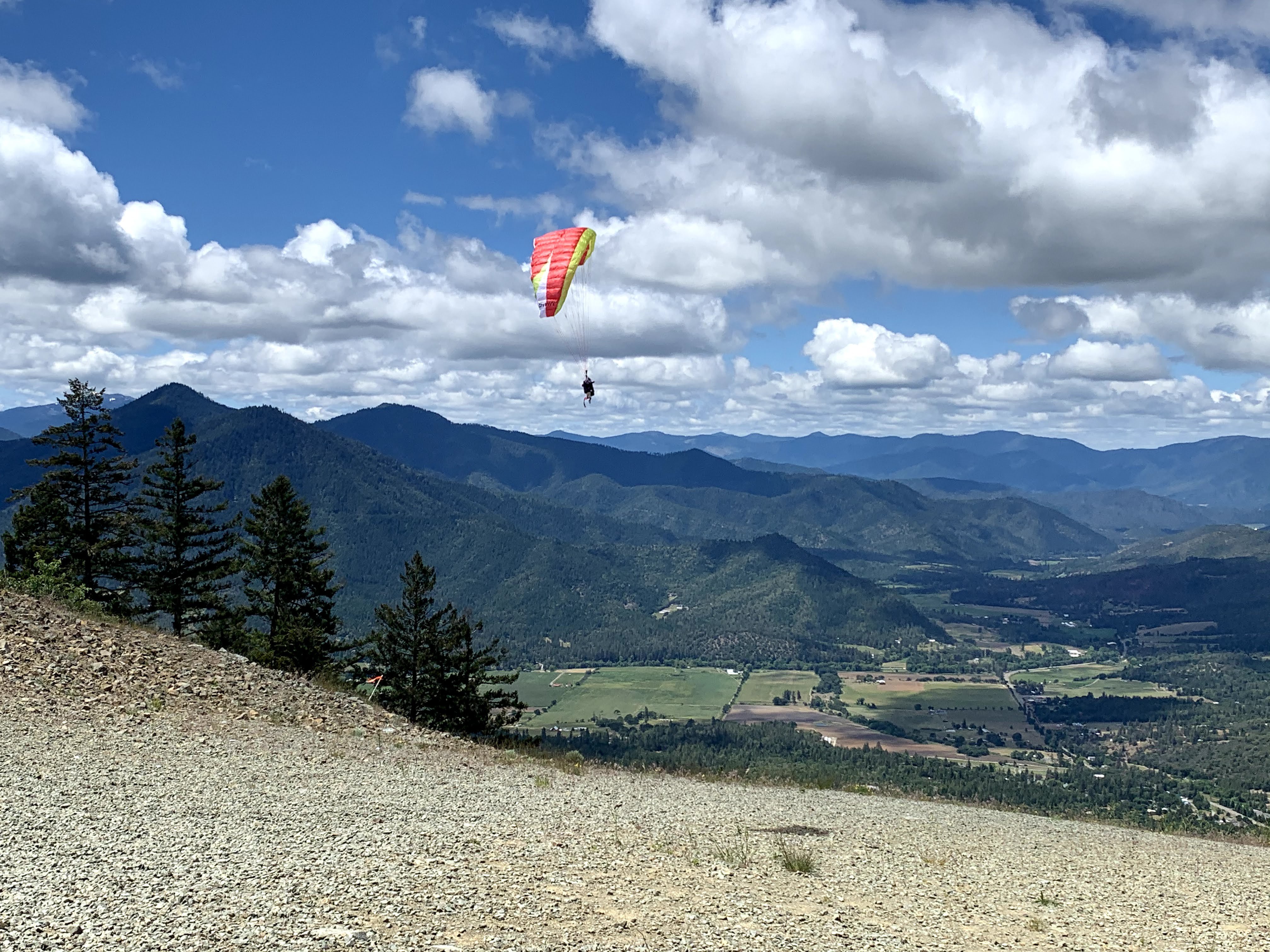 photo: Small unit flying at Woodrat Mountain in Ruch, Oregon. 2020
I want to thank Yohan from https://hackaday.io/project/176621-r2home for the inspiration to post this work. The article on him got me to reach out and start to share lessons I learned so that he can be more successful, faster. He is super smart, motivated and talented. Thank you for getting me in gear and looking through files and folders to find failures.. videos and pictures.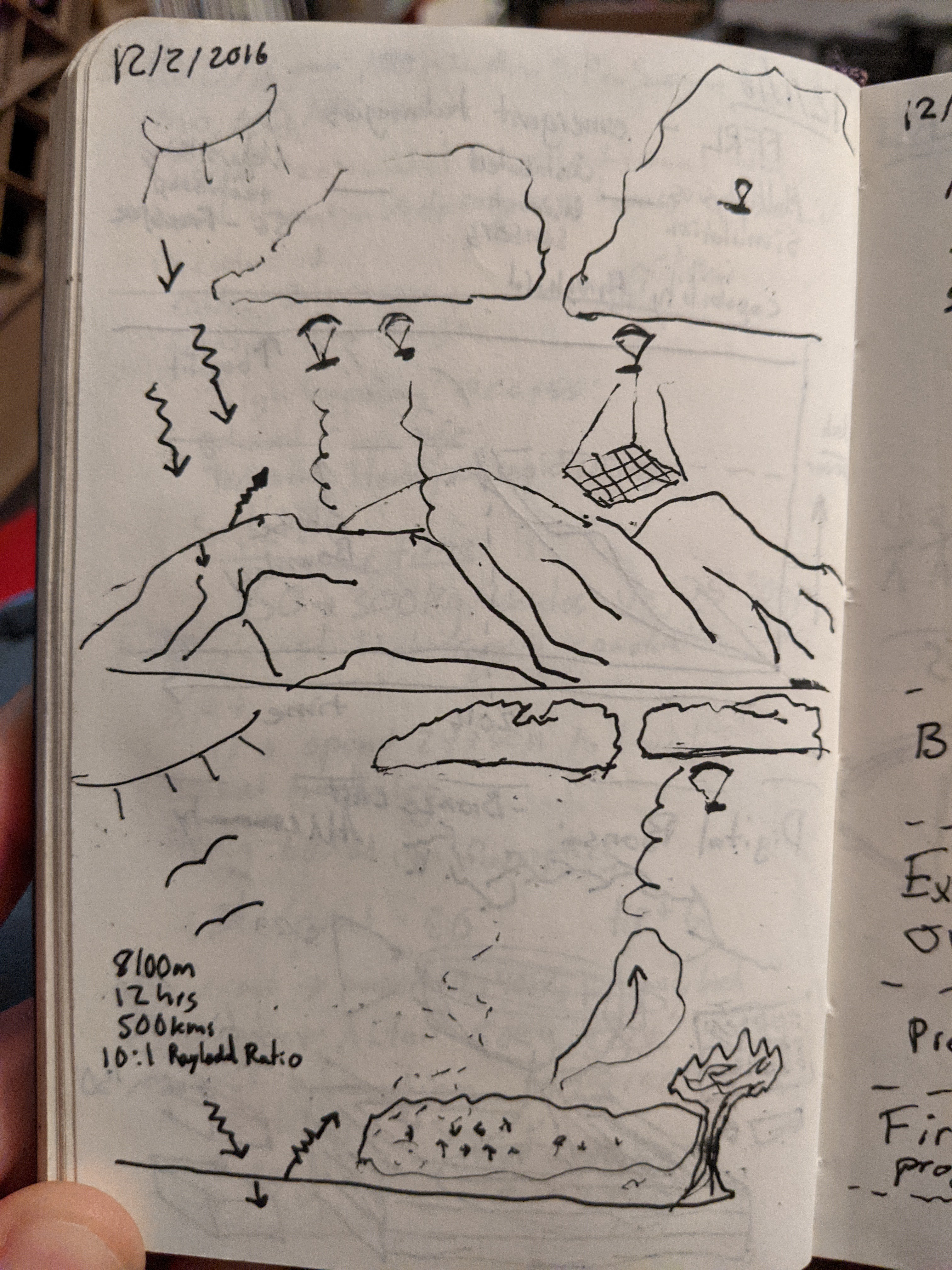 This is what it looks like.. 4hours later many of these pilots were over 100km away from the start. 
On a different flight, this is the view down. I was above other pilots, and as you can see we crossed into land that had more agriculture. That directly changed our ability to fly. You can see the line... as we go from dry land to wet crops. Within the next 30min all pilots were on the ground.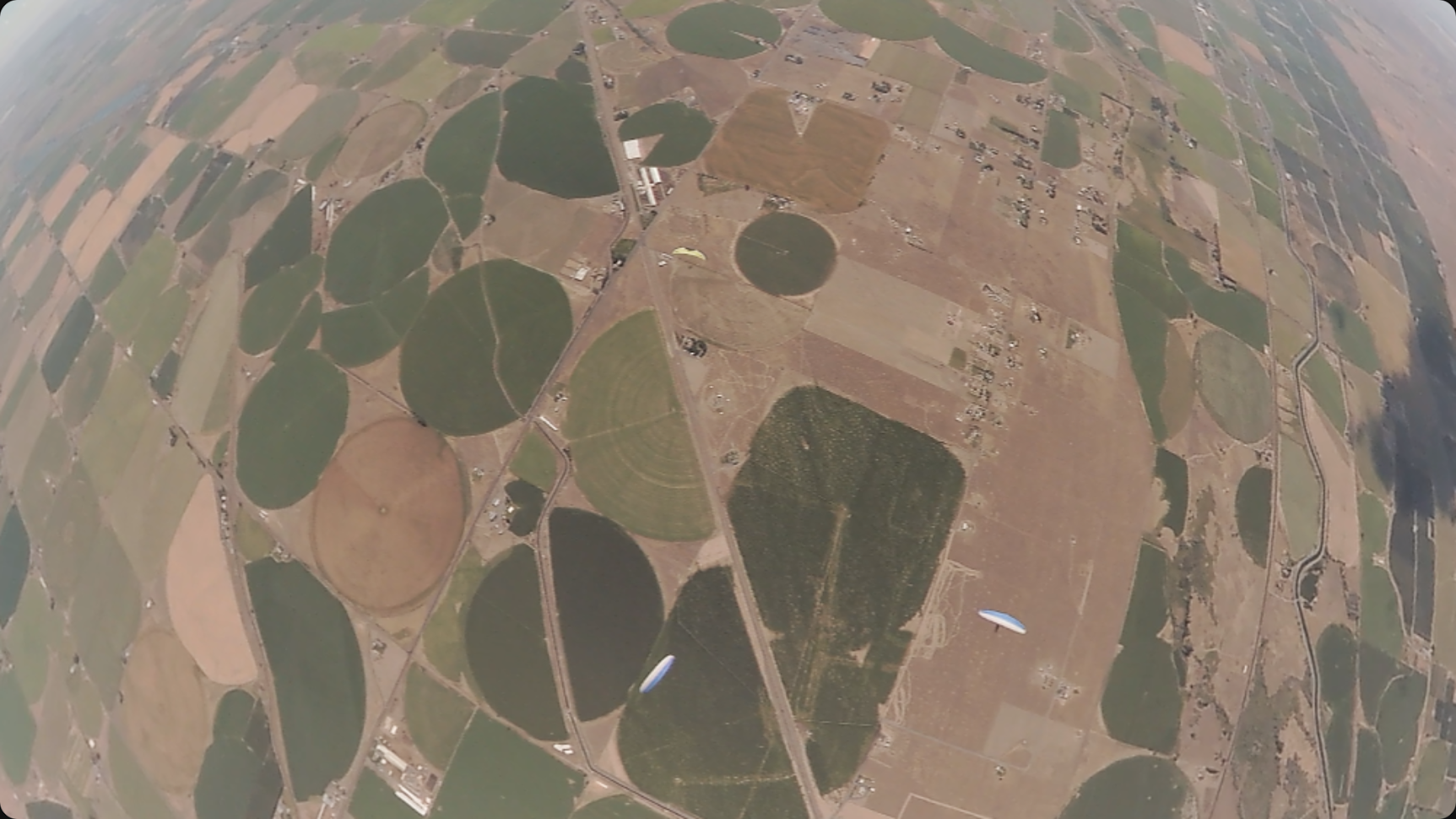 The ultimate goal is to have multiple vehicles coordinating together to do good for our planet, and our understanding of energy, mass and water exchange in atmosphere.
The high altitude drop was quite exciting. Here is a timing run down. 
Balloon Launch from Ground 00:13:28
Release at 18,000m (60,000ft) - Time Stamp 00:51:27 
Wing finally has enough air to open 9 seconds later (~400m free fall)- Time Stamp 51:36
Opens with twists, twisted until - Time Stamp 00:52:12
Untwisted in spiral maneuver, overspeed collapses - Duration 43 seconds. 
Exit and stable flyaway - Time Stamp 00:52:55
So over a minute of terror!!! hahah well not really it was a brave robot. 
If you do the math on that.. as an estimate the system needed to fall at 88.3m/s before the single surface wing had enough dynamic pressure to open at 18,000m.  If you go higher the air is thinner. I would like the system to be open and flying above 114,000ft so basically double the height. To demonstrate Martian explorer capability. 
Units need to communicate in a simple, low power way. One solution is LoRa and things like Meshtastic, another option while in the research phase is to use APRS. I have some ideas about how to create team logic and strategies for different types of sensing missions.  
One I always daydream about is full 3D time lapse of thunderstorm. Throw a couple into the fire and see what happens. Have a group that is flying big circuits around spaced out, all filming.. Would be incredible.