I've now got a fully working prototype of the eMBee ONE! It is running on breadboards with the following components:
Arduino Nano clone
1.54 inch OLED display connected via SPI
CardKB keyboard connected via I2C
24LC256 external EEPROM connected via I2C (32KB storage)
Piezo buzzer (with 100 ohm resistor) to pin 5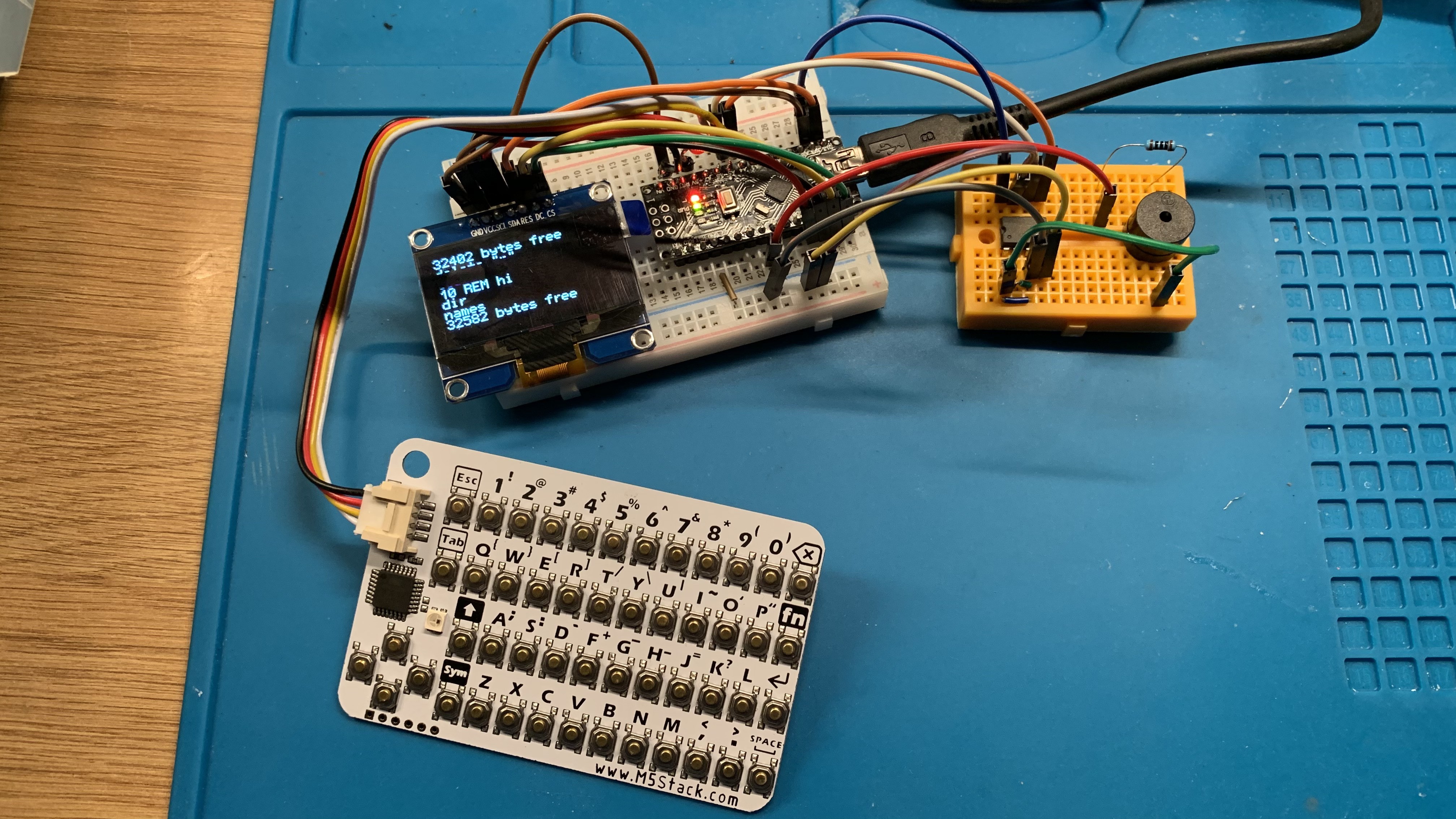 The new display doesn't have the dimming bug that the previous one did, and everything seems to working well. I came across a weird bug when loading programs from the external EEPROM though. I get a 'Bad parameter' error even though it successfully loads the program. Looking at the original ArduinoBASIC code, there's a missing 'return true;' statement at the end of the routine for loading so next time I'll try adding that and see if the error disappears.
Next steps

Now that I've discovered that the mini breadboards are thicker than I remembered, I think I'm going back to hard soldering everything together to keep things thin. Still might be able to get one mini breadboard in the bottom part of the tin, which gives some possibility for future expansion though...
Currently I'm powering the whole thing via Mini USB, but hopefully I'll have the Adafruit PowerBoost 500 Basic arriving in the next few days so will be able to get it running from 2 x AAA batteries and make it a true pocket computer.
Keyboard

Love the form factor of the CardKB, but the reality of typing on it for more than ten seconds is pretty rough. Very hard tactile switches that leave imprints in your fingertips! So need to explore the possibilities of either adding some kind of membrane or set of keycaps? Or even build a keyboard from scratch using mouse buttons (thanks to Oscarv for that tip!)?
'Pocket computer' or 'palmtop'?

What should I refer to this as? I first came across the term 'palmtop' when the legendary Atari Portfolio was released. That was much bigger than this though. I want to go with whichever term suggests the smallest form factor, 'pocket' or 'palm'? Let's hear your thoughts in the comments below.