So, I'm finally happy to mark this project as complete and move onto the next one!
It's been a long road to settling on my final setup, but I've absolutely loved every phase.
The project has come a long way from the first iteration using a small Alesis USB interface and has taken many forms; at some points featuring Two Pi boards with 7" screens on both, but having really got into using the device I have settle on the below setup:
Hardware
The final hardware for me is built around the Pi4, the Pisound HAT, the Melaudio MIDI Commander, and the mini-expression pedal.
This setup gives me two in/two out recording, with extremely low latency using the i2s interface with the Pisiound, and the quality is great. Yes, I lack the XLR input I originally wanted, but for live use the use of an unbalanced XLR>Jack cable with a blazing trombone through it really doesn't make much of an impact to me. If I ever require the use of a condenser mic with a proper XLR interface I can always add one via USB with minimal software changes required.
The MIDI Commander is the game-changer here; USB control device, 8 assignable switches, 2 bank selection switches and 2 expression pedal inputs give me all the flexibility I need to control the software. I'm running one small expression pedal on my board, with a second input easily added to for times when more foot control is needed (whammy and wah on a trombone is incredible, ha ha ha!)
Software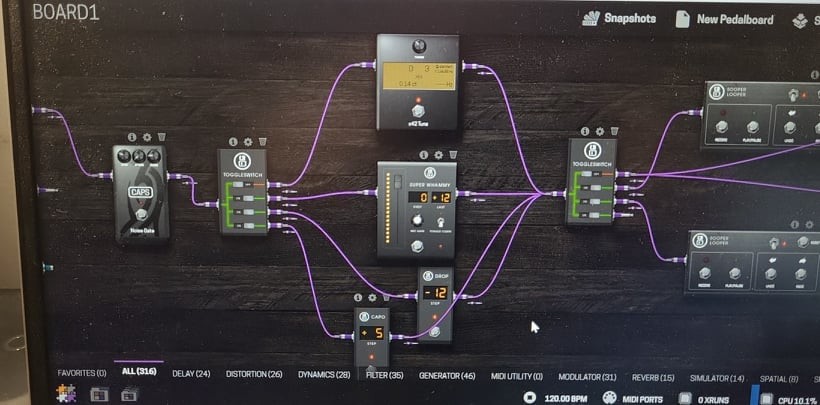 This has always been about MODEP for me. Great emulation of the MOD Duo pedal software, well supported by its developers and works perfectly with the Pisound. The Blokkas community made getting my software working a really fun experience, and I have never looked back. Really easy to set up with the MIDI commands from the commander, but also works really well with OSC, so using my phone/tablet for pedals with extra parameters that aren't foot friendly make this really flexible.
Conclusion
While originally wanting to build a solution for effects and recording, it became apparent that doing both on a single Pi well was a tall ask, and adding secondary Pi devices increased latency and complexity, somewhat unnecessarily. At first it was a kick in the teeth to drop the recording target, however I'm so glad I did, as I honestly think this would be still rumbling on now.
All in all I am really, really pleased with my board and I'm happy with how this works.
I have trialled it for guitar, vocals, guitar & vocals, and trombone and while capable of some wild shiz, it is also capable or being a really solid, subtle effects unit.
Next steps
Next up I have a handful of recording projects coming up, including recording a song my son wrote. I aim to use my rig to provide some amp simulation for guitar and some reverb for my brass parts, and I would also like to record some proper demonstration videos and putting them on YouTube.
Next project I will be working on is:
#Lattepanda Delta Recording Rig 
This project will go alongside my effects setup to give me two ultra-portable rigs that will have me covered for all my musical exploits.
Thanks for reading!