Colors of Italy
A pandemic project
Over the past year in Italy, colors such as yellow, orange, red and white have undergone a radical change in their associated meaning. They have gone from being "just" colors to signaling the COVID-19 emergency restrictions enforced in each region,  definint the possibilities of each individual in their region.
The new meaning this colors have taken made us reflect on how a "color change" can affect our lives.
We saw an opportunity, the possibility of designing a product that could allow us to have a different perspective.
In the space of a few weeks we built an entire system (from software to hardware) that could help us track the progression of emergency restrictions and the pandemic situation, transforming a difficult situation into an opportunity.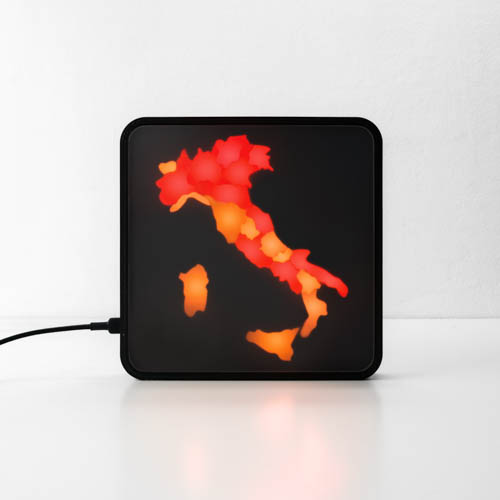 What's this?
Colors of Italy is an LED digital map, always updated, which shows in real time in which colored tier each Italian region is located.
Thanks to a robust system of continuous updates, based on the application of machine learning on official sources, Colors of Italy is able to retrieve always updated information from the latest Decree of the President of the Council of Ministers (DPCM). All you need is a plug and a WiFi connection.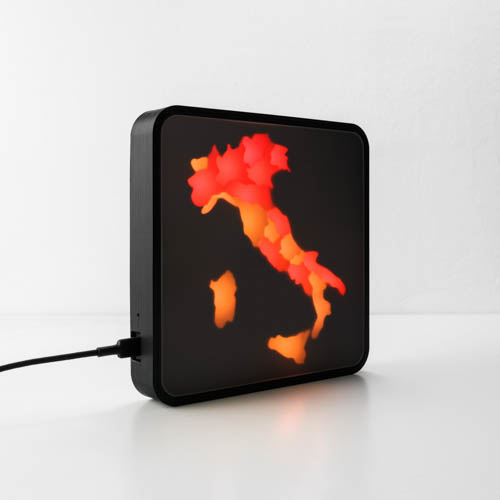 Who are you?
We are a group of university students, scattered between Northern and Southern Italy, who have decided to embark on this adventure to test their skills in the real world.
We believe in the Open-source philosophy and in the principles of the Maker movement , we believe in innovation, research and digital culture as a future perspective. For this reason, our project is Open-source , freely shared with everyone, so that anyone can modify, share, improve, take inspiration, copy or even just peek at the source codes freely.
How does it work?
Right out of the box, Colors of Italy is ready to be used. All you need is:
connect it to the power supply via a USB Type-C power supply , such as that of a mobile phone;
connect, through another device, to the WiFi network Colors-of-Italy;
via the web interface, set the login data (SSID and password) of your home WiFi network;
wait for it to establish the connection and upload the necessary information.
At this point, the entire installation process is complete! There will be nothing else to do but find a nice place to put your new map.
What if you want to change the WiFi network?
In this case, simply hold down the button above the power socket for 5 seconds with a toothpick and the installation procedure will be repeated from the beginning.
What will happen at the end of the pandemic?
When the assignment of colors is no longer necessary for emergency purposes, Colors of Italy will continue to function, maintaining its function as a connected lamp and showing light animations (new proposals are welcome!).
Thanks to the open nature of the project, anyone will be able to program and upload new animations, visual effects and data visualizations on their map.
How can I get one?
Currently the first piece of Colors of Italy is auctioned on eBay (shipping restricted italy only).
With this auction we hope to cover the costs of designing and implementing this project. Once these costs are covered, we will donate the remaining sum to the Italian Red Cross .
Where can I find schematics and sources?
Our GitHub repo github.com/valerionew/colors-of-italy contains all the information and files needed to build your own version of Colors of Italy.
The project is aimed at electronics hobbyists, but a minimum knowledge is still required in: PCB manufacturing, 3D printing, software programming.