With Connie going a bit rough, I started with something a little easier.  The Flitetest Bloody Wonder was an easy one, quick to put together.  I think I only made 3 changes to the design.  For the ailerons, I used two servos on the underside of the wing, instead of the single one on the top side with two pushrods.  Second after a number of broken props, I added some landing gear.  And lastly, I made a flap on the topside to more easily take the battery in and out.  It definitely should have had this in the design in the first place.
In construction: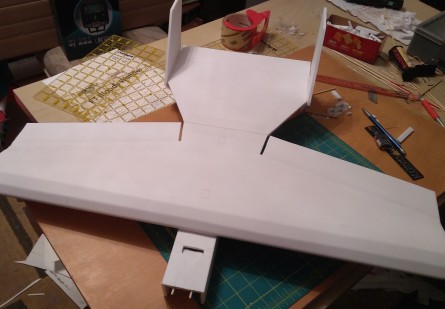 Aileron servo changes and landing gear: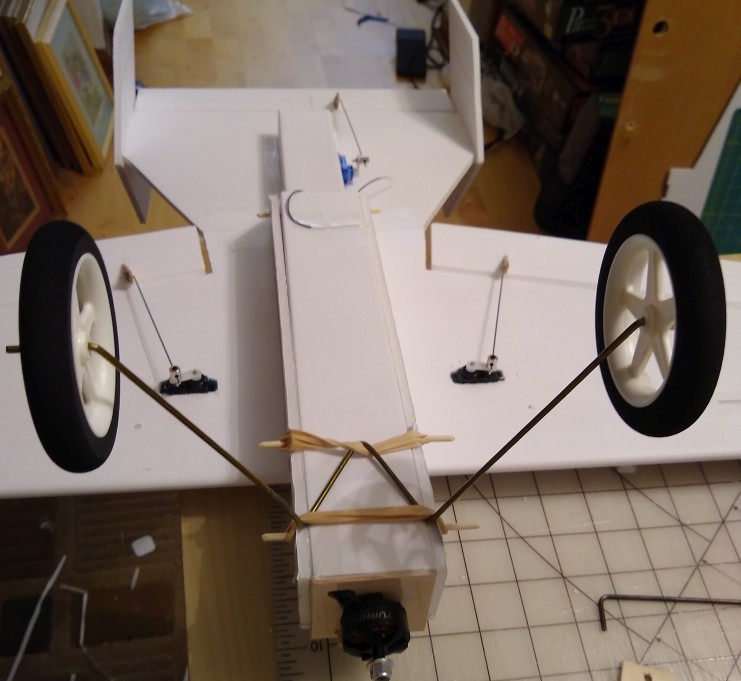 The landing gear was attached via rubber bands only, with the goal of hard landings causing them to buckle instead of breaking off.  This did work quite well, though they buckled probably a bit too easy.  It was a good experiment, though with improved landing skill, i probably won't do so again.  I did add a plastic credit card on the bottom, under the gear wire so it wouldn't dig into the foam.
At one point I did have a particularly bad crash, crumpling the nose and cracking the middle of the fuselage/wing almost completely in half.   One of the advantages of this style of construction is it is usually pretty easy to fix.  I just straightened and glued the fuselage and nose back together.   Here's a post crash picture: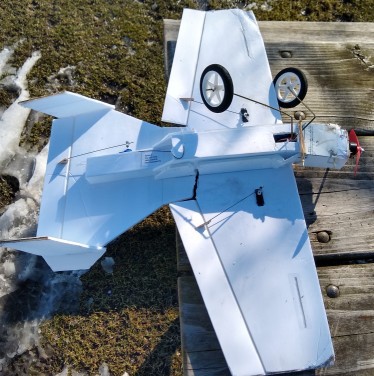 Lapis is a ton of fun to fly.  Super nimble, able to turn completely around on a dime, and plenty of power to do vertical takeoffs.  She is quite capable in smaller areas.
As I usually fly her: