Features
2.4G && 5.8G dual-band WIFI network analyzer has the following characteristics:  
1. Analyze how many routing hotspots are around  
2Number of mobile phones connected under each hotspot  
3. Each phone model  
4. It can track and alarm specific mobile phones  
5. Upload the collected data to the designated server.

How to use network analyzer  
Module introduction   
  1. Function main interface  
Open the network analyzer APP, enter the main interface of the function (Figure 1);  
If the user does not turn on WiFi, the APP will pop up a dialog box prompting the user: Turn on WIFI authorization (Figure 2)  
Click each function menu on the main interface to enter the relevant columns to view network information and historical/offline records.  
Customers view real-time information of connected devices under various network hotspots, and need hardware device support

Figure 1: Main interface
Figure 2: WiFi authorization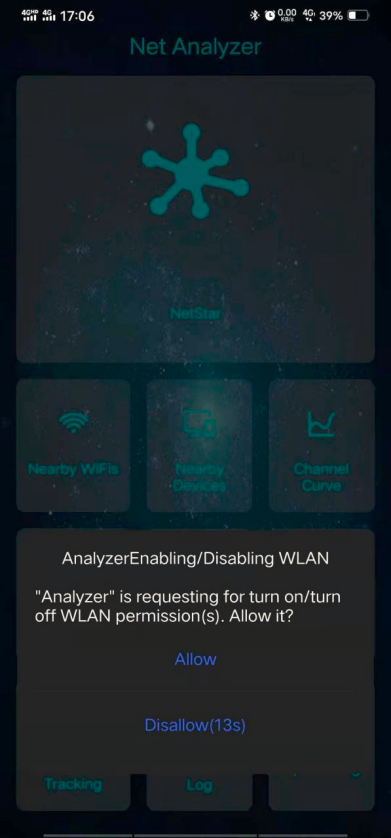 2. Hardware access  
(1) The user inserts the (network analyzer) hardware device into the mobile phone, and the system detects that the device is inserted, a prompt box will pop up (Figures 3 and 4).  
(2) The user chooses to use "Network Analysis Instrument" to access the connected device, and the APP starts to connect to the hardware  
(3) After the connection is successful, the APP will update the terminal status under the hot spot in the APP by receiving the real-time data in the hardware.

Figure 3: Hardware access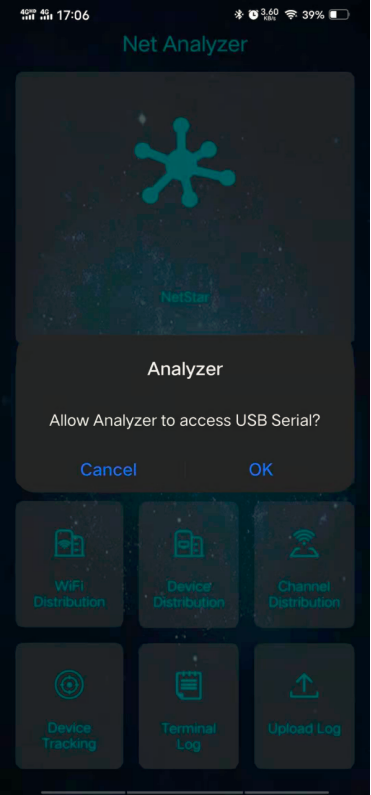 Figure 4: Hardware access