I love the idea of "first order retrievability" and how much more efficient working with easy access tools is. I made a list of the tools I used the most and started to think about how to build something compact but full featured like Adam's tool storage.
I lack the ability to rip down large sheets of plywood. I just don't have the space to build custom drawers and shelves from plywood. The storage also had to be compact, I don't have much extra square footage to loose to more storage. Looking around for a quick solution, I came upon DeWalt's TSTAK storage system.
I decided on using two deep single drawers (DWST17803), three double shallow drawers (DWST17804), and one 4 wheel cart base (DWST17889). This gave me a good base to store the loose tool and bits. The TSTAK connection system was also simple enough that I could build my own adapter and have a custom rack on top.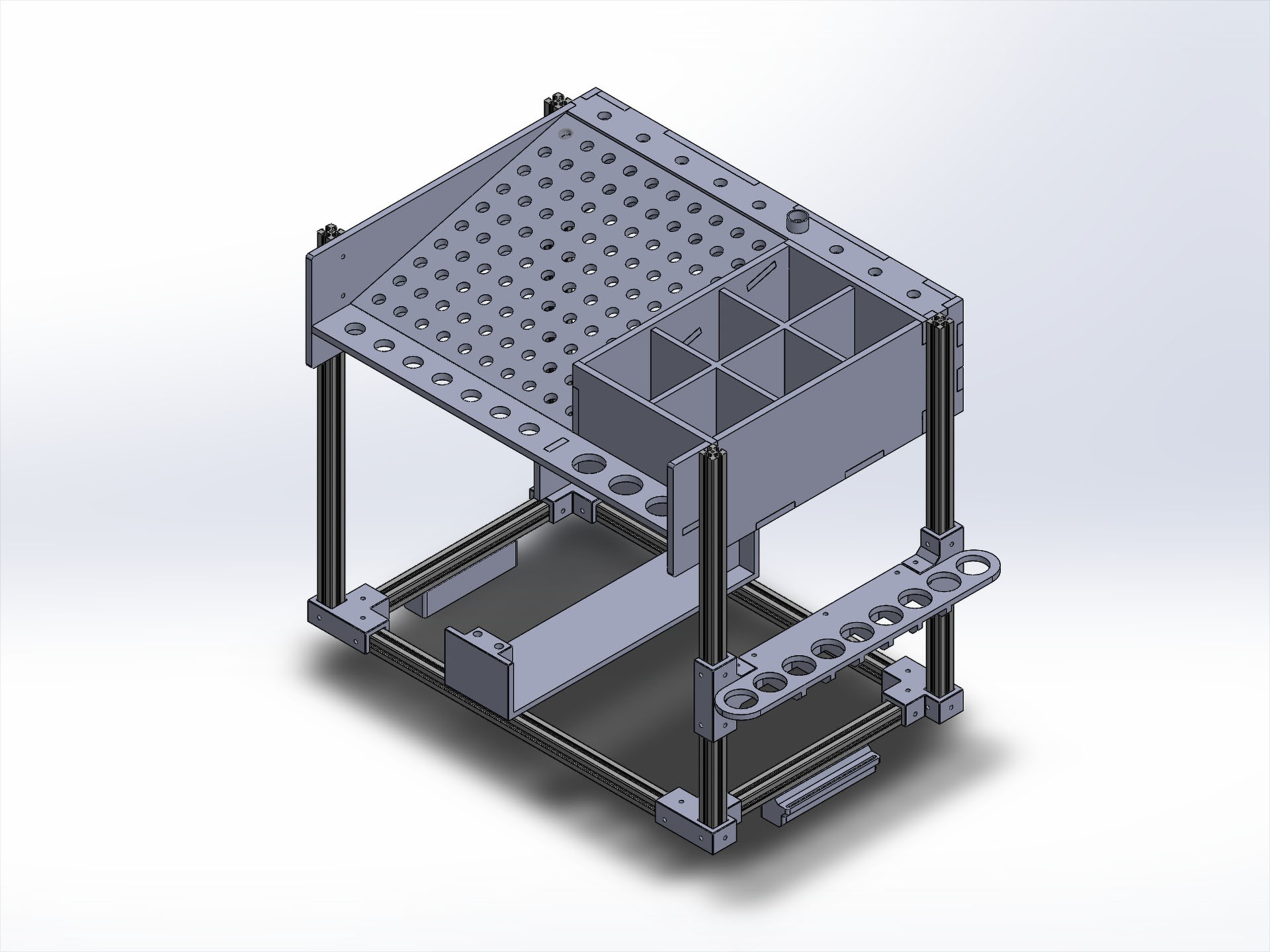 Using a combination of aluminum extrusion, laser cut plywood, 3D printed parts, and a couple Poppin medium accessory trays, I came up with a design I was happy with. While I waited for everything I ordered to arrive, the 3D printed parts were printed in Matter Hackers Tough PLA.
Hardware
2x - 220mm 1515 Extrusion
2x - 250mm 1515 Extrusion
6x - 350mm 1515 Extrusion
2x - Poppin Medium Accessory Trays
2x - DeWalt TSTAK Deep Single Drawers (DWST17803)
3x - DeWalt TSTAK Double Shallow Drawers (DWST17804)
1x - DeWalt TSTAK 4 Wheel Cart Base (DWST17889)
Bunch - M3 Nuts and Bolts
Laser Cut
1x - Laser Cut 6.2mm Birch Plywood
3D Printed
2x - TSTAK Adapter
2x - Right Frame Corner
2x - Left Frame Corner
4x - Ladder Connector
1x - Hammer Rack
3x - Tool Rack
1x - Partition
1x - Lower Container Spacer
Bunch - Wiha Spacers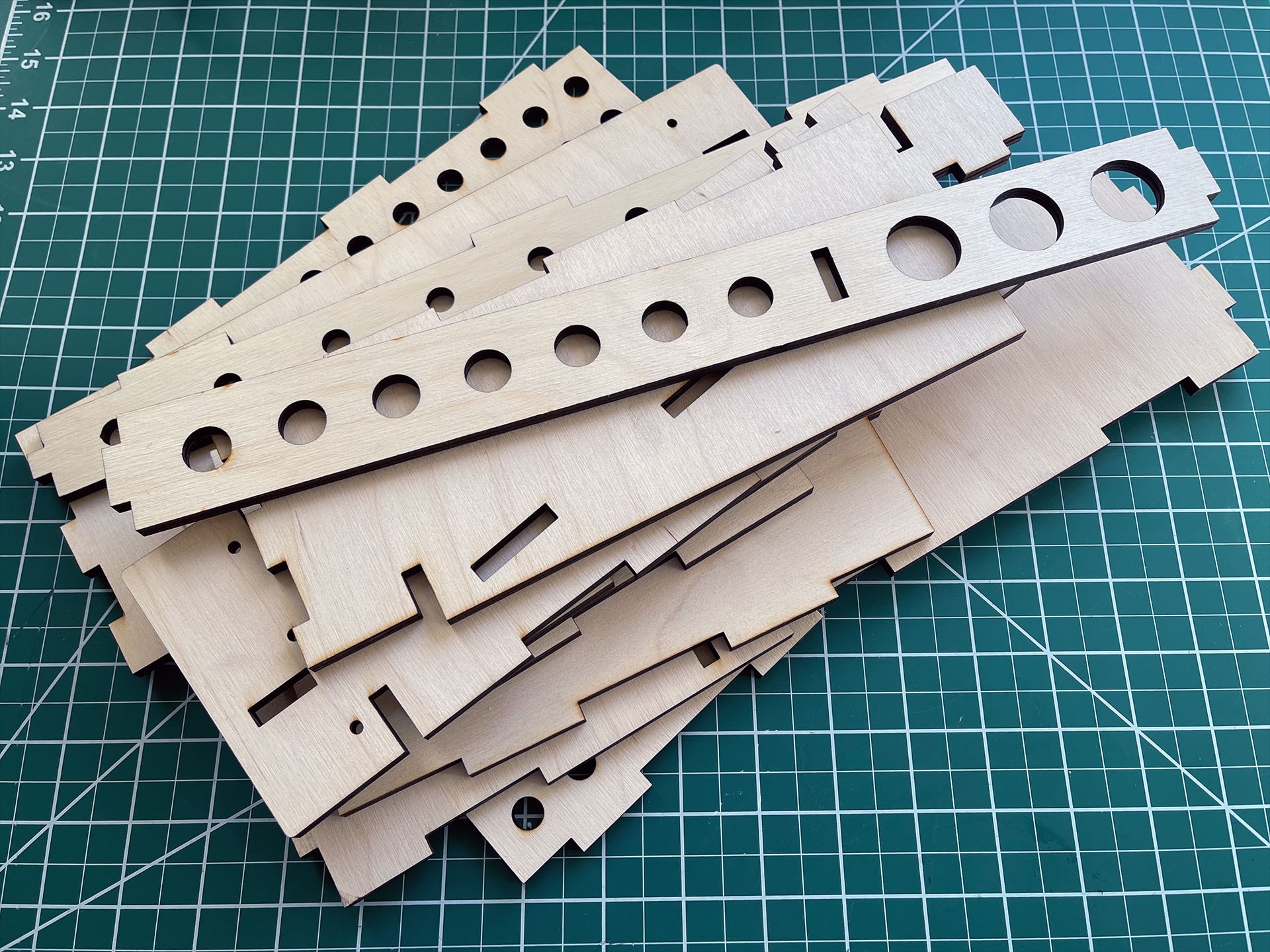 The top of the stand was laser cut from 6.2mm birch plywood. The parts are sized to give a nice interference fit when slotted together. The parts are assembled with some wood glue and a mallet. It should only go together one way, working from the left of the assembly to the right.
The assembled top was nice and rigid with just the wood glue. The 100 holes in the center section were sized for Wiha Precision drivers, so you may need spacers for other tools.
The plywood was sanded down and a few coats of TotalBoat Lust varnish were applied. The vanish provides a nice thick coat to protect the wood from the abuse this thing is going to have to take.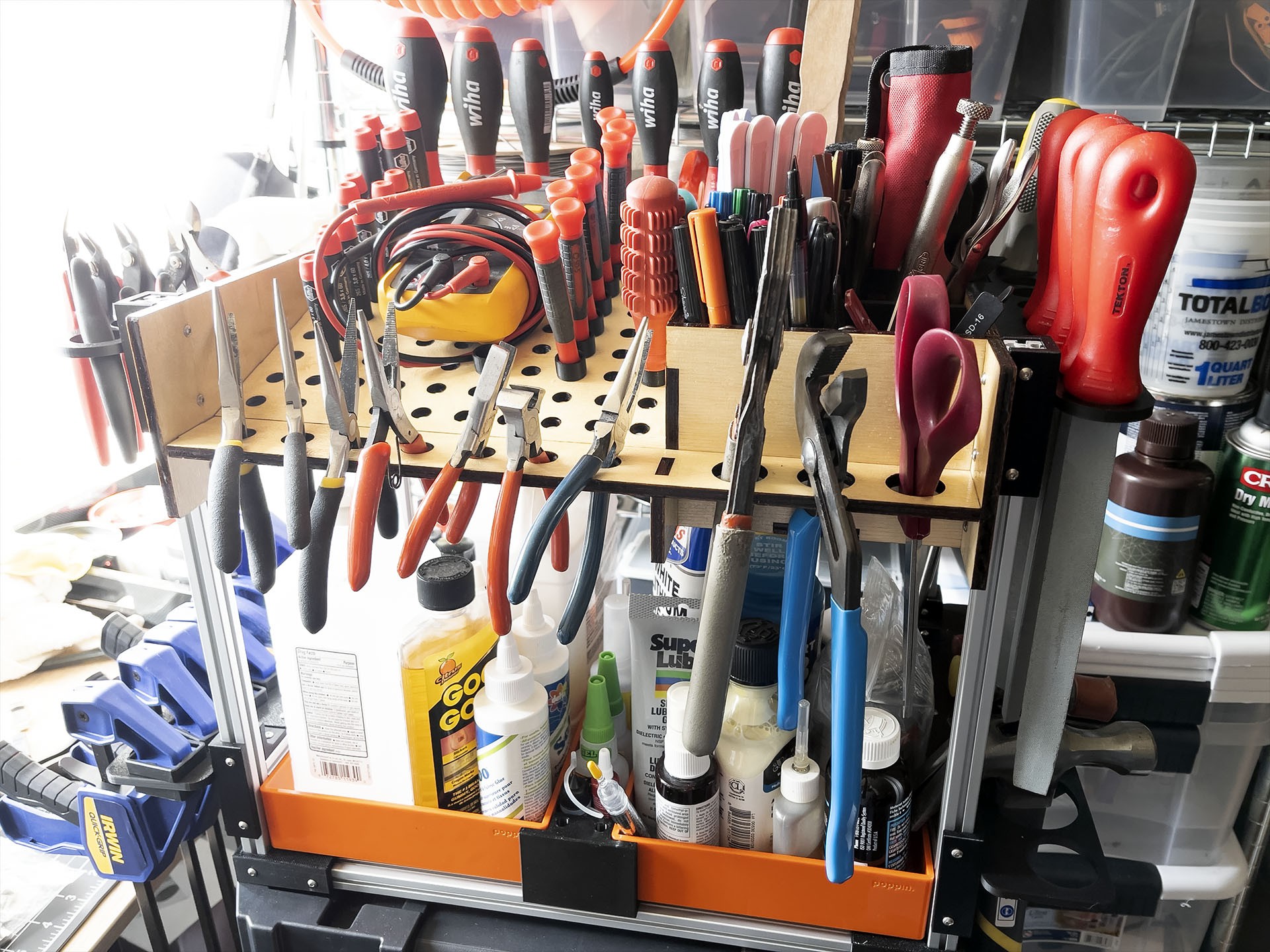 The top section is assembled with M3 hardware and the TSTAK adapters just snap right in to the top of the drawers. The two Poppin trays are held in by the center spacer. They provide nice storage for the various adhesives, lubricants, and solvents I use. With the partition inserted into the pocket, you can put all sorts of tools in there for quick access. The whole tool cart has a compact footprint while holding a lot of tools for easy access. I've posted the design and CAD files on Github, for those that want to build their own.