Background
Making a computer out of 7400-series logic, FPGAs, or PLDs is fun, but a lot of the complexity hides in those integrated circuits and their structure significantly affects any design that uses them. This led me to design and build a computer on perf-board out of NPN transistors between 2008 and 2011 (the Q1). In the end, I was left with a functioning transistor computer, but with a somewhat less than inspired design that would be extremely difficult to improve or replicate.
Today (2021), the situation has changed quite a bit from when the Q1 was built. While designing a custom integrated circuit is probably still beyond the reach of most, it is now fairly easy to get a PCB both fabricated and assembled. This means that designing and building a transistor computer is no longer such a labor-intensive endeavor. In some respects, I feel like putting this many transistors on a PCB is like designing an integrated circuit with a really big feature size.
The Q2 is my attempt at a single-board transistor computer. It is a 12-bit design with a bit-serial ALU. It is no coincidence that the architecture is similar to the PDP-8. In designing a transistor computer like this, the design decisions of old computers start to make a lot more sense.
Technology
The Q2 is implemented in NMOS using n-channel MOSFETs with resistor pull-ups.  The current design uses 1094 2N7002 transistors.  To reduce the transistor count and power usage, the Q2 runs at 80 kHz. The low-power requirement allows it to draw well under 500 mA at 5V, making it possible to use a USB-B connector for power.
User Interface
Programming is accomplished via a front-panel interface on the lower left side of the board. The front-panel has 12 LEDs to show the current address and 12 LEDs to show the data bus. There are also 12 switches to serve as inputs and the following buttons:
Reset - Set P (the program counter/current address) to the value in the switches and reset the Q2.
Halt - Stop the clock.
Run - Start the clock.
Deposit - Store the value in the switches to the current address.
Next - Increment P.
The front-panel switches are exposed to a 40-pin header allowing the use of a Raspberry Pi for programming, which is much more convenient.
For interaction with running programs, the lower right side of the board has a 16x2 LCD that can be written at address 0xFFF (bit 8 determines if the write is a command or data). There are also 5 buttons under the LCD, whose state can be read from 0xFFF.
Here is a snake game: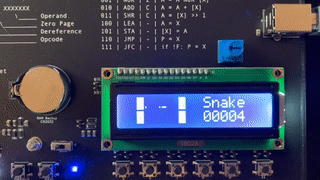 Memory

The Q2 uses two 6264 SRAMs for main memory leaving 4 bits unused. A CR2032 battery is used for backup. The use of an SRAM IC might be controversial, but there aren't a whole lot of viable options. Making a DRAM out of transistors would be possible, and with large capacitors it might even be essentially non-volatile, but to have 12-bits of address space would use more transistors than the Q2 has. A core memory would also be neat, but I don't know an easy way of sourcing one.
All 12 bits of the address space are mapped to SRAM except for the last address (0xFFF), which is for I/O.  This means there are 4095 words of SRAM total. This seemly small amount actually provides enough to do quite a bit. The snake game shown above only uses a small fraction of the available memory.
Instruction Set
Opcode | Name | F | Description
------ | ---- | - | --------------
 000   | LDA  | Z | A = [X]       
 001   | NOR  | Z | A = A NOR [X] 
 010   | ADD  | C | A = A + [X] 
 011   | SHR  | C | A = [X] >> 1 
 100   | LEA  | - | A = X 
 101   | STA  | - | [X] = A     
 110   | JMP  | - | P = X
 111   | JFC  | - | if !F: P = X 
  |
 OOO D Z XXXXXXX - Operand
      \ \_________ Zero Page
       \__________ Dereference

The instruction format of the Q2 is identical to that of the PDP-8 with 3 bits for an opcode, 1 bit to indicate indirection, 1 bit to indicate zero page, and 7 bits for an...
Read more »