I already started designing the v.02 board. I'm aiming for 50mm x 50mm to take advantage of cheaper board costs.
So far I've made the following improvements for the SMD board:
redesigned the schematic to be much clearer
switched the LDO to SMD component
switched the 4x10K and 2x20K resistors to SMD components
switched the 4 bypass capacitors to SMD components
switched the fuse to SMD component
replaced the screw holes with proper grounded M3 mounting holes
Here are the components which will be part of the through-hole kit (excluding the PCB):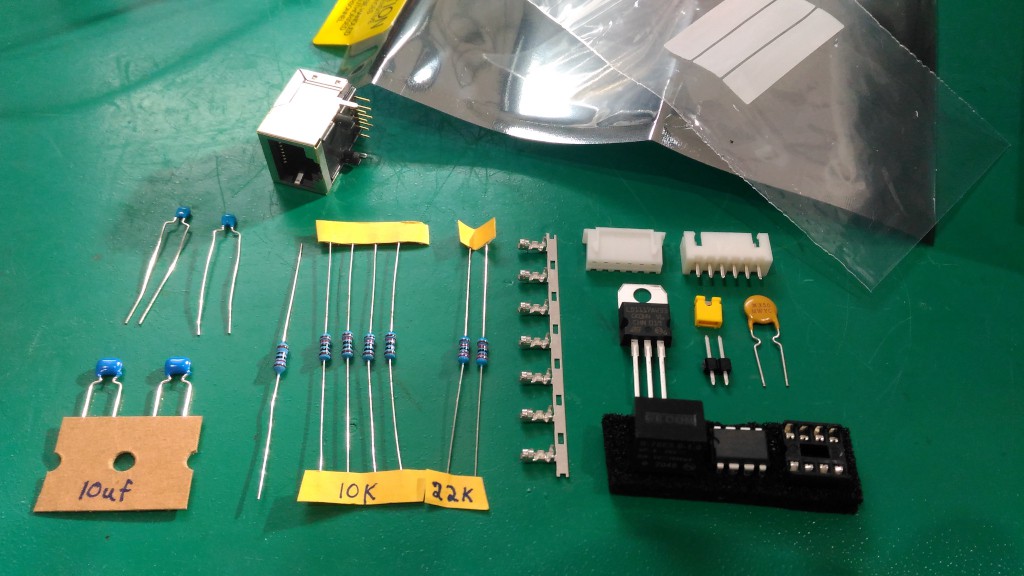 The kits will have 4 variants:
Through-hole PCB only: you source the components yourself
Through-hole full kit: PCB and all required components (pictured above)
SMD PCB only: you source the non-SMD components yourself, the rest are pre-soldered
SMD PCB + mounted components kit: has all required components, you solder the 5V regulator and 120ohm resistor
In all cases, there will be some soldering required, with option 1 requiring the most amount of work on your end, down to option 4 requiring the least.
Other changes

I'm not too happy with the v.01 board, so I will likely scrap it and order new v.02 boards in through-hole version as well.