No doubt that the Raspberry Pi was the Board bringing embedded Linux to hobbyists and tinkerers. In fact I was one of the very early birds purchasing one. As you might remember RS and Farnell got DDOS'ed very badly - it was an awesome feeling seeing the Rapberry gathering that much attention.
But at the moment I'm a bit fed up with it:
Slow CPU
Very limited RAM (remember that the first version had 256mb only)
Power consumption is not particularly low
Most annoying: A terrible hardware related I²C bug which makes communication with AVRs very hard. If an AVR can't handle an I²C event immediately it uses clock stretching, but this can screw up the Raspberry's I²C-bus hardware wise.
I checked all the boards supported by ArchLinux ARM and settled with cubieboard 2: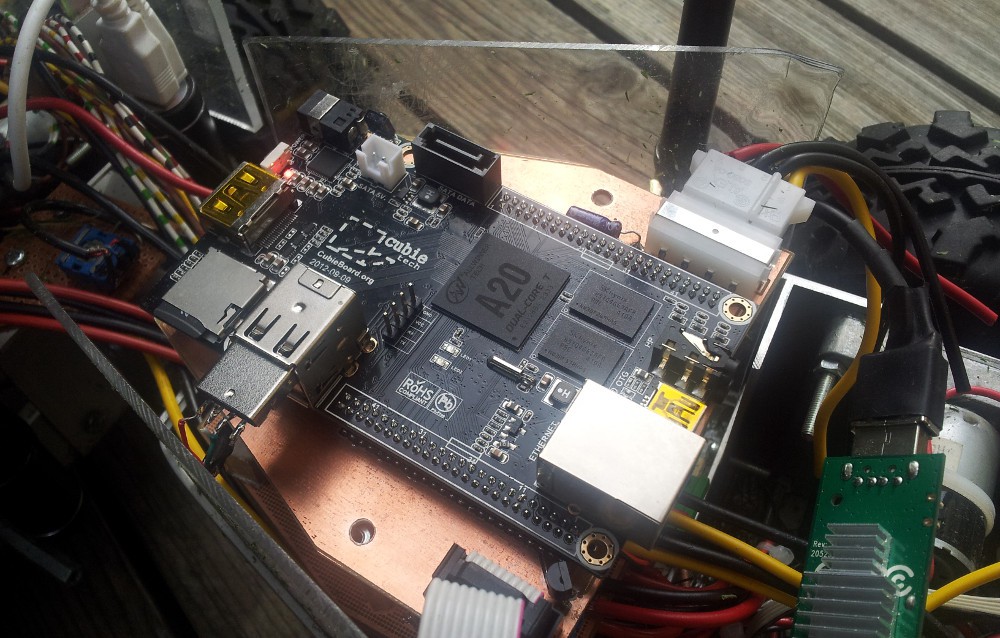 It sits on a home etched PCB and is only connected with 5V/GND/I²C
Some benefits relevant for this project:
Proper I²C interface (!)
Dualcore A20 Processor is very fast
1GB of ram
Less power consumption
4GB internal flash. The cubieboard 2 (Class 4 µSD) already boots faster than the Raspberry Pi (Class 10 SDHC), and usage of the internal flash would reduce boot time even further.
On shutdown the board actually switches itself off - this could be used as a power off signal for the power supply module
Extension headers on the right side of the board (bottom)
Things that are not ideal (just minor flaws):

So far I'm very happy with it!