look at that wonderful VFD!
<s>Well, shoot, I took the batteries out, and they've since fallen well out of reach. You'll just have to take my word for it,</s> that's a nice little Vacuum Fluorescent Display. $2.99, how could I pass it up?!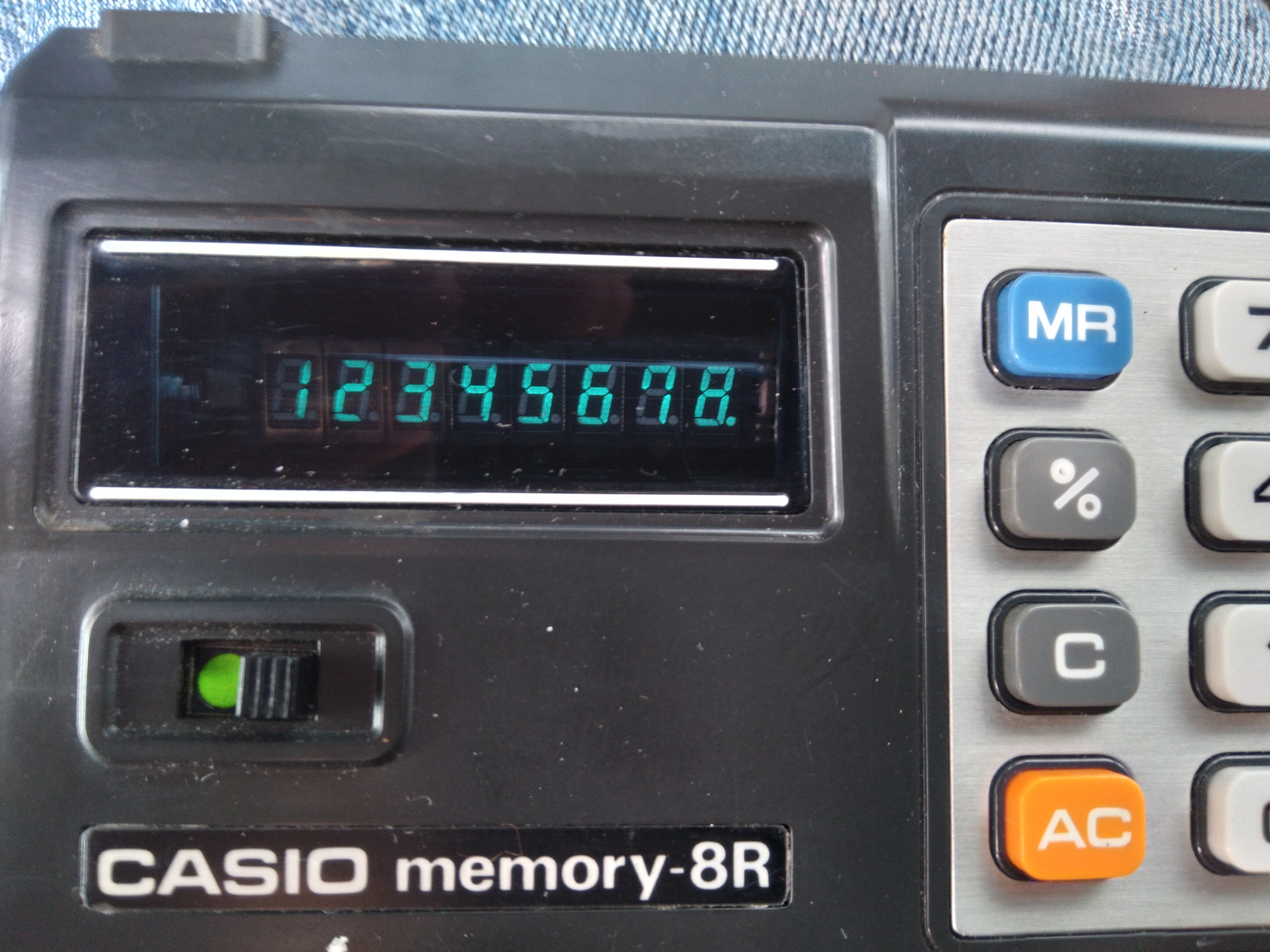 Half of me wants to hack it into the TI-86 for some purpose... maybe displaying the z80's data/address bus? 8 digits is perfect... 24 address bits after the memory-mappers is 6 hex digits, two more for data... I had been contemplating single-stepping and toggle-switch inputs a while back...
Initially, upon seeing this i thought each digit was a separate display, which I thought would be great for a wristwatch, and maybe various other projects. But, even weirder than those flat VFDs you find in VCRs and such, this guy is in a glass /tube/, cylindrical! How 'bout that?
You can almost make it out, here. Interestingly, both ends have wires coming out, unlike most tubes.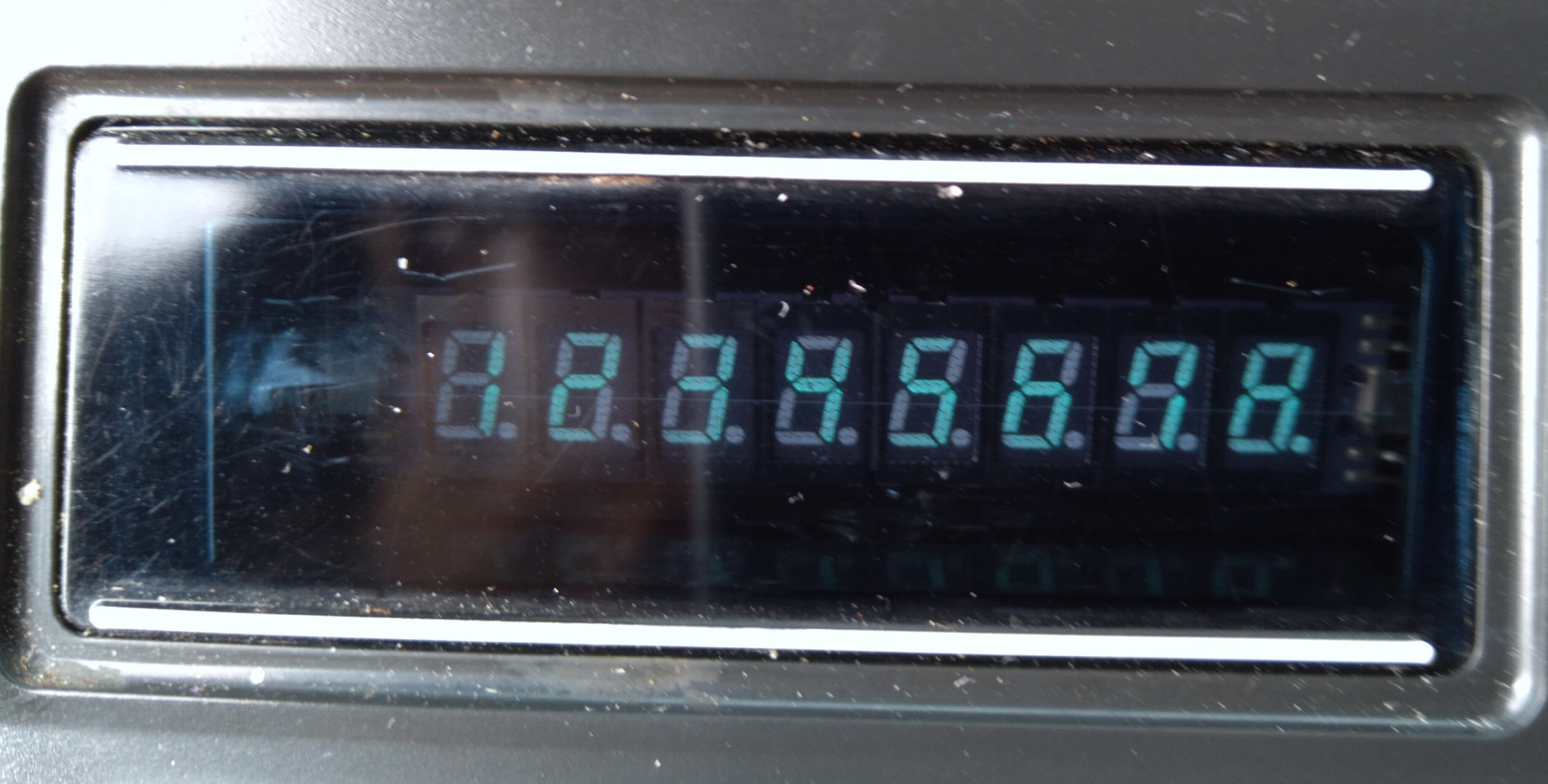 ... oh heck, I've already gone this far, and I left the lone screw out since it still snaps together quite nicely at some 50 years(?!) old.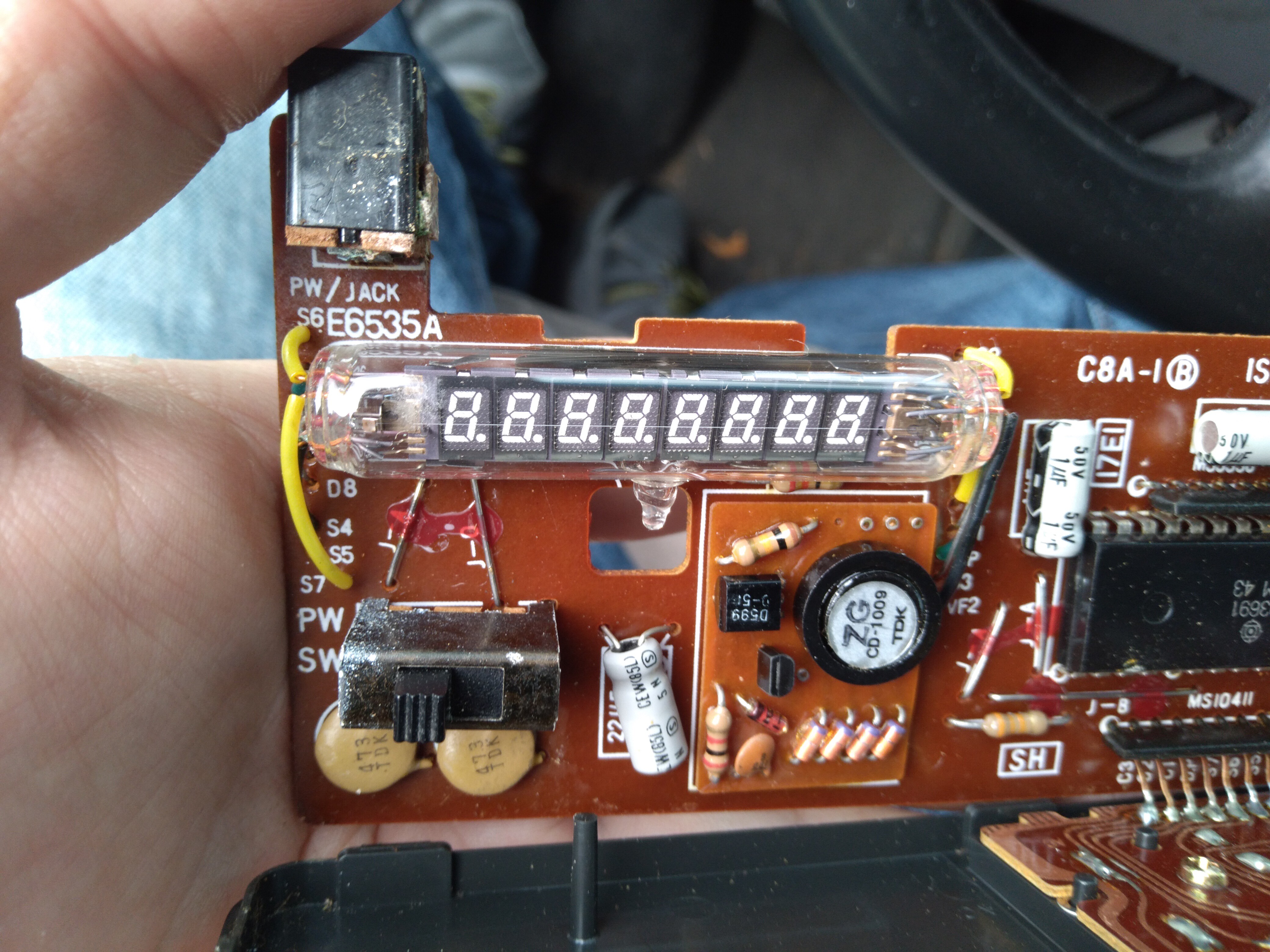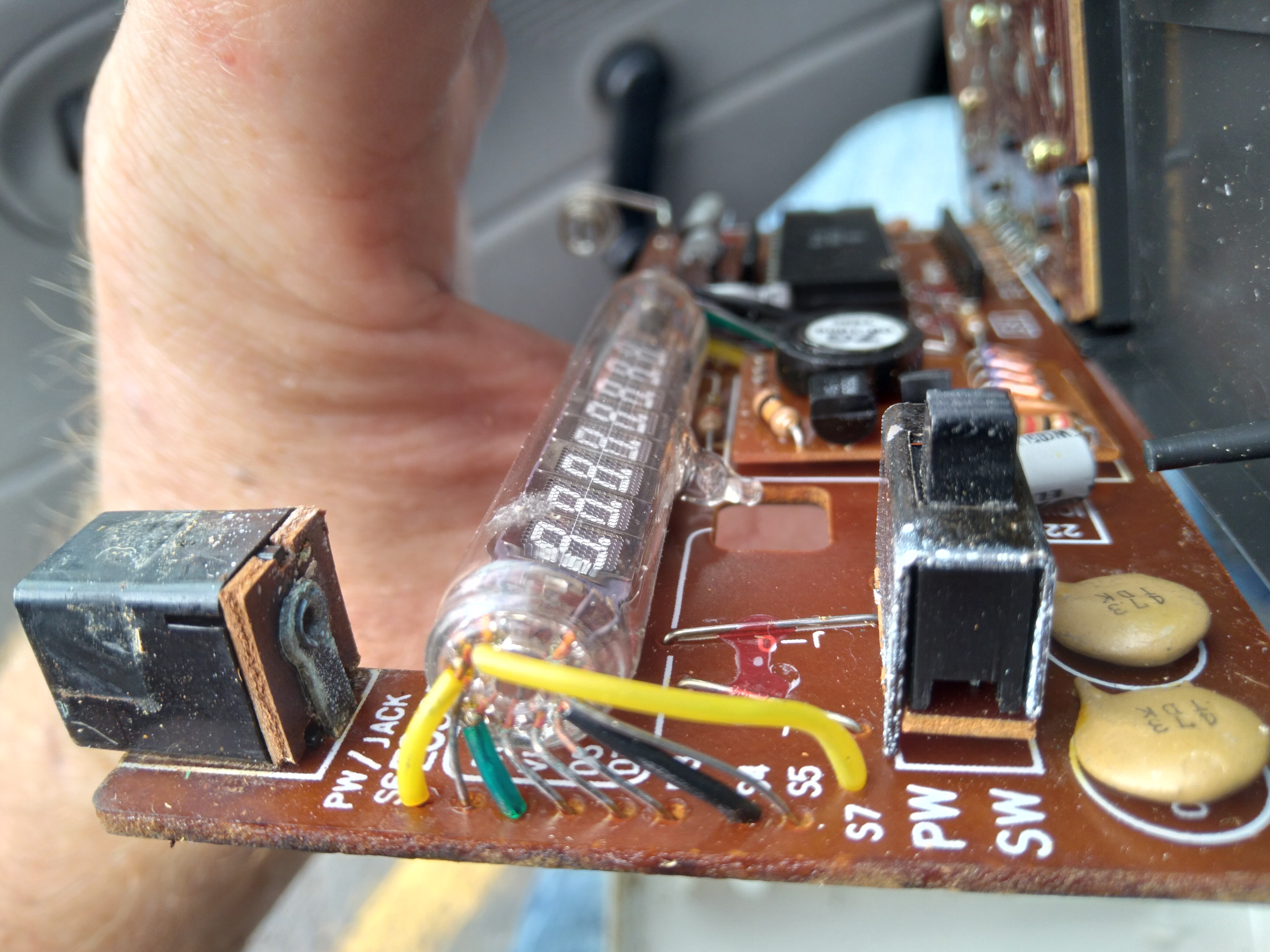 I dig that the leads are spiralled out from the circular layout.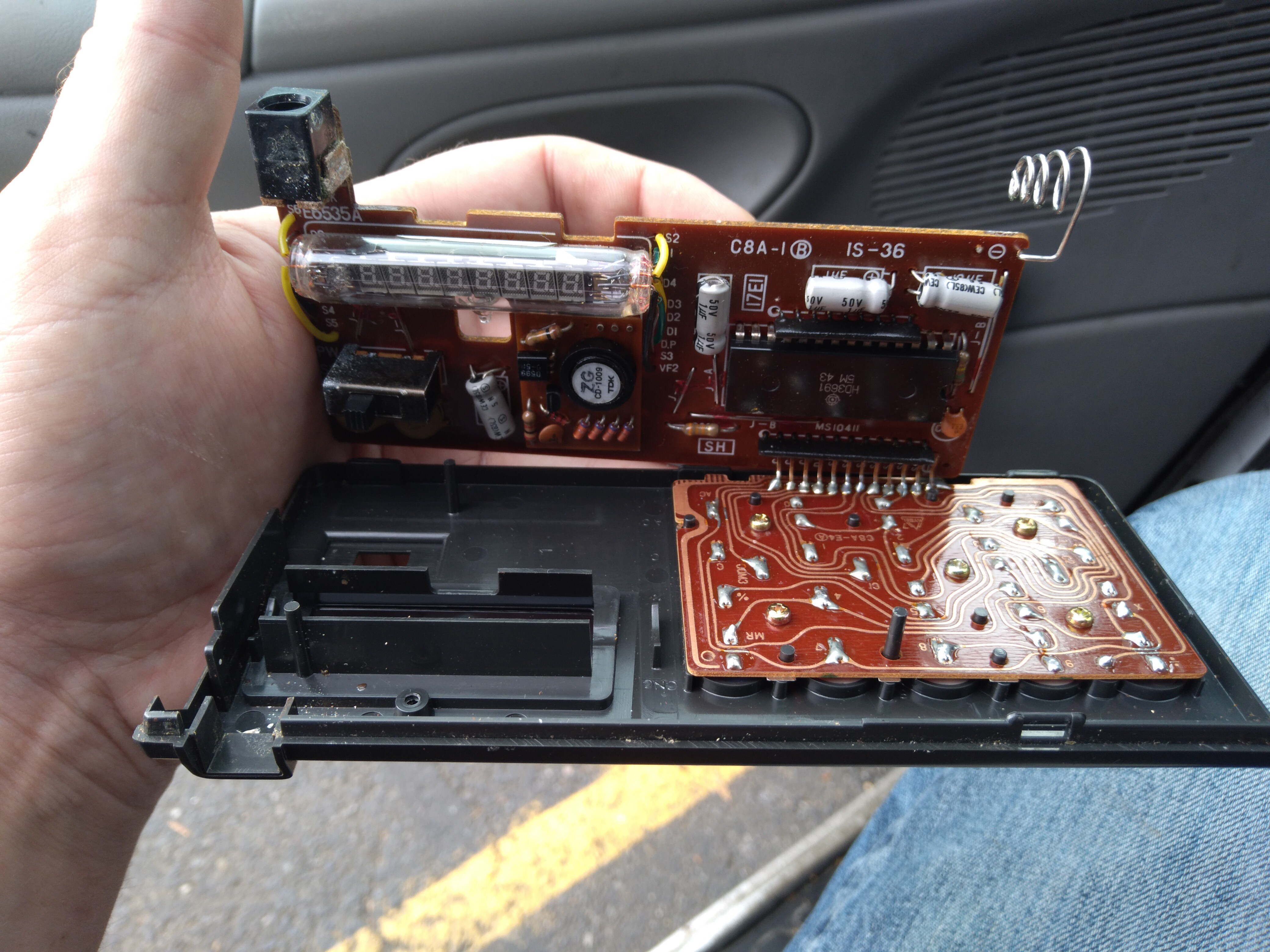 Bad shot, sorry... but there's really not much in there, and what is is mostly repairable/replaceable/hackable... I dig that, too. Probably part of the reason it's still around after fifty years.
Also, oddly, I noticed no friggin' datecodes! Best I found was maybe "45", but obviously that can't be right... right? Oh, hey, I just saw a vid the other day saying that Japan didn't use the AD year-system until after they were well into the electronics business. So, it might actually be from year '45, in whatever their system was, then. I may look that up, soon. That vid was about something from the late sixties, as I recall.
Anyhow, this guy's in near pristine condition, would be a bit of a shame to gut it... but who knows what its future holds. There's plenty of space inside, which could also make for a project-box... hmm...
Alternatively: i heard once of someone hacking a cheapo calculator for counting events: enter 1+1, then some sensor triggers the Equals key, repeatedly, automatically adding one each time. 
Along those lines, as long as all you intend to display is a single number up to 8 decimal digits long, the keyboard matrix could be broken-out for a microcontroller to control. Send a ribbon cable through the battery compartment and the vintage calc keeps its look, brains, and functionality... but can be used for other purposes too... hmm...
... A couple days later: one idea might be a Digital-Readout for an axis on a CNC machine, which also just happens to be a calculator, too, with a dimension already entered, ready to be divided by three for calculating the next move, or something... heh.
...
Anyhow...
In the compy backup realm... I've accounted for 500,000 of the 1million "missing" files. Yep, I had done some massive cleanup the day after my last backup in July, and even typed-up a log of my doing-so. Sometimes I'm not a complete idiot. But, still, that leaves 500,000 ,"missing" files still unaccounted-for. What The Heck Did I Do? 'diff -rq' doesn't even seem to help in that regard.... something burried deep in some folder that was in the trash? Maybe some kernel source or something?
Though, I think I've determined for sure that diff /is/ smart enough to recognize when two files are hardlinks to the same inode, so doesn't actually go through the process of comparing them byte-for-byte. VERY handy, since my backups link-dest each other... I was able to diff some 200+GB of backed-up files in about 15min... which would've taken /days/ otherwise, on this system's singular USB port.
Still... Where Are My Files?
...
Also, /finally/ organized all the backups I did from the TI-86... MANY different versions of the same include/libraries now organized to the latest versions, but with the oldest timestamps (being that backing up the same file again later gives it a new timestamp, now I have some idea /when/ they were last-modified). Also, getting rid of the various backups and earlier versions that were on the calc itself... this was no easy task, the files are binary, and contain a header which changes with each download/backup to the computer.
So now it's down to basically latest functioning-includes and latest test programs. This may sound simple enough, but remember, TI-OS doesn't have directories, and filenames are 8 characters, no extension. Here's an example: tParsePWM is the first version of the test program for parsing my PWM data... it became tPrsLASS, for parsing the PWM data in my Logic Analyzer ScreenShots, but I didn't like that name for long so it became tPrsPWMS, parsing PWM Screenshots. Then I'd be planning some huge modification so saved a backup to tPrsPWM1... Then 2... Then realized I couldn't recall which were backups and which was the latest a few days later... and were those backups of tParsPWM? No, tPrsPWMS. Then there's tPPWM, and I lost track of which number I was on, so they're like tPPWM1-3, then I thought I was near done and figured tPPWM9 was safe, but wound-up with tPPWMA (hex, now), then forgot again where I was, so figured Z would be a good bet... but, no, there may be a few more to come, so how about S? Right... tPPWMS, now was that a backup of tParsPWM, backup number S, or was it the first backup of tPrsPWMS? Or, heck, it changed names/numbering schemes so many times, maybe tPPWMS is /the/ latest version... would make sense, need a few extra digits for, say b[ackup] and a number... SHEEIT, which is it? Heh. Somewhere in there I eventually realized to replace the t prefix with b, but that was a ways in. (And, of course, doesn't work so well with my i for includes and t for their test programs, which one is backed-up in bDelayms?)
Sorting that /ONE/ program was a huge ordeal, and I've got well past a dozen, maybe two between various programs, include-files, and test programs for those includes... Heh.
Then there's iUARtTp1, iUARtTn1, tUARTtTxD, and tUARtTxN. Ask me about that mess...
But, even better, I wrote p1 and TxD first, thinking I'd use the graphlink through the DB-9, with p-for-positive logic... but RS-232/the DB-9 is inverted-logic. Then I copied it to n1 and TxN for negative logic thinking I'd wire the calc directly to the PL2303 at "TTL levels"... and went /way/ above and beyond documenting/commenting that file... then decided to use the DB-9 after-all. So the latest code is in p1 and TxD, which handles negative-logic (yahknow: p for negative), but the documentation is in n1 and TxN (which handles postitve logic, N for positive). Not sure how I'mma merge that... in TI-OS? Linux? Either way ain't easy. Then there's tUARtTxF... what's that? Oh yeah, the final product which was used to transfer my Flash's contents to the computer, the whole point of the UARtoST endeavor! But, wait, was it based on TxD or TxN? And some of its changes should probably propagate to both...
Hah!
...
I coulda sworn when I installed tilp there were a few other TI-calc-related packages that I can no longer find... one, I almost distinctly recall was for converting .8xp files to text files, and back... Which'd not only make diffing easier, but also side-by-side viewing, and then /editing/! But, I can't find it again, so I looked into the file format enough to extract the text content for viewing/diffing, but nowhere near enough for converting /back/ to a .86p file... So, no copy/paste between files, which would surely make a lot of this easier... The file format doesn't /seem/ too complicated, so I /might/ go that route... we'll see. I've /definitely/ alread gone /way/ deeper down the TI-OS rabbit hole than I ever expected. Heh. This was /mostly/ supposed to be about the hardware!
...
Came back to mention early ponderings in adding edge-lighting, as suggested by https://hackaday.io/hacker/1129684-tyler (who i can't "at")... those wound-up in the comments. Basically: I have linear LEDs easily-acquired from lightbulbs... can they be made to work? ... well 60V (my bulbs put two in series) is another endeavor, aka rabbit hole, I've been pursuing. One thing to consider is they're surely /far/ brighter, by design, than I'd want... so I'm betting even a few mA would be plenty. OTOH, generating/boosting ~60V could be very noisy to the rest of the 5V circuitry. Heh!