I decided to do a port-read of ports higher than the 8 reverse-engineered and documented by others. I found something interesting... while mostly they seem to repeat after every eight steps (which would make sense if they just used a 3in-8out demux) they /don't/ repeat if bit 5 in the port-address is set. So, it would seem, the 8out demux has a low-active output-enable tied to bit5 on the address bus. Now, why would they do that, I wonder?
Note that when reading a port that is write-only you read back the port address... my guess is that is on the data-bus due to capacitance holding the last op-code, which was the port address.
But note, again, that the pattern of repeating the first 8 ports begins again when bit 5 is low, even, e.g. with bit 6 or 7 high.
Am thinkink maybe there's room for 32 user ports (32-63), or some other write-only port in that range.
So, then I looked into the reverse-engineered T6A43 pinouts, combining them and my work, to see if there's room for an I/O select pin... maybe it's only output for ports in that range... 
There are five pins which aren't well-accounted for... I tried to follow traces, and as I recall none of them are no-connects. I believe those reverse-engineers probably scoured the disassembly of the ROM for ins and outs, based on how they described their findings, so I kinda doubt port32-63 are accessed... (hmm, maybe I could grep the hexdump?). So then that leads me to wonder about how something like /IORQ could be [mis]used for other purposes.
/MEMRQ isn't really necessary, it could be presumed when /CS0-3 are active... 
HAH, that could very well be it... maybe not a specific pin for /IORQ, but a NORing of /CS's... though, it would require the A21-20 to /CS3-0 demux's /OE to be wired to some logic with /IORQ as an input... sure, why not...? In fact, plausibly, of course it might be.
Wherein, maybe, even if /IORQ /isn't/ broken-out on one of those undocumented pins, it might be hackable anyhow. Hmmm...
...
But, I wasn't really looking for external ports, was looking for internal ones. Was kinda hoping the timer used for interrupts at 200Hz(?) had its count accessible somewhere, for precise timing of events. Kinda surprised I haven't found it yet.
And /that/ endeavor was started by the idea that I don't really care to learn about TI's variables, nor do I trust my wonky 100B/s link setup to work reliably for the 45minute download... so looking for other means to transfer the FLASH chip's original contents, which is kinda a stupid idea since I have no idea what it's from... OTOH, all this may lead to more/better understanding of the T6A43. Oh, the idea there was maybe to bit-bang regular ol' serial... which, realistically, might be pretty slow since the CPU clock speed may vary significantly... And, even without a high precision timer, the same could be done with cycle-counting, if necessary.
Anyways, obviously sidetracked.
Any benefit to using in/out over just memory-mapping? Reduced decoding logic, i suppose... No need to remap... yeah, it could be handy. I could maybe even implement my fast-access/no-remap 24-bit addressing scheme idea... though, that'd require enough rewiring to likely justify a fresh start with a "real" z80. Oh, also difficult since remapping A15-14 happens internally.
Knowing me... I'll probably be looking into this port32-63 thing further.
... hours later...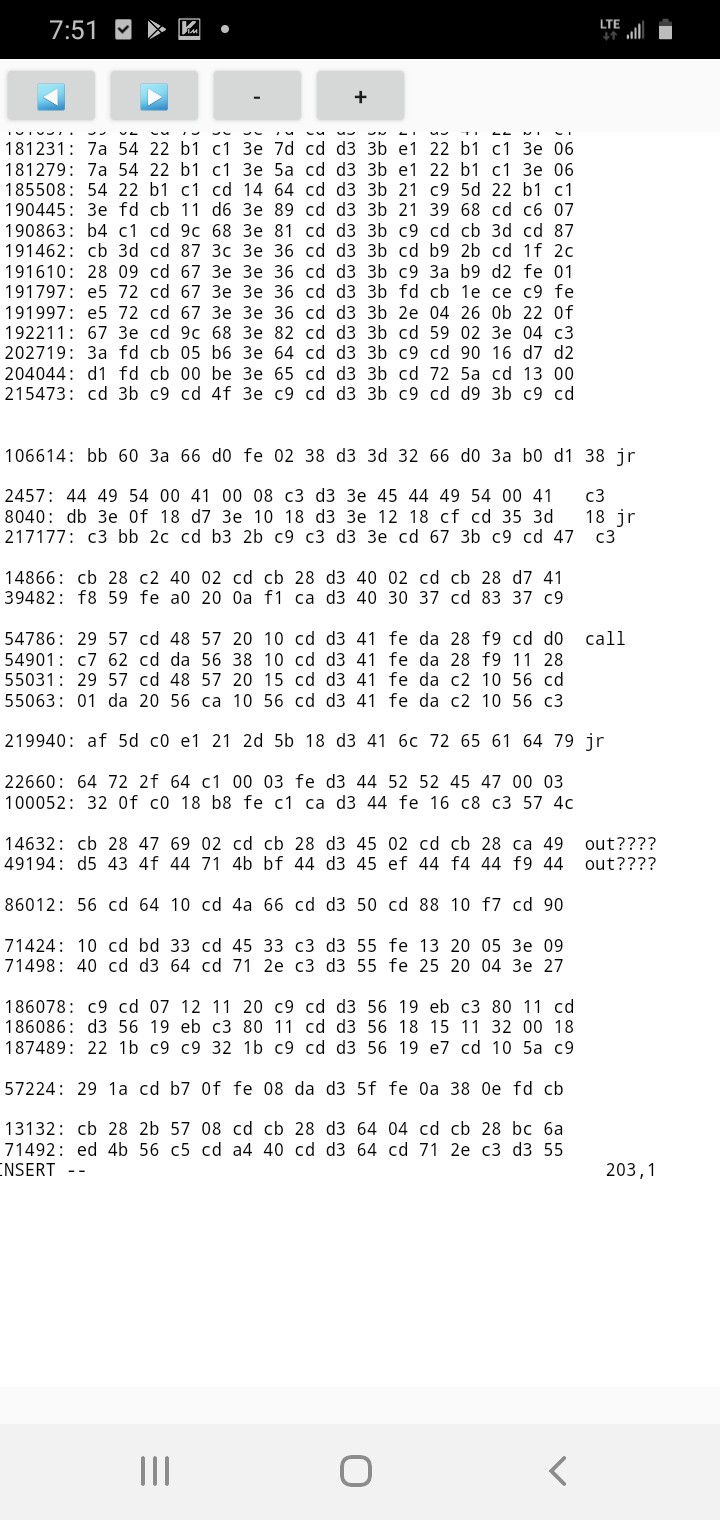 Searching the ROM image for outs that're hardcoded directed to a specific port... we have what seems a first match (after 0-7)... port 0x45. Could it be? It's not in my bit5 rationalle... but, what is this port 45???
Which gets me thinking... port5 is the "ROM" mapper... port 0x45 might just access port5 through wraparound AND give an extra bit or two. E.g. writing a value to port5 maps a specific setting for addresses A21-A14 to map to 0x4000-0x7fff... but, what if there really was an A22, maybe even an A23...? How would one choose them via an 8 bit port whose data bits start configuring at A14 (e.g. port5)? What about using one of the port address bits /as/ the value? A 10bit d-ff register/latch could be addressed by A2-0, to select port 5 of max 7, for writing the first 8 bits, and the remaining two(?) bits on the 10bit latch are written low. BUT... since thus far it only pays attention to A2-0=5, what happens when e.g. A6 is active? It wraps-around? So writing port 5 is identical to writing port 0x45? But, wait... those extra address bits could be put into the higher bits of a /TEN/ bit register. E.g. write at 0x05, get 0x00-0xff, if the next address bit were connected to D9 on the 9-bit register, then writing to port 0x15, through wraparound, would do the same as 0x05 AND set the ninth bit in that register. 0x25 would set the tenth, 0x35 would set both the ninth and tenth. Why not? Actually, this logic is quite similar to the 24-bit addressing scheme I came up with... use the same port latch at multiple port addresses to load it with more than 8bits of data. HMMM...
I've yet to look at the surrounding code to see what it does...
And, as an apparently WriteOnly address, it's a bit confusing... and adding to that... what was it...? Oh yeah... what would those higher address bits actually do? I'm pretty certain the two highest bits in port5/6 address the chip-selects... but what would an extra bit, or two, address?!
Their only existing in two locations (outs to port 0x45) suggests it's RARELY used... maybe for the ROM /OE which is only ever deactivated during FLASH writes, which is only used during devel... it could be....
...
Needle in a haystack, heh. I'm still digging for some in/out to an undocumented port... 0x45, it appears, isn't a thing... one is definitely a jump address through the very interesting function I wrote about in a previous log. The other must also be in some sort of lookup table, because most of the surrounding data doesn't make sense as instructions (e.g. ld a, e; ld (hl), b; ld a, e; <---why?), and lots of it. 
@ziggurat29 wrote of something similar a while back... I've learned a lot from his disassembly work both about the TI-86 (and Kaypro) and also about sleuthing disassembly in general... I'da been like (was like): "oh hey, that 'out (45), a' isn't changing, no matter where I begin disassembling surrounding opcodes! It must actually be a thing!" ... but only after: "how the heck is disassembly even possible, without knowing which bytes contain the beginning of an instruction?!" and so-forth. Ziggurat29's shared a wealth of knowledge burried in comment-threads in logs, often of tangentially-related topics, around this project and #OMNI 4 - a Kaypro 2x Logic Analyzer . Heh!
So, this time around, I knew to look for "reasonable" instructions surrounding... and, through his example I can see it's really not particularly reasonable to do a whole bunch of byte-copies back-to-back, which overwrite each other without /doing/ anything with any of that copied data before it's overwritten (sometimes with itself!), nor doing anything with flags, etc. So, my guess is this is a lookup table of some sort, or otherwise stored /data/ rather than /instructions/... which brings me full-circle to seeing first-hand how to disassemble when there's no way to know where an instruction starts... the answer, I guess: a lot of guessing and checking and knowing some tricks.
Thanks for the insight these past years, my friend!
...
As far as using wraparound for e.g. port  (5+n*8) being used to write extra bits to port5... that doesn't seem to be the case, here, but I like the idea, maybe for my own designs. Anyone seen it elsewhere?
...
Oh yeah, "online disassembler"... hah! The first time I came across it, I couldn't imagine how it could possibly make sense to have a website for something like that... I've used it A Lot, since... on my phone, exclusively, no less. This is a strange era!
...
Oh, LOL... I coulda probably guessed this was a lookup table by noticing the surrounding bytes have a pattern... 0x44 (and similar) is repeating every two bytes (look at the line marked 49194(byte offset))... also, the other byte paired with them seems to, for the most part, be near in value and increasing... this could be a jump-table, or 16-bits used for a table of sin(), or so-forth. Though I'm leaning toward ROM jump-table, since 0x4400 is in the mapped-rom section.
....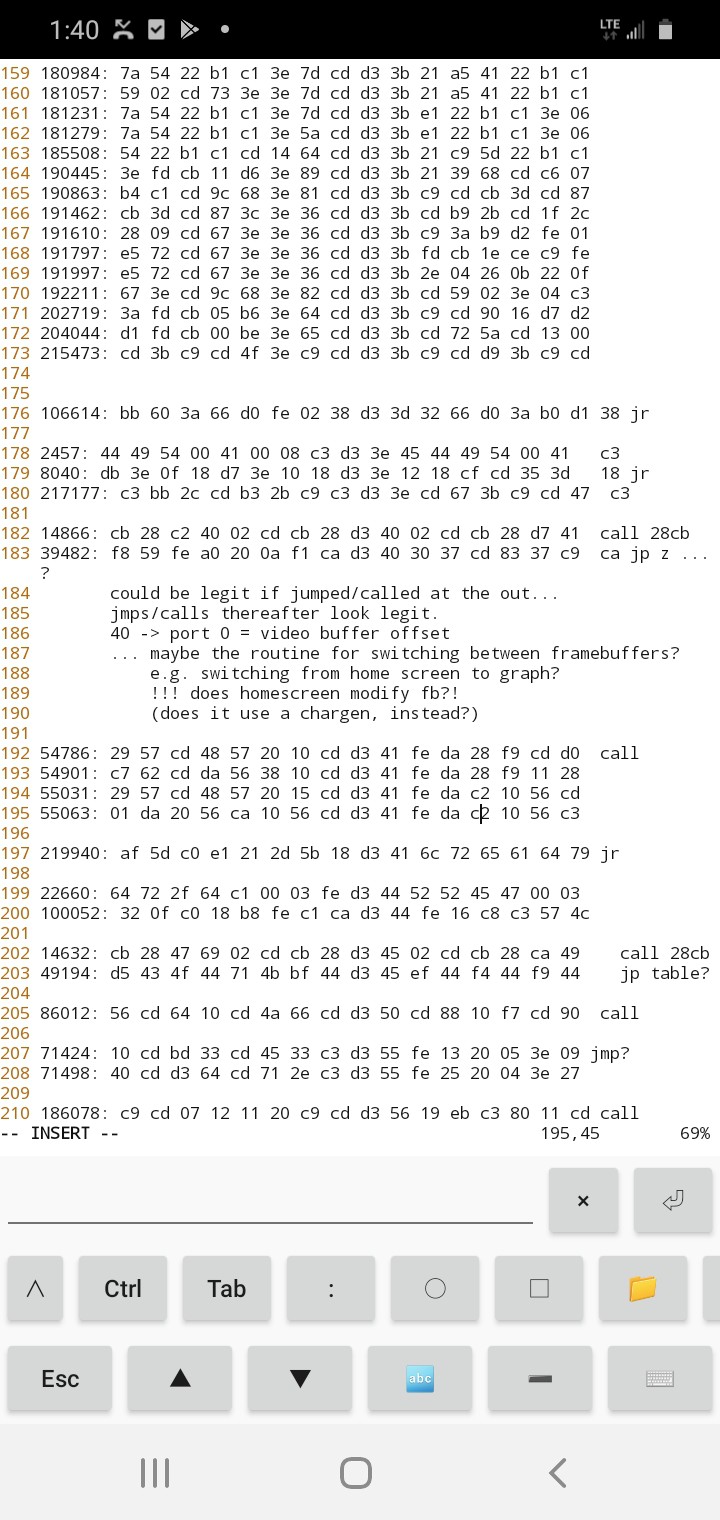 Near Byte offset 39482 (decimal) there's a potential out to port 40...
Is this a fool's errand?
It's /only/ an out if you start the disassembly /at/ the out instruction... which would mean it jas to be called or jumped- 2 1s ldirectly. I'm in too deep, at this point, to keep track of all the branches I've gone on, and how to continue with them, looking to legitimize this as an actual out to 40... but, the latest (and I think as deep as I'm going, here, unless knowledge of some amazing trick comes my way) was to grep the entire binary of the ROM for calls to that out 40, directly.... (I have no idea how to grep it for relative-jumps, etc.) If I did my math right, the call would consist of the raw bytes, in reverse order, of its address bytes, when mapped into the rom-mapping page, of 9a42h.
Which... i don't see any calls to.
But, why have I gone this far if it's the /only/ out 40 in all of the ROM? And further, only /actually/ out40 (as opposed to, say, a couple address bytes in a call/jp, or even a couple bytes in a lookup table) if you call/jump to it explicitly? Maybe it's just wishful thinking, trying to uncover some hidden feature that could be made use of, or trying to confirm my theory that designers might use address bits (bit 6, here) as a means of entering additional data bits to a port... 
but there /seems/ to be some plausibility this could be the real deal, despite so many specific requirements... if you start disassembling /at/ the out40, the code thereafter makes sense, whereas starting disassembly at all the byte-offsets I tried /before/ it seem somewhat nonsensical except as a jump table... WHIC would suggest we're in a jump-table, right? But, /immediately/ after the jump instruction containing the bytes which could be an out40, the jump-table seems to end. And the instructions thereafter don't make sense. Whereas, treating it as an out40 which has to be called/jumped-to directly, the instructions thereafter do seem to. Soon thereafter is a jp z, as I recall, which would rely on a and the flags being set prior. Kinda like arguments to a function call. Again kinda making sense. And after following that jump, we're led somewhere that /also/ looks like legit code one might jump to...
I didn't follow that rabbit hole much further, as, the number of branches and ROM calls got overwhelming... but, that's where I decided to grep for calls to the out40... and found nada. So, now, it seems a bit less likely (than even the amount of unlikely this endeavor started with!). And, again, I have ziltch ideas for how to grep for relative jumps, etc. to a specific location.
BUT:
Let's pretend it could be... what could it be?
Port0 maps the framebuffer. Why is that even changeable, I dunno... seems it's very hard-coded (based on my readings... I haven't looked at out0 code yet) to always be at the top of the always-mapped ram page. Here's an aside-oddity, reading one of the reverse-engineered port-description documents, they claimed that TI-OS writes a value to port0 which doesn't seem to fit into their determining of its functionality, /unless/ a couple of the bits explicitly set high are masked in the end... could be... but why write them 1? Sometimes that's "good practice" for bits reserved for future disigns, but the T6A43 is a VLSI that,'d been around for some time... doesn't seem another version was coming... and, other calcs from TI of the era were based on different chips altogether... e.g. the TI-83 has a dedicated video-controller chip with internal RAM, not sharing system-RAM /as/ the vram. Anyhow, so maybe that port has more functionality than has been discovered... maybe a lot more.
E.G. how does the OS handle the fact that there are two separate screens whose contents are kept when switched to the other...? There's /at least/ the "home" screen and the "graph" screen... when at the home screen, is it using a different framebuffer location, or is it actually like on an old PC using a realtime character-generator synced to the screen pixels' being loaded? Such a character-generator /could/ be used, instead, to load the framebuffer... but if it did that, then we'd need two framebuffers to maintain the two screens. I've yet to learn of such a second framebuffer... but that doesn't mean it doesn't exist. And the fact that there's a port dedicated to changing the framebuffer location suggests there might. BUT: again, I don't recall reading of this second framebuffer, which I think would've come up in the "free memory locations" documentation... since, e.g. when playing a game (in the "graph" framebuffer) one might not be too sad to lose their graphs and their math on the homescreen... 1024 bytes is nothing to scoff at. So, now, what if the framebuffer-offset port has an additional bit (e.g. by accessing port0 through port40) to choose to map it in from (or the unused one out to) /another/ RAM page? I THINK the majority of the circuitry to do-so would basically already be implemented through port0's functionality, as understood, currently. So, it'd really only be a matter of, essentially, an additional remapping 8(?)bit latch, just like the other two (at port5/6)... So, frankly, I could be totally wrong, here, it could very well be that the mapping scheme could have portions of five different memory pages accessible at once...
Hmmm.
And it may be a matter of one function call to switch the framebuffer "page" in and out, based on the zero-flag (or was it carry?).
Anyhow, that could be groovy... Presently, as I understand grayscale, it's done by switching between framebuffer offsets... that means three shades of gray would require 3096bytes of RAM, /in/ the always-mapped RAM page zero. Which is pretty much necessary, anyhow, because if you want to change one pixel you've got to change it in three locations... but what about this possibility the framebuffer could be in another page entirely, and switching that in and out? Doesn't seem so handy to have to switch it three times just to change one pixel... nevermind doing-so in synchronization with the frame you currently want displayed...
But, then... if it's switchable to a page other than 0... /that/ page could be mapped-in (constantly) at 0x8000, now all three framebuffers are writeable without swapping pages, and they don't have to occupy RAM page zero... leaving plenty of permanently-mapped RAM for other things, and ... i lost it... something about the idea of having a means to transfer 1024 bytes of data between two ram (or other) pages without swapping back and forth, nor unmapping the ROM jump-table. I thought i had something more interesting than that...
Anyhow, it /could/ be, and, really, with minimal extra circuitry, suggesting it might be... which, even if it's not, gives me more ideas for my own embedded/computer (z80?) system designs, if i ever get around to something like that.
...
Then there's still that ROM /OE... which happens to be right next to the video pins... so, again, plausibly controlled by port0. Which, again, might be accessed via port40... which would help to explain its only being accessed in one location. Though, there seems to be a "ROM Disable" on one of the ports, which would make sense to control the ROM's /OE, but, as I recall, that was documented in the TI-85's ports, wherein, as i recall, according to the reverse-engineered schematic, is elsewhere.
I am /way/ off-course, now... what was my goal? Oh, hopefully find a timer count... so why am I looking at OUTs, instead of INs? Heh. But, wait... why do i want a timer? Oh yeah, (besides being all-round handy) to bitbang serial data... and why that? To back up this stupid flash chip I pulled from some unknown PCB I deemed more valuable probably two decades ago as spare parts for a project like this one, one day... heck, for all I know it came from a particular (quality) model ISA modem I have /several/ of, which haven't been scrapped. Didn't I have a goal before that? Oh yeah... back up to flash the TI-86 assembly code I plan to work on, regularly... (why not get a USB link cable?) 'Pop goal' to add some groovy hadrware and figure out cool possibilities, 'pop goal' to learn some z80 and Von Neumann, 'pop goal' to get back into projects, 'pop goal' hrm... see if/how/where I can ... oy... and to keep my mind off... gah... and so many other things.
Back to "work"!
INs... I should be looking for INs at weird ports.
...
For a bit there, I thought a couple things: A) maybe, this being a VLSI designed around a z80, they had "blocks" to "drop in" that were specifically designed to work with Z80's... e.g. isn't there a whole set of chips for various peripherals? Right: Z80 PIO, Z80 CTC... and B) maybe the CTC (Something Timer Counter) didn't actually support read-back of its current count-value... e.g. maybe it was intended purely for periodic interrupt generation. But... no, it doesn't look that way. Simply read its port, get the count value back... as I've been trying. 
So, then, I finally got around to reading /every/ port (0-256) and pretty much found exactly what I'd already found... the 8 ports repeat every 8 ports, except when bit5 is active in the address. This time, though, rather than reading back the port-number on read-only ports it's instead reading 0x78. Which took me a second... oh yeah... the thing that made this possible was something I assumed there from the start, but got a compile error... that's trying to use a register to select the port. And, apparently my compile-error was due to trying to use register a. If you want to select a port number via register, you gotta use c. Heh. Found that when looking for what byte sequence to grep... so, now, i suppose there's potential for really difficult to grep port accesses via register values. And 0x78 is due to the instruction byte sequence for reading a port selected by c, which seems to confirm the earlier port-number-readback theory: the last instruction byte remaining on the databus via capacitance since nothing else is driving it.
Yes, I filled /most/ of the table by typing each port number, previously. So, finding in a, (c) is opening new doors... like... when using those register-selected-port-number instructions, a side-effect is that b is loaded to the high address byte. Typically it's "supposed" to be ignored by I/O stuff, but actually it's well-documented-enough that some z80-based designs use it... hmmm
Allegedly the ZX Spectrum used the high address byte to scan the keyboard matrix. Clever. So, then, it's also plausible for some crazy reason the timer/counter value is at some imaginary port between 256 and 65536... but probably not one whose A0-2 are high, and maybe likelier (as if this is likely at all) one whose A5 is high. Thankfully computers are /really good/ at iterating through loops. I, however, am not quite grasping how to write such a thing in assembly... because, in addition to needing the two nested loops, I don't plan to scroll through 10,000 pages of values. This thing's gotta look for something unexpected, and show me only those cases. And so I thought (IX + n) was the way to set a starting address to compare to, then calculate n by masking out bits other than 0-2 in the loop iterator/port-number... but... no... n is a friggin constant! What?! This ain't for iterating through arrays, it's for selecting items in a struct. Sheesh. So, I guess I've gotta do a lot of math, in assembly, with ever decreasingly-available registers... heh. This is definitely a different way of thinking than my decades of C.
The odds of this finding anything seems /really/ slim... but it could be interesting. Today I couldn't shake the feeling I'm panning for gold... but I also can't seem to shake the urge to continue this quest despite decreasing odds.
"Maybe it has to be activated, first, through some other port"... heh... the list of maybes seems to grow with each "nope". 
But, really... how the heck ya gonna put a counter in a processor and not make its cout readable...? I mean, really...
...
The ROM Disable bit is documented for the TI-8/6/, after all. Could it really control /OE? There's also a RAM disable bit, which allegedly works (how on earth did they test that?) But, the RAM has its /OE tied to ground, not the CPU, and that wouldn't disable Writes (which, of course is irrelevant to the OTP PROM)... the only other way to disable the RAM is through the chip-selects... and that'd work, too, for the ROM... and there are two more unknown bits in that port which maybe disable the other two chipselects... but they're in a very weird order. So... next time I get out the logic probe, maybe. But, if it is at the chipselect level, that could make for some other hackery, like the idea before of using no-chips-selected to indicate an IORQ, or control yet another 1MB of memory... or, maybe it disables only the /mapping/? I dunno.
I'm a rambling man...
...
Holy sh**, CISC IS INSANE!
One friggin' instruction does all this?!
I see, now, this project has more to do with learning [of] the insanity that is CISC, than anything else I'd planned.
So, one more time... the goal was to reduce the amount of data storage and bus accesses used by instructions, right? I mean, now I can see how substantial those savings would be. Two instruction bytes for what would easily take 10 on an AVR!
I can't quite wrap my head around the implications...
Writing in C, these things are hidden... Writing in AVR assembly [inline, in C] is something I've done, oh, probaby far less than 50 lines of, at most in a project. It's a bit frustrating how much extra work it takes to do simple things like var++, but there's a simple enough process to it. Load var from ram, increment the register, write back to ram. But, looking at this... holy crud. No wonder higher level languages took over... who can even remember /that/ an instruction like this exists, nevermind which registers it works with, etc? Props to CISC assembly-writers.
Meanwhile, it's got /that/, but if you want to use a register to choose a port number, you can only do-so with register C. Heh!
I suppose those sorts of things would be easier to learn from a more verbose assembler. ZAC, to keep it small enough, merely says "error at <line>". Having a printout of the assembly manual is a good idea.
As far as what that means for my path... well, full-on z80 assembly guru isn't what I had in mind. If I need something like this instruction offers, I'll most likely be completely unaware of its existence and code it step-by-step as though it was RISC...
But, doing-so keeps surprising me, where some of those core simple instructions have such weird limitations! You /can't/ use register a to select a port number?! A's The Guy! The Goto. The one that works where no other will! Think: cp, and, shl... alright, I get it... port number is more like an address, a isn't usually for addresses.
It's kinda interesting stuff, but I've got goals, man! That's why I'm searching for a likely non-existent port, right? Well... longterm if I found it it would align with later goals quite nicely...
Heh. OTOH, later goals are "add functionality/hardware!" So, I guess, adding my own counter for timing purposes is along those lines... hmmm... would I go the z80CTC route, or 7400-series? The latter being tiny in comparison, might actually fit in the case. My needs aren't huge... just need to keep a running count at some regular interval faster than 10,000 counts/sec... don't even need it to interrupt when it overflows as long as it's checked once per cycle... which the 200Hz built-in timer interrupt could do... still, at 2MHz (cpu clock's prb faster), that'd have to count to 10,000... 16 bit counters aren't exactly common in 7400-series. In fact, I've long searched for even 8 bit counters. Hmm. But a DIP40 for a friggin 16bit counter seems a bit much in the available space. An alternative, maybe, is an RTC... do they have those with high precision taps?
I'm not sure if this is the sorta addon I had in mind, though... If I do add it, and /much/ of my coding-style (e.g. in #commonCode (not exclusively for AVRs) ) makes use of it... then that means anything I come up with that relies on it would not be usable on other TI-86's without the same modification... somehow that seems different than, say, adding a sound-chip. I dunno why.
...
Holy Moly! I'm getting something /very weird/ reading back ports when taking into account that register b is loaded to the high address bit. Stay tuned. (This'll prb make for a next-log, and maybe video).