Find the panel model number

The most important step, arguably. It's going to be written on the back of the panel, on a sticker somewhere.
Of course, there's all kinds of text on stickers on the back of the panel. The model number is going to be displayed prominently, but not always. Need some panel model number examples, as in, what kind of number are you looking for? Here's some:
Samsung:

LTN154MT02-001 (15.4")
LTN154P3-L02 (15.4")
LTN141P4-L02 (14.1")
LTN121W1-l03 (12.1")
LG:
LP171WP4 (17.1")
LTN154AT01 (15.4")
AUO:
B154EW02 (15.4")
B154EW08 (15.4")
Toshiba:
LTD141EM5F (14.1")
LTM14C453 (14.1")
Hitachi:
TX36D98VC1CAB (14.1")
TX38D85VC1CAB (15.0")
As you can see, it'll typically contain a few letters in the front, then three digits denoting the panel's diagonal in inches*, then a few more letters and numbers. There's some more esoteric manufacturers (i.e. Hitachi), but overall this is what you can expect.

* the last Toshiba model number is a bit of an exception in that it's 14.1" but the model number only contains "14")

Can't recognize any model numbers?
Pop into our chatroom, post decent pictures of stickers on the back, and we'll try to help you =)

Alternatively, if there's a computer you can plug this panel into, you should be able to read the panel's EDID using Windows or Linux tools [TODO: article] - the EDID info should contain the panel's model number!

Got the number, what now?
Plug it into Google =) Does a Panelook.com page come up? If so, great, you're almost there! This table is what we're interested in: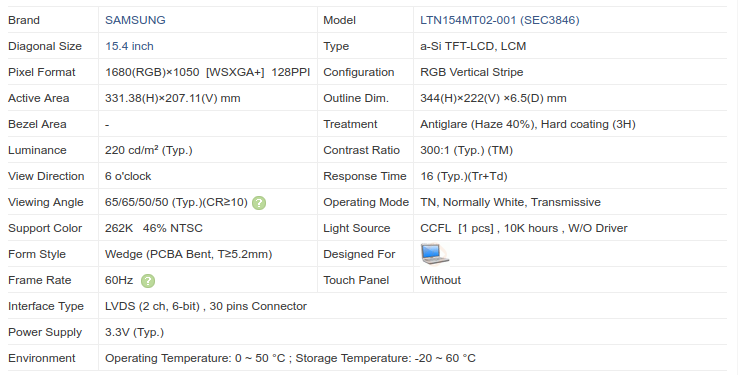 This contains most of the information you'd be looking for.
What are the important fields?
Resolution - a general good-to-know, and also needed for setting up a universal controller.
Viewing Angle - isn't needed to set the panel up, but it's good information on whether the panel will fit well, wherever you want to use it. For instance, if you're making a small arcade machine, you'll want to align the panel in a way where the player won't have any problems watching the game unfold on the screen.
Interface Type - most important parameter, determines the kind of cable you'll have to use with the panel, and pretty accurately predicts how the panel will be wired. Is important if you'll be setting up a universal controller - panel-specific controller setups usually come with the cable wired correctly!
Power supply - not crucial to know, almost always is going to be 3.3V, in case it isn't, you'll likely want to adjust your universal controller's panel voltage. Again, is not important for panel-specific controller setups.
No Panelook page?
If your panel number consists of two parts and second part is short with i.e. 4 letters and numbers (example: LP154W01-TLD1), put only the first part (that'd be LP154W01) in the Panelook search bar and see what they have to offer.

Usually, the second part is less important - it mostly specifies surface treatment (glare, matte, antiglare, antireflective etc) options, as well as might indicate slight differences in the panel outer dimensions, and panels with the same first part of the model number will share important parameters like the interface type, resolution and power supply voltage.

Otherwise, look it up on Google some more. You're bound to find the panel resolution (and maybe the viewing angle) eventually, and if you luck out, you'll also find a datasheet, which will tell you more about the interface type...

If not, but if your panel uses a common connector [TODO: article], chances are, you'll be able to wing it =)
Datasheet
Sometimes, you'll want to have the panel's datasheet. In practice, it's usually not important - for instance, an overwhelming majority of the 1280x800 15.4" panels out there have the same pinout (every single one out of the 18 such panels I have does), and as time progresses, standardized pinouts are more and more common.

However, what if your panel has a wacky connector? Or what if you're worried and want to doublecheck everything? There's two ways - find a panel datasheet PDF online using Google, or buy it on Panelook if you feel like spending money. I've never had to buy any datasheets on Panelook, however, and if that's ever really needed, come to our chatroom and we can probably figure something out =)
The datasheet will contain the panel's pinout, which is the only thing you usually want to check. Does it fit one of the common cables? [TODO: article] If so, you're basically set.