The Raspberry Pi Foundation today introduced the newest edition of its Power over Ethernet (PoE) HAT. The Raspberry Pi PoE+ HAT outperforms its predecessor by adopting the 802.11at PoE+ standard and running cooler as a result of other design enhancements. Best of all, Raspberry Pi has been able to maintain its original low price of $20.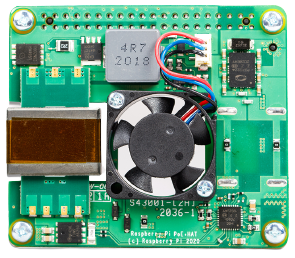 The current global semiconductor scarcity, which you've probably surely heard about by now, is limiting our supply of the original PoE HAT. In general, Raspberry Pi has fared well during the scarcity, with supplies of mainstream Raspberry Pi computers, Zeros, and our other goods remaining unaffected. Unfortunately, the first-generation PoE HAT makes use of silicon that is in low supply.

The old HAT will continue to be manufactured, but we are taking the rare step of disclosing this new product before we have stock in channel, so that industrial customers may consider switching to the new PoE+ HAT, which will have shorter wait times.
In early June, Approved Resellers will be able to purchase the Raspberry Pi PoE+ HAT. (When you pick a product from the Products page, you will be instantly connected to your local Approved Reseller.)
PoE+ HAT (Power over Ethernet)
Power over Ethernet (PoE) support is one of the best things we've introduced to Raspberry Pi in the last few years. From the Raspberry Pi 3B+ onwards, Raspberry Pi utilise an Ethernet connector with the required taps on its windings, which we connect to an extra 4-pin connector situated immediately underneath the top-right mounting hole. A HAT can detect these signals, request power from the switch, and then reduce the resulting 37-57V DC to 5V to power the Raspberry Pi.
The Raspberry Pi PoE HAT, which achieved exactly this, was launched at the end of 2018. It has become one of our best-selling accessories after some awkward teething problems. We've seen it used in industrial applications like digital signage and factory automation, as well as by hobbyists who wish to place their Raspberry Pi somewhere distant but sharing a single power and data line.
PoE+ HAT Power Enhanced
The original PoE HAT adheres to the 802.3af standard and can provide a minimum of 13W to the Raspberry Pi. This is sufficient to power a Raspberry Pi 4 at full load, but not nearly enough to run the most power-hungry USB devices at the same time.
PoE+ HAT Comparison Table
The PoE+ HAT adheres to the IEEE 802.3at standard. As shown in the comparative table, when used with a suitable switch or injector, it can supply up to 25W.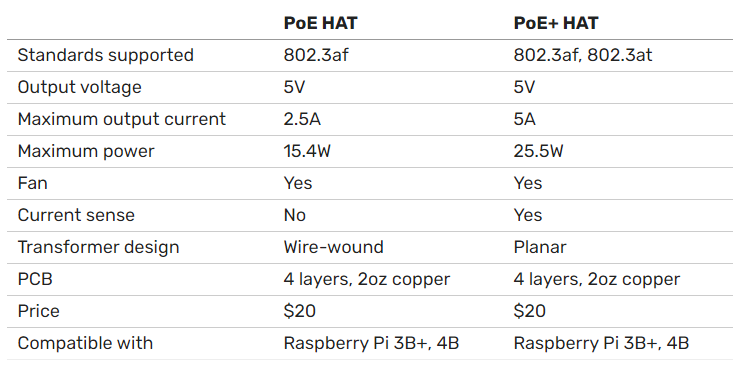 PoE+ HAT Upgraded
What else has altered? We replaced the diode rectifier with a "ideal diode" rectifier, in the form of a Microchip PD70224ILQ device, to minimise heat dissipation.
PoE+ HAT New Transformer Added
To enable voltage conversion and isolation, PoE systems necessitate the use of a transformer. When you think of a transformer, you usually see wire wrapped around a ferrite core, which is precisely what the original PoE HAT used. Bourns has presented us with a shiny new toy for the PoE+ HAT: a planar transformer.
As this disassembled example shows, the "windings" of a planar transformer are really traces on a multi-layer PCB; the ferrite is constructed around the PCB. As a consequence, the transformer is thinner (helpful if you truly care about z-height and are willing to do without the fan) and better suited for surface-mount installation.
Related Articles:
Read more »