I should take a moment here and explain why we're using Raspberry Pis. As a platform for playing back high-def video, passable audio, embedded control and internet connectivity in a $35 platform makes it pretty damn cool. We also had these RFID key fobs that the members could obtain to "activate" special effects around the Castle during Halloween week. In previous years we made the key fobs in the shape of an owl (mascot for The Magic Castle), but this year they decided to change the shape to something festive & fitting for La Dia de los Muertos: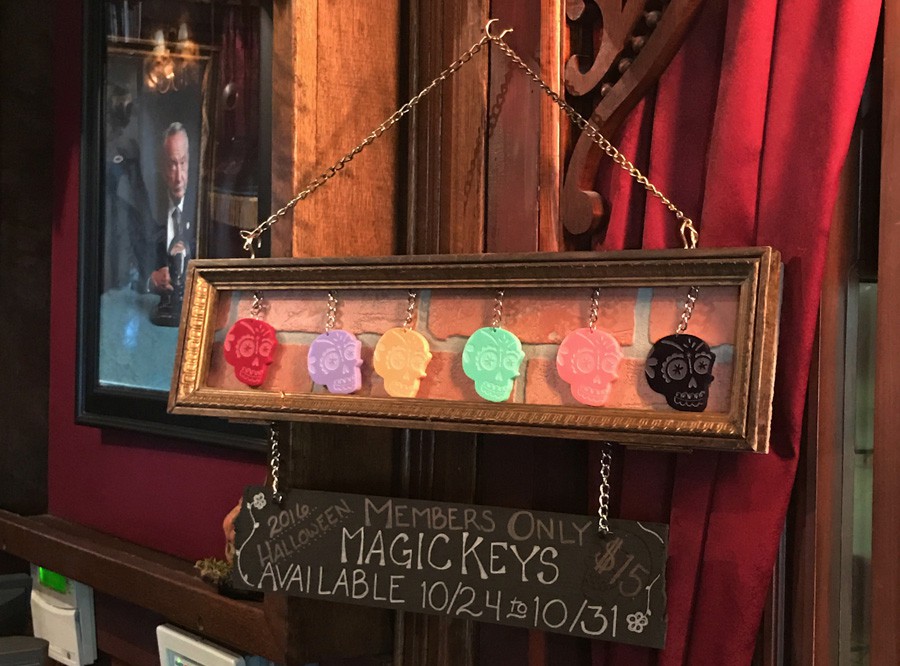 These are the RFID-based Magic Keys (That's Magic Castle founder Milt Larsen with the crystal ball to the right)
Inside the little laser-cut and -etched acrylic skulls is a 125kHz RFID tag that is associated with the member's name and member number. By using cheap USB-based RFID readers that plug into the Pi, it is easy for us to see who has visited which gag inside the Castle, tailor their experience by addressing them by name or something as an option in the future, and even just get a "heart beat" from the gags and know that they are up & running. By using Pis we are able to have gags keep track of day and time, so we can have gags adjust what they do depending on if it is Wednesday (Member's night), Friday night (a crazy time!), or Saturday/Sunday brunch, when kids are in the club. And because the Pis sit on the network, they keep their time set accurately and can log to a central site Shiloh created for monitoring to see which gags are popular and which ones could use some attention. This project focuses only on what we did for Houdini, but there are many other gags at the Castle using Pis with and without RFID.