Update: The winner of the MeArm Giveaway Random Draw is @Fidel salinas who mentioned @AFSLabs in their comment. We'll be in touch via private messaging to find out where to send the MeArms!
Commiserations to everyone else who entered. Don't forget to follow or skull the #181. #MeArm - Pocket Sized Robot Arm project, or if you are really desperate for a MeArm you can buy one over at the Hackaday Store.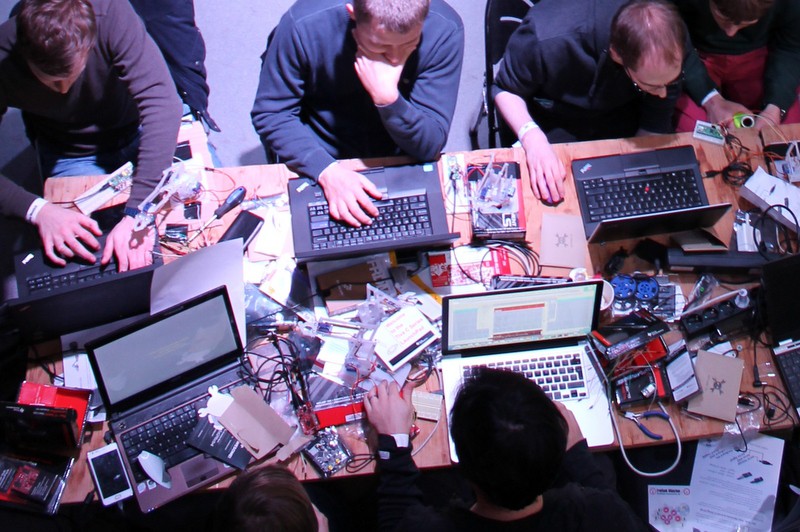 Couldn't make it to Hackaday Munich? Heard about the great Robot Workshop? Well, we've got a pair of Limited Edition Hackaday Munich MeArms to giveaway to two lucky Hackaday.io members so they can experiment at home.

A big thanks to @ben.phenoptix for letting us hijack his project for a week, and for sending out the MeArms to the winners.

How to enter
All you need to do is leave a comment on this Project Log sharing this project with another member who you think would also love a MeArm.
You do this by using our new @username and #projectid feature e.g.
"@Adam Fabio, I've entered us into the MeArm giveaway. Check out
#181. #MeArm - Pocket Sized Robot Arm for more details."
Only leave one comment with mentions. You can comment more, but only your first comment with mentions will be entered in the draw. Comments without both a @username and #projectid mention will be ignored for the purpose of the draw.
Deadline
You need to leave your comment before midnight Jan 11 2015. On the Jan 12, we'll draw the winner at random, let everyone know who they are, and post the MeArms out to their new homes.
Got questions?
If you have any questions regarding the giveaway, you can ask them in the Project Log comments.