Throughout our journey of developing our technology, we often challenge ourselves to be innovative in the form of our products and showcasing our technological creativity. As technology advances, Artificial Intelligence is no longer limited to science fiction or for use only in the fields of industry or military. This advancement inspired us to develop the first educational robot infused with artificial intelligence in the market.
Started in second half of 2018, this project was drafted and developed for preliminary testing. Throughout the process, we envisioned that a robot with AI vision capabilities, combined with programming can lead to a new dimension in programming with an abundance of creative possibilities.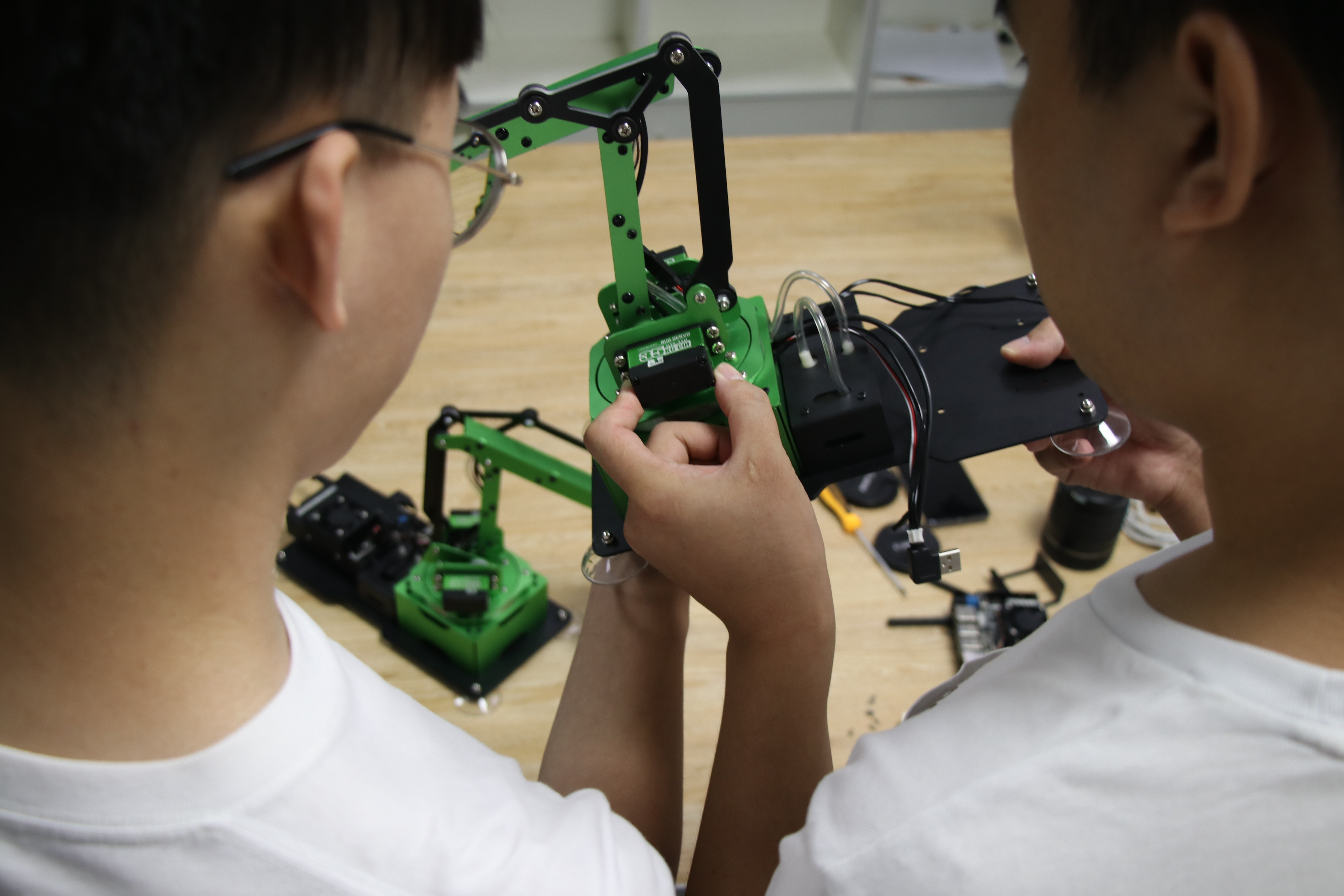 While a Raspberry Pi can provide the robot with the capability to recognize colors and faces, we continued with our relentless quest to equip the robot with deep learning ability, real-time object recognition, detailed facial classification, compatibility with our variety of sensors and modules and the ability to simulate realistic scenarios. The NVIDIA Jetson Nano met our developmental needs and was brought onto our research and development table.
Supported by the Jetson Nano's excellent computing power in operating ROS, our Robotic Arm can perform real-time object recognition, autonomous sorting, face recognition, etc. with high level of efficiency and flexibility. This also means that through it's open source system, the user can inject and entrust his creativity into this smart robotic arm.
With the great effort invested into developing a product that combines our accumulated technology knowledge and experiences with the most powerful AI development kit in the market, let me introduce you our new product - JetMax Robotic Arm. It is a product developed and devoted to makers, geeks, creators, students, and enthusiasts. And It is now available on Kickstarter platform.
Why develop robotic arm?
Robotic arm is an important branch of Robot ecosystem. With more developers coming onboard with intelligent technology, the progression and potential of robotic arm applications had become increasingly significant. And us being part of the developer community, we see the close link between Educational robots and Industrial robots. By combining the different operating systems and sensors, robotic arm can enrich AI learning experiences and applications, producing many surprising creativities and results.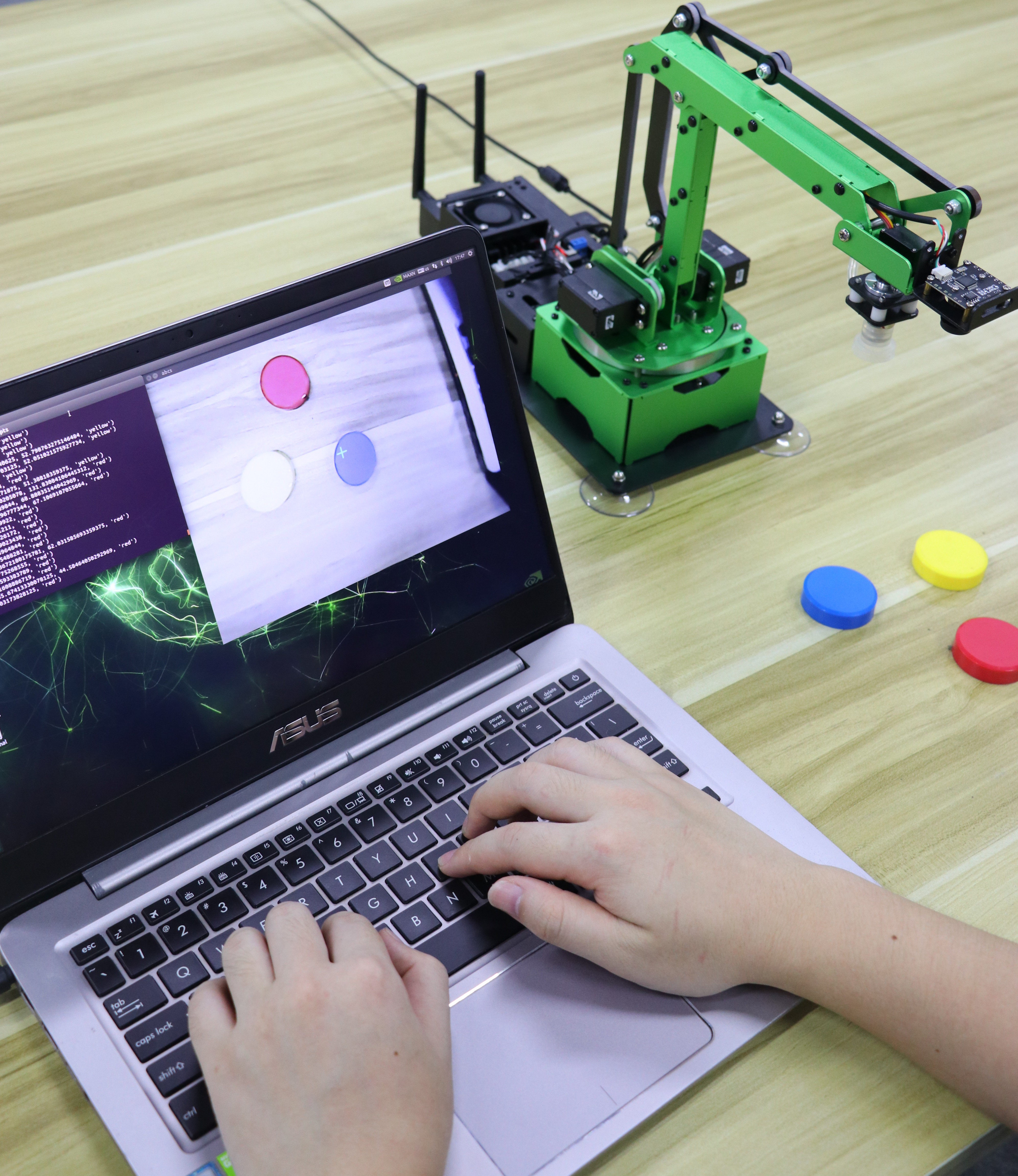 Why integrate AI vision with robotic arm?
Standard robotic arm uses basic sensors to execute basic commands. Jetmax is equipped with a HD wide-angle camera which empowers it with AI vision to see. Once Jetmax captures the target and location, and through its rapid built-in kinematics algorithm processing, it can execute autonomous tasks such as object sorting, stacking, writing, drawing, understating gesture etc.
Why develop robotic arm with deep learning ability?
Majority of robotic arms in the market are programmed with color recognition and tracking commands. However, we all know a true AI product should exhibits deep learning ability to execute complicating task autonomously. With our embedded research and development skills, and boosted by Jetson Nano computing power, we are able to make JetMax a true AI robotic arm.
With wonderful potential applications also entail many challenges to the product design and development process. We relentlessly confront and overcomes the challenges in pursuit for perfection. As JetMax progresses towards completion soon, it will be another of our prideful and significant milestones.
I strongly believe JetMax will provide its user with positive user experience. As we are preparing for the exciting launch of crowdfunding campaign, we hope to gain everyone's attention and interest for JetMax.