I caught a 0.177 caliber pellet in flight using the sound trigger. You can see the grooves cut into it by the rifling of the barrel. This pellet was traveling about 154 m/s during the photo. I used just the green LEDs, since my controller is only single-channel for the moment.
You can also see a lot of sensor noise in the image. This was a six second exposure (with a 1 us flash) at my camera's "H" ISO setting (3200). At this gain, the pixel leakage currents start to become visible. Much of this noise is repeatable frame-to-frame, however, so it can be removed by subtracting out a "dark frame" image of the same exposure length with the lens cap on. I remembered this after the fact and took a few dark frames. I'll have to try using them to reduce the noise tomorrow.
The blurring in this image is mostly because the pellet is out of focus. To gain more light, I'm using the lens wide-open at f/1.8, which results in a shallow depth of field. You can see the problem clearly in this image, in which I mis-timed the shot, and got the pellet hiding behind the card (I wanted to catch the pellet to the right):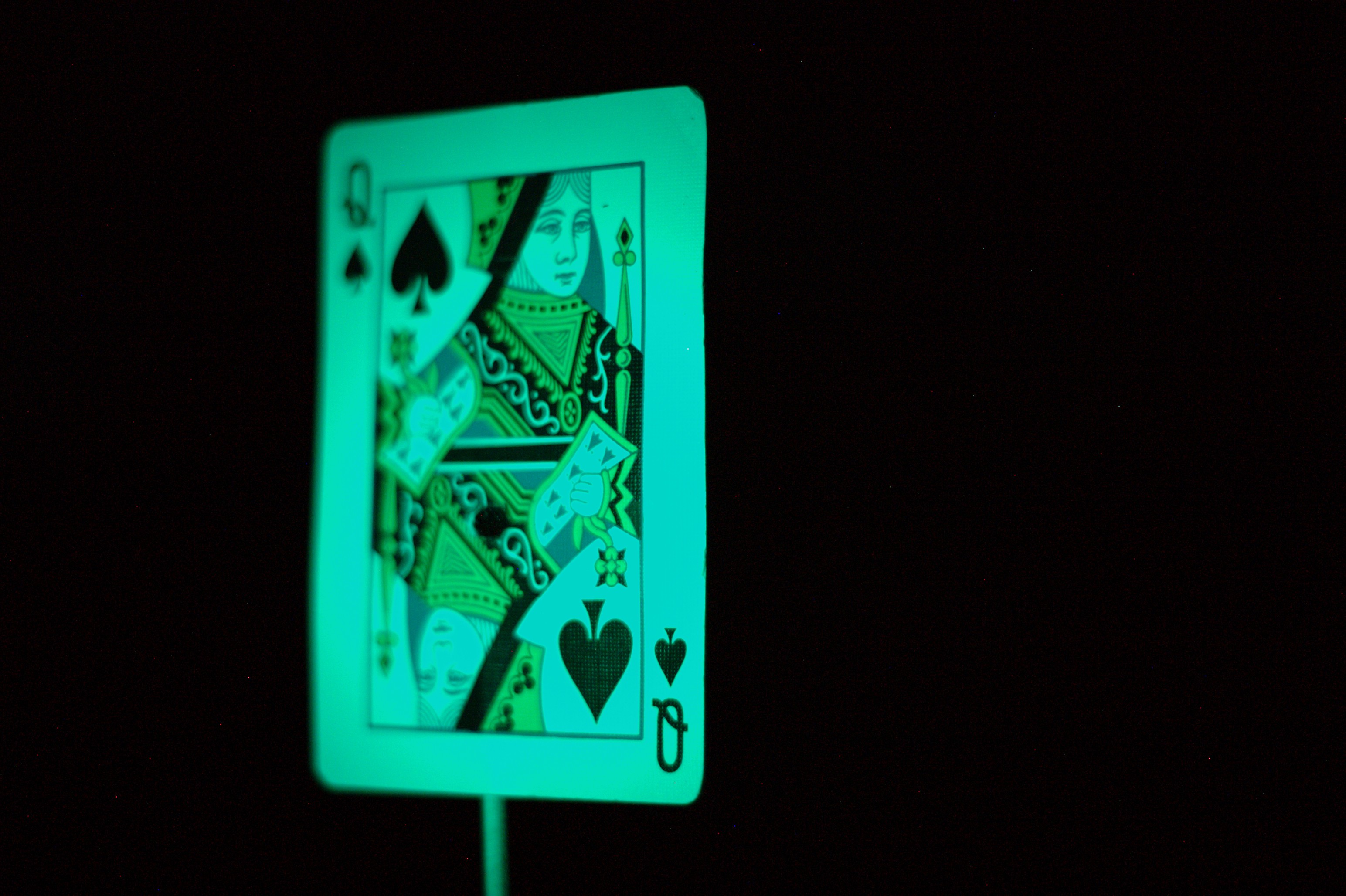 The back of the card is out of the focus depth. The real positive here is that there's plenty of light. I might even be able to "waste" one exposure stop on increasing the depth of field or decreasing noise. I also ran the LEDs only at about a 10x overdrive for these tests. Previously, I had tested them at around 21x overdrive, which produces almost twice as much light.
Now, I need to work on some alignment tools and procedures. Lining up and timing these shots is a real pain. Then, I can add the other two channels and start making some animations.
I would also like to make a motor- (or solenoid-) based trigger release for the airguns. It's a little un-nerving to discharge them manually in a completely darkened room, even if they are solidly clamped to a workbench. I'd rather be elsewhere.
The other very interesting thing is that I can clearly see the pellets when they are caught by the 1 us flash. I used to see 9mm rounds traveling in a well-lit range occasionally, but I didn't think I would be able to see anything lit with only a short flash.