The keyboard in the Sol-20 was a capacitive keyboard made by Keytronic. These keyboards had a great feel, but unfortunately, the foam pad present in each key deteriorated over time and virtually all keyboards of this type failed. To be fair it has been 45 years since the Sol-20 was introduced.
If you are lucky enough to find a vintage Sol-20 for sale (and can afford to buy it) you will probably be faced with this keyboard issue. Fortunately all is not lost. One option is repair. Geoff Harrison has figured out a way to make his own foam pads, and has a nice write-up on how he did it. Please see Geoff's web page on how to repair a Sol-20 Keyboard. Also Texelec has a 105 key replacement pad set at a reasonable price.
The second option is to replace the keyboard. I have already mentioned Dave from osiweb.org who has designed a complete replacement keyboard for the Sol-20 using modern Cherry key switches. While not an exact replica, Dave has gone to great lengths to reproduce the look of the original keyboard, including having a set of custom Sol-20 specific keycaps manufactured. Dave's keyboard will drop right into an original Sol-20. So cool.
Fortunately Dave's keyboard is also perfect for someone trying to make a Sol-20 reproduction. I received Dave's keyboard kit yesterday. Dave offered to ship me an assembled keyboard, but I didn't want to deprive myself the fun of soldering one up myself.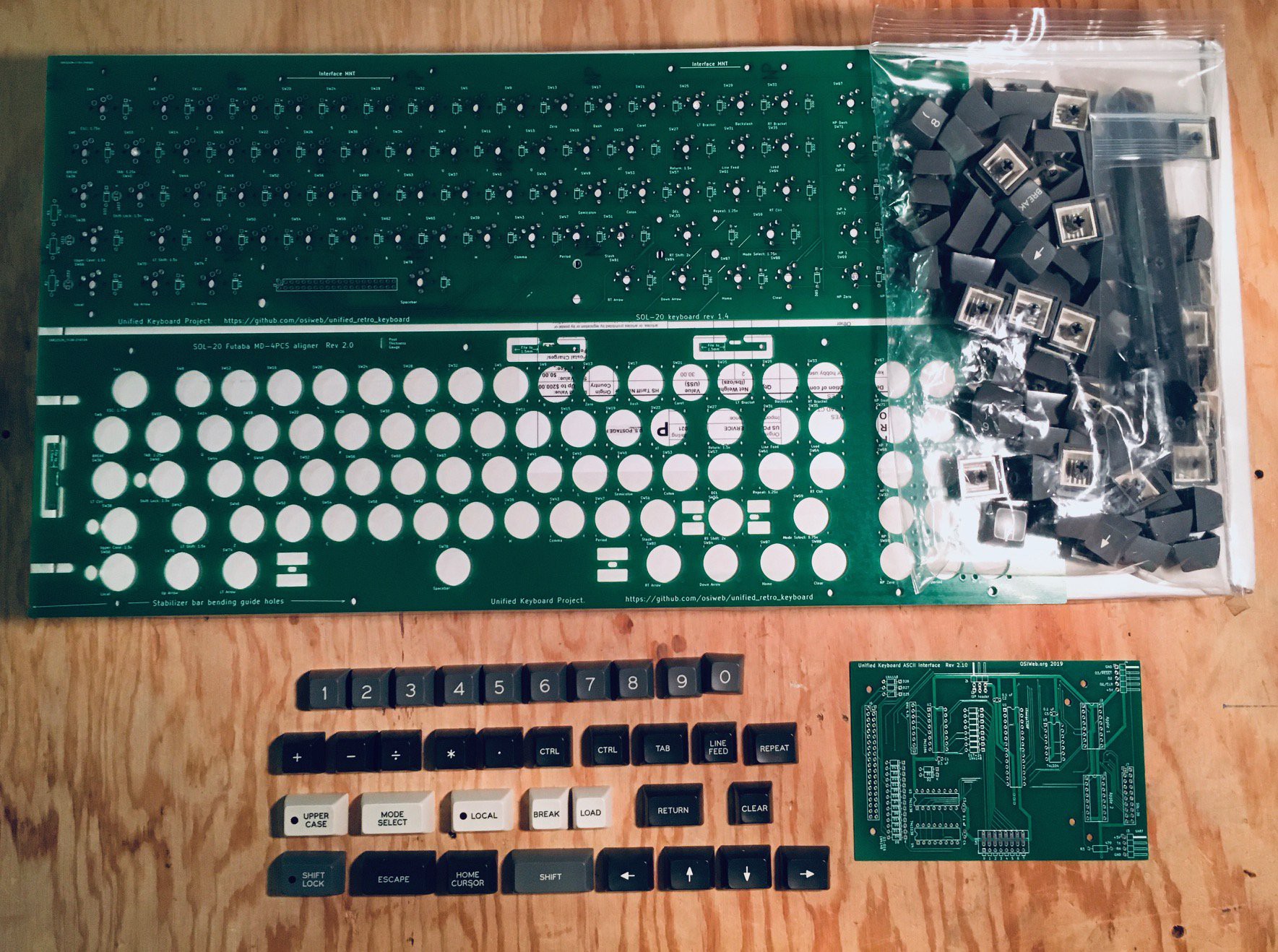 You can see above the keyboard PCB and aligner for Futaba MD-4PCS switches. The bag to the right is a set of "standard" keycaps. The keycaps below the PCBs are Sol-20 specific keycaps that Dave had manufactured, and the smaller PCB to the right of that is the PCB for a very flexible encoder with the following capabilities (from Dave's GitHub repository):
Parallel or serial output
Up to 8 configuration settings via an up-to-8 position DIP switch
Apple 1, Apple 2, and SOL-20 compatible outputs. Other configurations can be supported by making a custom cable.
Can decode arbitrary keyboards up 16 rows by 8 columns.
Supports up to 3 keyboard LEDs
Supports up to 3 "special" host outputs, such as RESET, SCREEN_CLEAR, BREAK, etc.
I'm chomping at the bit to get started on this but the actual Futaba key switches and some of the other components I need to populate the encoder are still in transit. Patience Michael, patience.