The Mini Desktop Bartender Robot
This easy to use desktop robot automatically unscrews a mini bottle of your choice, pours you a drink, collects bottle caps in an internal cap piggy bank,  and throws bottles to the recycle bin off the side; plus It doesn't ask for tips!
It's a fun way to take a share a drink with friends and family in an interactive engaging way that never fails to make you and your guests smile. 
Fun and easy to use
Whenever you feel like having a drink, simply put your cup on the circle and the robot will uncap the mini bottle, collect the caps in a mini cap piggy bank, serve you a drink and toss the bottle off the side to the recycle bin.
Steps for use
1) Place cup on robot
2) Robot serves you drink
3) Drink cup and enjoy
4) Repeat as necessary
Compact and Elegant
The mini bartender robot fits nearly on any small table or counter top and has a sleek natural bamboo base. 
Great for:
Offices
Home parties or gatherings
Bars/ liquor stores
Compatible with Different 50ml Mini Bottle Sizes
With an adjustable bottle slide height and a universal bottle grabber, you can load this robot with your favorite 50ml mini bottle flavor!
Note: only works with cylindrical mini bottle bases. Square bases like fireball or jägermeister require custom modification. Message me for details. 
Original Video submission to Kickstarter.... they rejected it.

Design Story:
Amidst a global pandemic while most bars were closed I was inspired to attempt to design an interactive and engaging mechatronic experience of being served a drink which is something I think many missed and could not experience at home. 
Motion is a key part to making objects "come alive" and an important part of communication and establishing trust with human-machine interactions of the future. I  wanted to try making a fun device that touched on this principle and help inspire others to build more interactive products.
Originally I wanted to built a robot that would serve Underberg drinks, a German bitters drink, so I designed the mechanism around that mini bottle size. Here below you can see the little drink.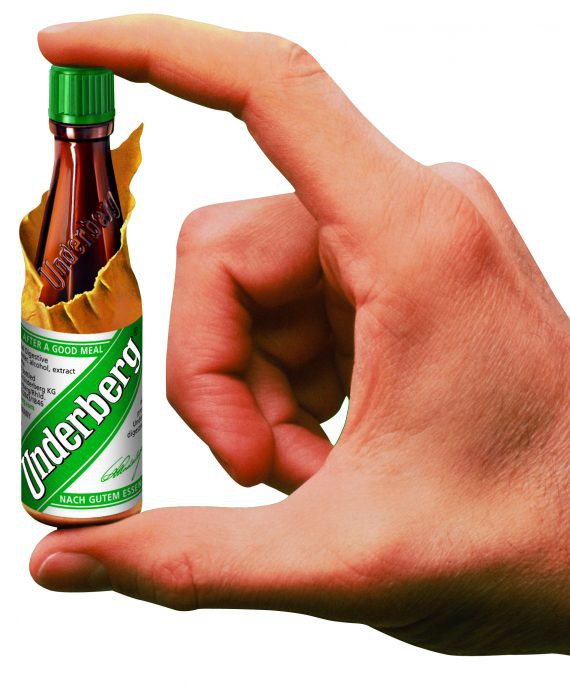 Video of early stage prototype in action:
After some early field testing it became very clear to me nobody likes Underberg (I don't know why, its such a great drink) and so I redesigned the robot to accept a variety of mini bottle sizes & flavors using an adjustable height slider, and a universal bottle holder.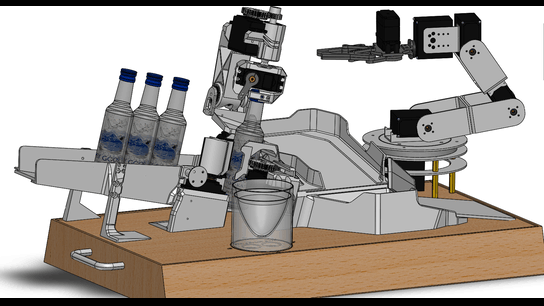 One of the toughest parts of the prototype design was finding the right way to grip the mini bottle cap in order to twist it without crushing it, or slipping while turning. This especially was challenging when dealing with mini bottle caps of different materials like plastic or aluminum, and all of slightly different diameters. I knew I had to go either one of two routes, either an all foam or soft low pressure rubber grip, or a high pressure piercing metal claw. I chose the latter primarily because many times the caps would get stuck and I likely would have to introduce an additional servo to free the caps and let them roll into the cap piggy bank.  Also it's longer lasting as there's no soft foams/rubber to wear.
The coefficient of friction of the bottle slide surface & the mini bottle bottoms is important, and should be as low as possible. This along with the correct bottle slide bank angle allows the bottles to slide down, yet also not tip over without the need for another servo to feed them along.
In the end I had to tinker with a few design iterations but found a reliable way to consistently open bottles and handle them from the bottle slide all the way down to dropping them off the side to the recycle bin.