I used the following paints, but you can use any kind of watercolors.

Cyan:
holbein ACRYLIC GOUACHE D928 PRIMARY CYAN
Magenta:
holbein ACRYLIC GOUACHE D926 PRIMARY MAGENTA
Yellow:
holbein ACRYLIC GOUACHE D927 PRIMARY YELLOW
Black:
TURNER'S ACRYL GOUACHE AG020009 JET BLACK or TURNER'S poster color #58 BLACK
Dilute the paint in the tank about five times with water.
When thinning, use a scale to measure the paint as accurately as possible.  1.00g of paint to 4.00g of water.
The strength of the color will vary depending on the paint, so if the colors do not match well, make adjustments.
To adjust, change the dilution factor of the paint or change the factor in the Raspberry Pi PICO program.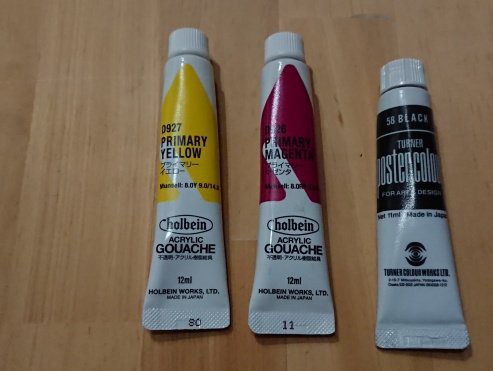 I was going to take a picture of the paints, but I can't find cyan. Could it be the work of my naughty daughter?