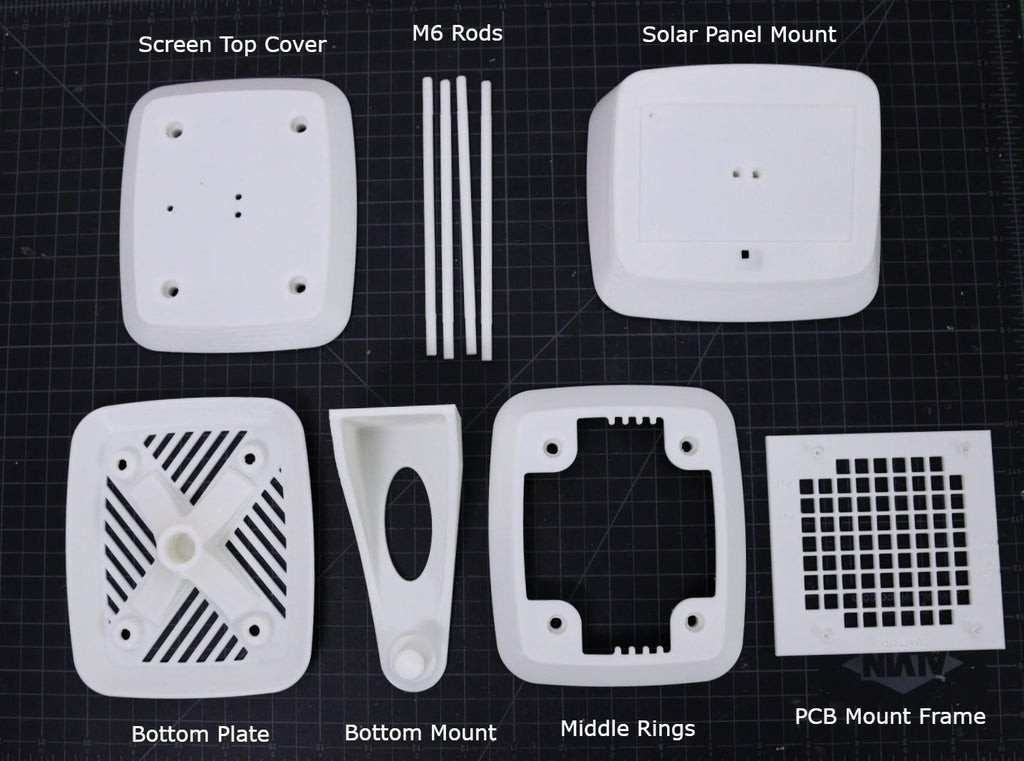 The ideal enclosure for keeping the weather sensors is the Stevenson Screen. A Stevenson screen is an enclosure to shield meteorological sensors against precipitation and direct heat radiation from outside sources, while still allowing air to circulate freely around them.
My friend Glen from New Zealand helped me to make this professional-grade Stevenson Screen. I really appreciate his help in making this project successful.
This has a simple wall mount and a 2 part cover to isolate the heat transfer from the solar panel. The V3.0 design has a provision for mounting a UV Index sensor on the top. Apart from this, the top cover for mounting solar panel is kept away from the main enclosure to avoid heat transfer from the solar panel to the interior part of the enclosure.
The Stevenson Screen has 6 parts:
1. PCB Mount Frame
2. Bottom Plate
3. Bottom Mount
4. Middle Rings x 12 Nos
5. Screen Top Cover
6. Top Cover for Solar Panel Mount ( Solar Panel Size: 110 x 69 mm )
7. M6 Rod x 4 Nos
I used my Creality 3D printer and 1.75 mm white PLA filament to print the parts. I will recommend using ABS or PTEG filament instead of using PLA.
You can refer to the above explosion diagram to assemble the 3D printed parts.
You can download the .STL files from Thingiverse
You can download the STEP files from GRABCAD for any modification.