Recent achievements:
Battery build:
Orthophotomaps:
| | | |
| --- | --- | --- |
| Simple map | Area measurements | Map with elevation data |
| | | |
Endurance flight:
Project:
   As the name of the project implies, I wanted to come up with a free-to-share UAV concept for a capable plane that everyone can build on their own and experience the thrill of making something.. There are no universal design options in engineering, so my first task was to determine the possible use cases and define the design features based on those.
    One can find many advanced UAV systems on the market, however, they tend to be very expensive and are therefore not affordable for individuals. 
   It would be near impossible to try to compete with them in any other area other than price. Though this wouldn't be possible without sacrificing functionality, reliability or usability. The cost of professional UAV systems also includes research and development, which is something one can't put a price on. Nevertheless, we also benefit from this. New technologies eventually become cheaper and more accessible, and now even hobbyists have the access to cutting edge hardware like flight controllers, and also software.
   Whilst there are limitations to what you can achieve with this project in comparison to commercial UAVs, you most likely won't stumble upon a use case that is not at least partially covered or possible with this project.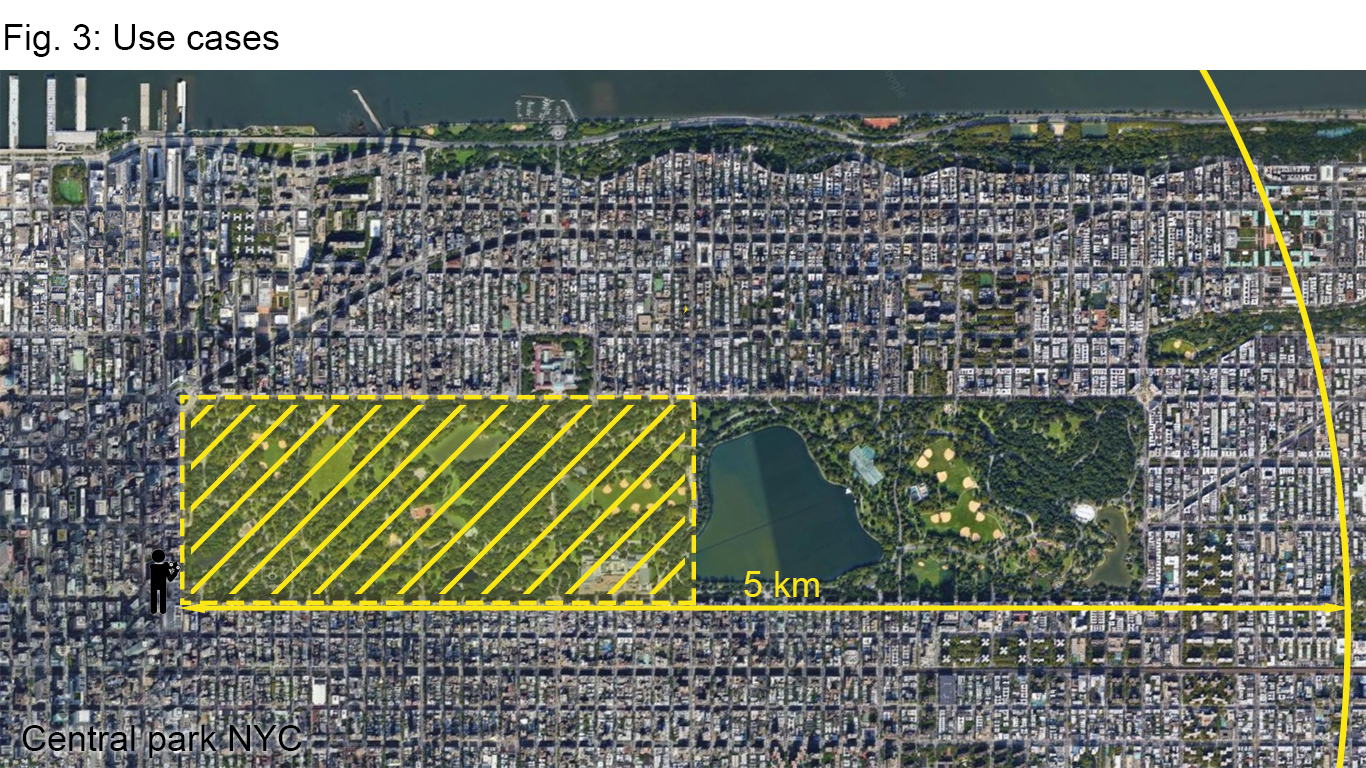 Use cases:
Long flights - one hour and more
Close range - reliably up to 3 - 5  kilometers (even more with better components)
Great coverage - 150 - 200 ha (2x106 m²) - equivalent to about 0.58 - 0.77 square miles or half of Central Park
Mapping, monitoring, test platform for beginners in autonomous UAVs, educational platform for students, (delivering), (fpv flying)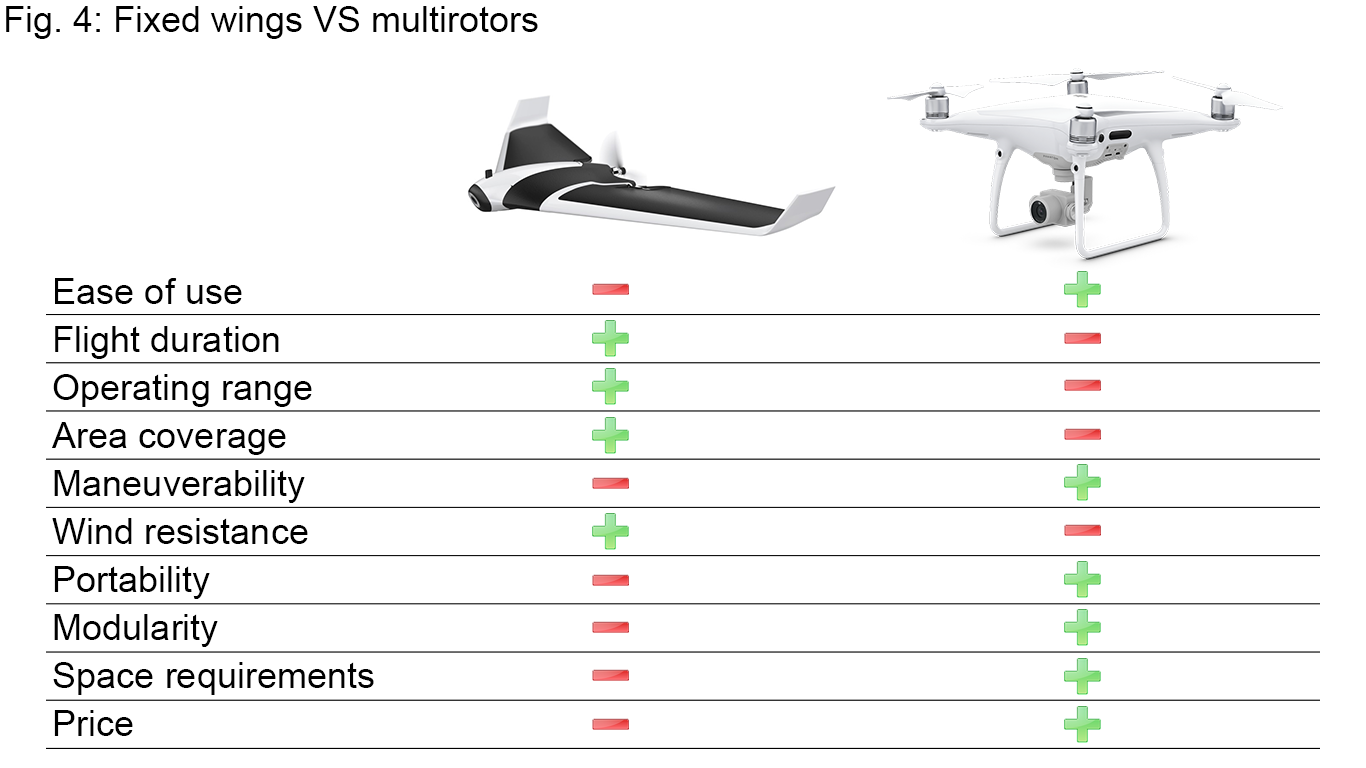 There are two main UAV types - multicopters and fixed wings. 
   Multicopters, also known as multirotors or drones, are mass-produced and relatively cheap. It is possible to buy a good drone for the price of this plane. They are useful for small short-range missions and I think stable footage (thanks to the gimbals) is one of the best features they offer. When one needs an out of the box UAV that doesn't require any previous experience, tinkering or extensive footage post-processing, one can't find a more convenient way to fly. Despite all the positives every manufacturer stresses in commercials, you receive a product that can't effectively perform all tasks. Flight efficiency of multirotors has been steadily improving, but is still terrible when compared with fixed wings. Likewise, multicopters can hover which is a nice feature, however, the maximum flight distances multicopters are capable of are shockingly smaller than those of fixed wings.
   On the contrary, as mentioned above, fixed wings are much more expensive. They are efficient and good for long-range, long endurance applications. Thankfully, there is a growing market segment with affordable EPP (extruded polypropylene) planes that lie somewhere between hobby RC models and professional UAVs, filling the performance gap between big UAVs and multicopters. They can be purchased for a reasonable price and some of them even come preassembled. But they are still a bit pricey for the majority of applications.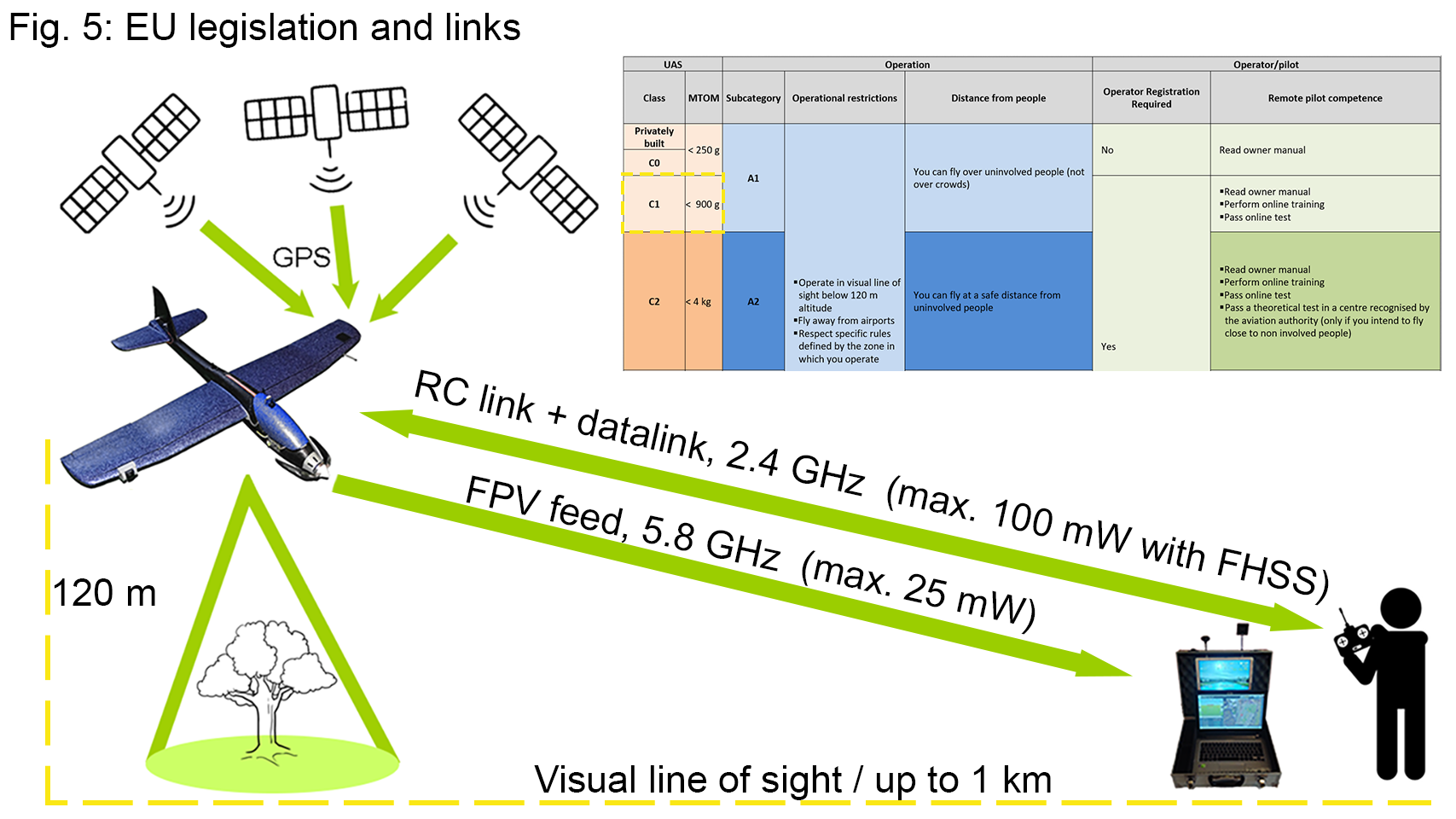 European legislation is fairly strict, not allowing flights out of sight or beyond one kilometer and confined to a maximum height of 120 meters. Similar restrictions also exist in other countries around the world, ensuring safe UAV operation. An operational area which complies with these rules can be easily calculated with a simple formula S=πr². The area is approximately 3.14 kilometers squared (or roughly 1.2 square miles), which doesn't seem that much at a first glance. But you need a plane with a good flight time to cover the area with a circumference more than six kilometers (3.7 miles)...
Read more »