Video
Basic design philosophy
The challenge is to make a basic digital education tool for classrooms in low-resource settings.
Low cost - easily be justified due to the device being intended for underprivileged schools and people
Rugged and Portable - But it also has to be rugged to withstand transport and handling - a requirement because many times the teachers also need to become the custodian of the equipment, carry it with them to various classrooms and probably different remote schools. If the equipment is given as a responsibility to the teacher as compared to a computer class room of an institution, there is more careful use and no curious student can nick away computer components (yes it happens in an innocent fashion). Here is one way I transport my first devices for demo purposes on my 2-wheeler.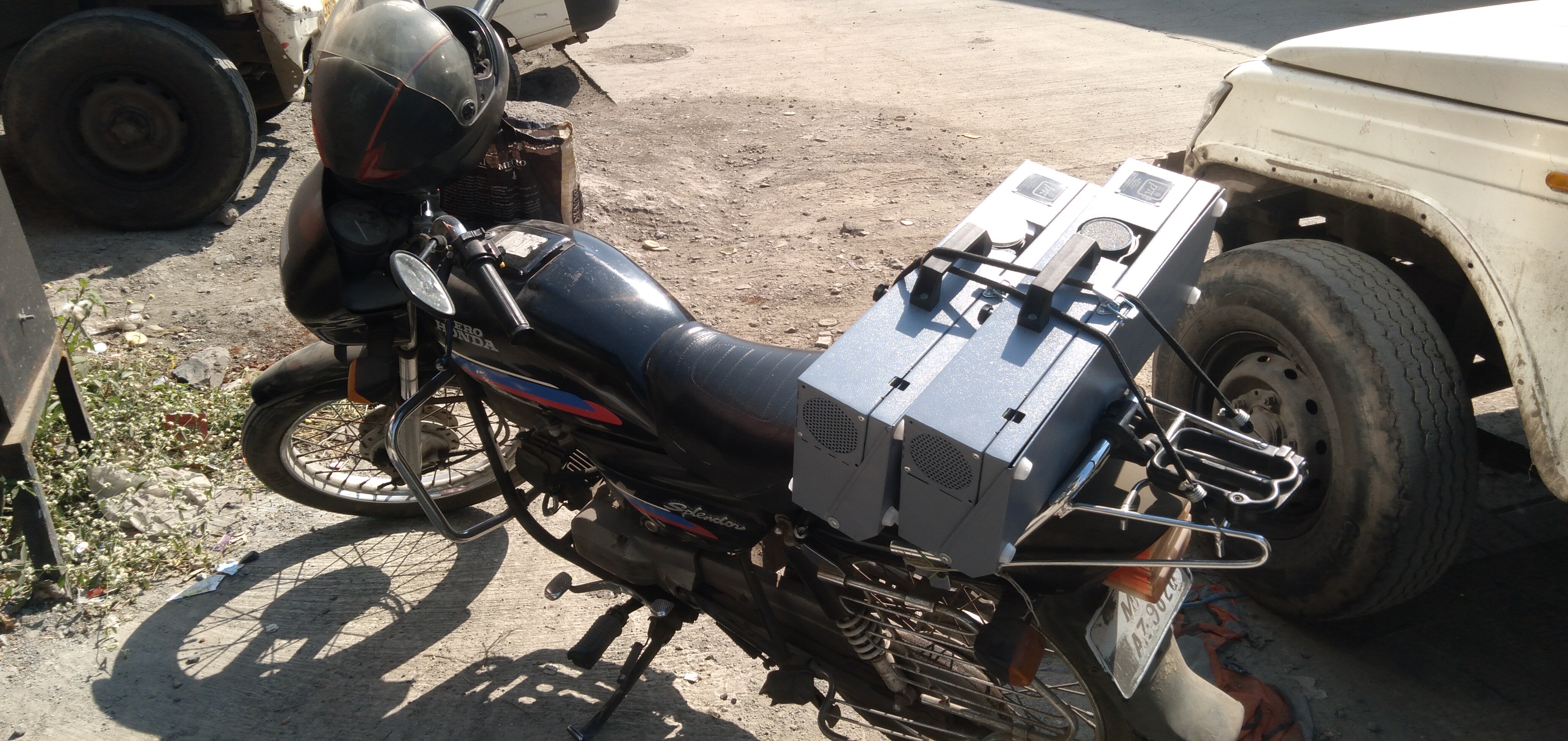 Large simultaneous viewership - It has to be a projector type because the alternative of LCD or LED screens for large viewership is prohibitively expensive and portability decreases significantly as size goes up. 
Full fledged computer - Eventually students will need to learn the modern tool of computers. A smartphone or similar communication device is no match for a full fledged computer in terms of possible programs, art work, programming, etc. The potential is huge when a computer is available to a classroom to explore. 
Opensource design - We have spent way too much time thinking about monopolistic business interests to be of social good. I am of the view that technology development and production should be decentralized for greater public good. Hence the availability of opensource and transparent documentation in this project.  
A comparison with other possible methods for basic digital access of educational content can be found in this google spreadsheet.
A breakup of various components and their cost in INR in this version can also be found on the same google sheet above, under the tab. One unit costs about 18000 INR or 250 USD at a no-profit-no-loss basis.
Issues with the current design
3 units have been made and are currently undergoing field trials in a local school (The Door Step School, Pune) where kids of migrant laborers who work as farm hands in sugarcane harvest season are taught. There are hardware level issues:
Projector - The projector used claims 2100 Lumens of brightness at 1080p resolution. However this has to be downgraded for proper character size and ease of use. The light intensity is very poor, and so classroom darkening is an essential need for using this device.
Raspberry Pi

Currently 4B is used, but it has a lot of issues with wifi and mouse. In one of the units the wifi disconnects when youtube is connected. In another unit the mouse is sluggish when wifi is connected. This could be attributed to the use of unsheilded HDMI cables, so that is being looked into.

Box design

The lens remains exposed when in closed system. This is dangerous and needs to be secured.
Handling of wires is a big mess in the current design, they tend to get entangled. Proper wire management designs should be incorporated for easy opening and closing of the system.
Some work on ergonomics is needed.
Box needs to be redesigned to make manufacturing and assembly easier.