Adam Fabio pointed out there could be a problem accepting 1kB challenge entry with HD44780 LCD, containing fair bit of character generator ROM. Though I have no problem with the HD44780, I'll try to rework my project to not use HD44780 or similar LCD driver with built-in character set - so, I have to use graphical LCD and construct character bitmaps from resources on my 1kB constrained FLASH.
I removed demo BF programs from FLASH and its copy routines, so I was able to obtain approximately 170 bytes of FLASH. But that seems too little for ASCII table character bitmaps - considering the usual font 5x7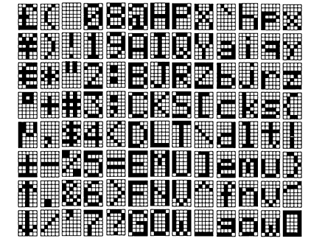 I'm kinda stuck, as every single character needs 5 bytes of FLASH and there is at least 96 of them, and 480 Bytes just for character bitmaps is way too much for this project. But I'm too stubborn to give up the display output.
I could strip down the ASCII subset, but still, 170 Bytes is just 34 characters, not enough for alphabet and numbers, not to mention special symbols, so much used in BF. 64 or at least 56 characters would be better. That's still too much of FLASH consumed.
I noticed that having full 8 bits for one character btmap column is too much luxury. That is 256 combinations and many (most?) of them are simply unused. I decided to create the 16 most versatile combinations of pixels (vectors), so I can encode two columns into single byte. If I'd decrease symbol width to 4 columns (4x8 pixels characters) I can encode whole character into two bytes + 16 bytes of column vectors. For 64 characters it is 128 Bytes for character generator and 16 Bytes for vectors, consuming 144 Bytes. Much better!
I started by drawing vectors I would expect to appear most frequently.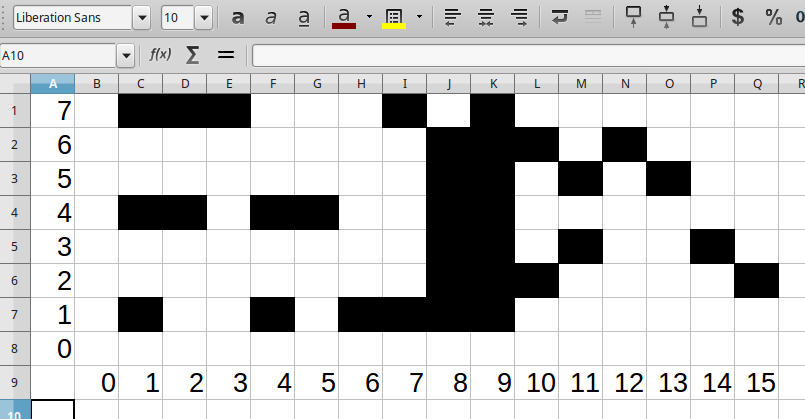 Yes, it's really calc from LibreOffice. At first I thought I'm going to write script to generate the symbols from given input tables, but this was actually more straightforward and simpler.
The first eight rows are just combinations of black dots at lines 1,4 and 7, the rest of vectors are the ones I expected to be common for alphanumeric symbols. I did my best to construct character table from it, though looking a bit weird.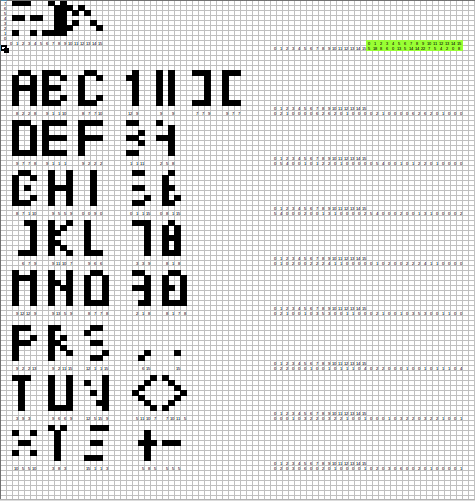 Some characters are rather hard to read, and I noticed vectors 4 and 14 are unused - wooohoo, two bytes for optimizations.
I replaced vector 14 with something more usable and character set looks a bit better now
Yet, still something to improve. I was able to free another vector (13) by optimizations of vector 14, along with vector 4 it's another two vectors to change and implement into character maps
Notice how numeric symbols changed, from the first iteration, along with letters like Z or G. I also introduced more ASCII symbols.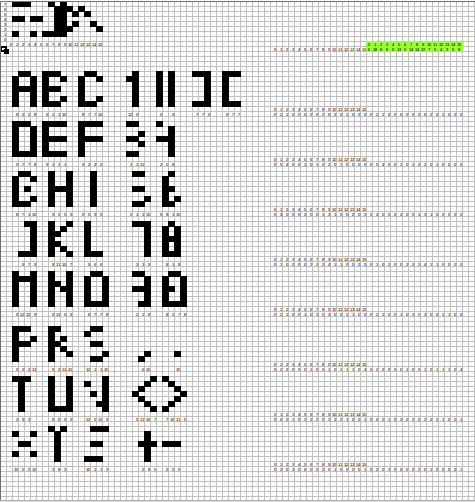 In the meantime I ordered
122x32 pixel LCD
with
PT6520
driver and I'm building new PIC board, to test out the character set.