GERBER PCB
https://mega.nz/file/6dIjlZYA#v1fb9897l6D8ZC4c2llkp90qJemwvZXtt2CaX0zG4nc
DATASHEET NE555:
https://mega.nz/file/OcAEBarY#XssaDHa88vFlo362_nrN6C0kOcOjHYfRn-hmuKF6tGE
DATASHEET CD4017:
https://mega.nz/file/zRJgFRJK#ayrm5eF_sP0794eCOJCPdpwAxofcT7BAMNLnhsyV3t4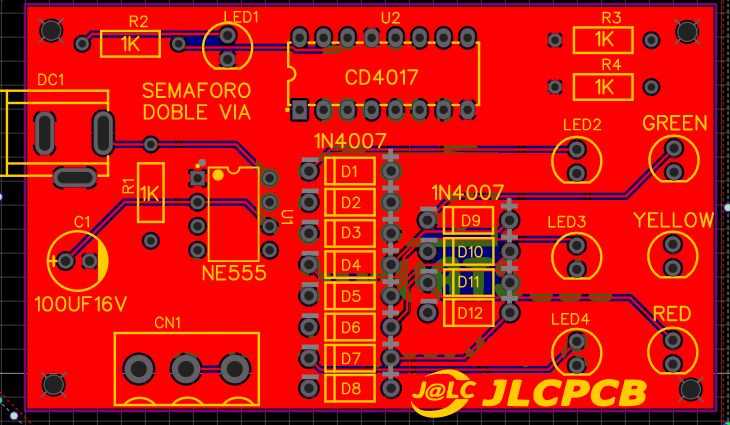 First, let us take into account that a traffic light is used to indicate the pass or pair of cars or pedestrians, in this case we will make a system for cars since we will have two neighboring streets and if we cannot, a traffic light can cause a traffic accident, for which the The design of this project is made with very basic components but at the same time effective.
This project is made to make a basic traffic light and see how this system works, for which we will require a circuit that gives us square pulses to activate the different outputs of the CD4017 IC, this integrated is a sequencer, that is, at each pulse it will activate in sequence a different output.
The circuit that will deliver the pulses will be an integrated NE555 in astable configuration. We already know that this circuit will allow us to deliver a train of pulses to its outputs by configuring 2 resistors and a capacitor with a high time and a low time, so we will obtain different signals of start times either a fast time or a slower or longer time.
This project can also put RELE outputs to activate 220VAC lights, thus becoming a more professional project and a REAL system to take it to our locations where they do not obtain this system for the control of cars or pedestrians.
ELECTRONIC COMPONENTS
·        1 DC JACK
·        1 NE555
·        1 CD4017
·        12 1N4007
·        6 LEDS 5MM
·        1 CAP 100UF25V
·        1 100K POTENTIMETER
·        3 RES 1K 1/2W
·        1 PCB
PCB FEATURES
·        VIN 5VDC
·        DOUBLE WAY TRAFFIC LIGHT
·        IMAX 100mA
·        VMAX 12V DC
JLCPCB
we thank JLCPCB for the professional pcbs you can purchase
5 pcbs a $ 2
order your pcb here:
Gerber:
https://mega.nz/file/6dIjlZYA#v1fb9897l6D8ZC4c2llkp90qJemwvZXtt2CaX0zG4nc