Background

Accelerator 22 is the latest phase of my 'Kinetic Surfaces' project - creating retro-futuristic  'simulated telekinesis' game systems. Players remotely control the movement of objects placed onto the surface of a table-top, as they might have done in old science-fiction movies/books/comics. (In early sci-fi, advanced technologies were assumed to be physical (e.g. jet packs, hover-boards, teleportation systems), rather than virtual technologies in 'cyberspace'.)
How It Works
The Accelerator is essentially a 555 timer, a power MOSFET, a Hall sensor, and an electromagnet. The Hall sensor triggers the 555 when it detects the magnetic puck - the 555 activates the MOSFET and the electromagnet for a brief period - creating a magnetic field that repels the puck
Structure of Accelerator 22 and platform
Figure 1 (below) shows a simplified vertical cross-section through the Accelerator and the game platform, showing: Accelerator (1), electromagnet (2), copper coil (3), iron core with square cross-section (4), Hall sensor (5), clear acrylic sheet (12), magnetic puck (6), magnetic poles of the electromagnet (7,8) and the puck (9,10).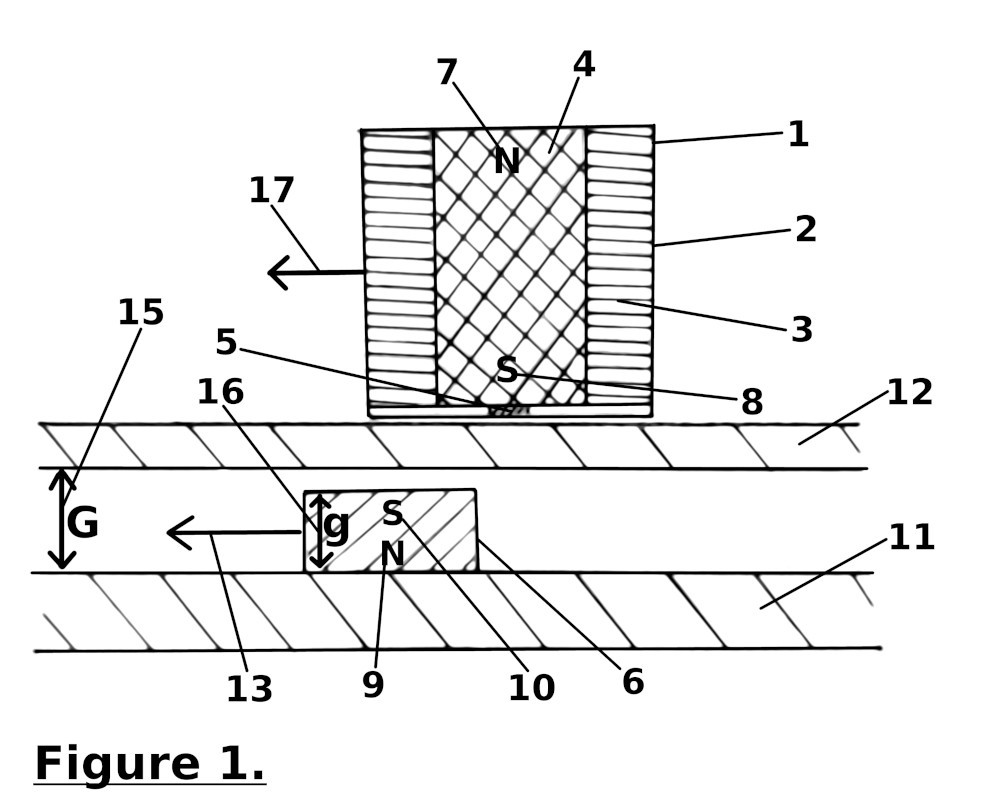 Figure 2 (below) shows a view from below the Accelerator (1) at the moment the magnetic puck (6) is detected by the Hall sensor (5) and then repelled away from the Accelerator in the direction indicated (13). Note that directional control is best achieved when one of the four corners (14) of the square iron core (4) overlaps the magnetic puck (6), as shown in Figure 2. The square shape of the iron core (4) is one of the most important aspects of this invention - it seems to deliver both power and directionality. With a cylindrical core it is very difficult for a player to direct the puck with any accuracy, particularly during high-speed game play. It would be interesting to explore the effectiveness of other core shapes, such as triangular cores.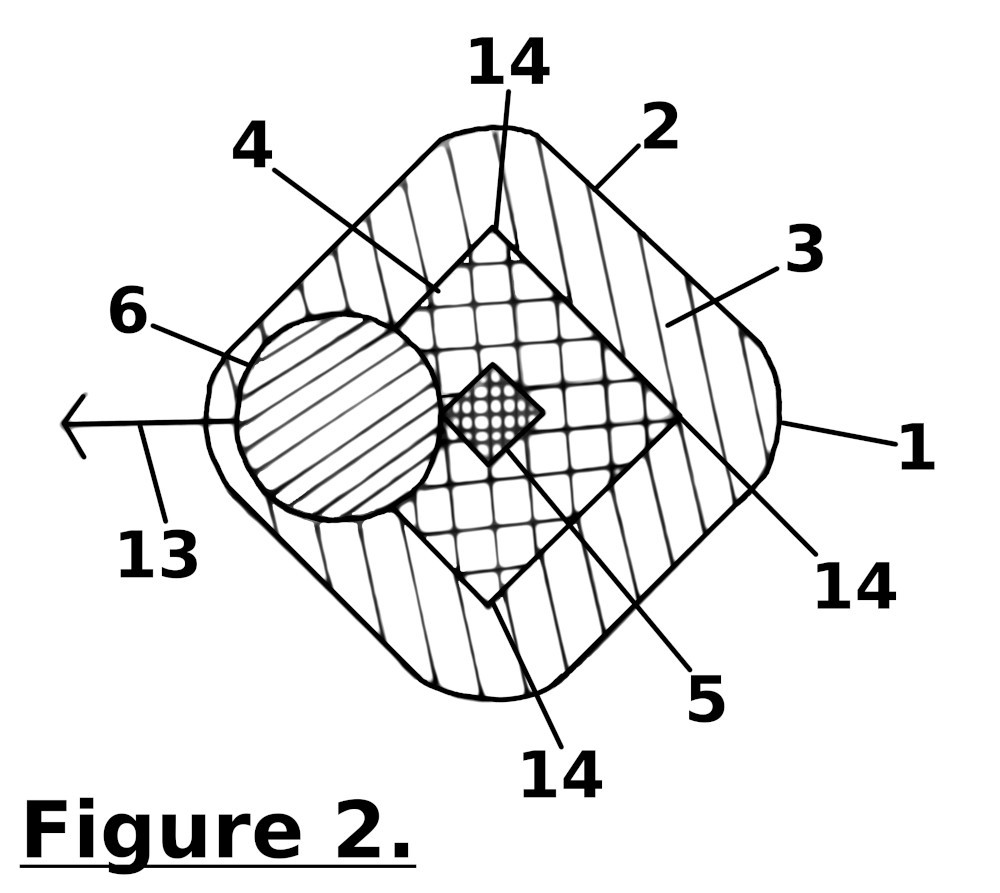 How the electronics works
Below is an example circuit diagram for the Accelerator.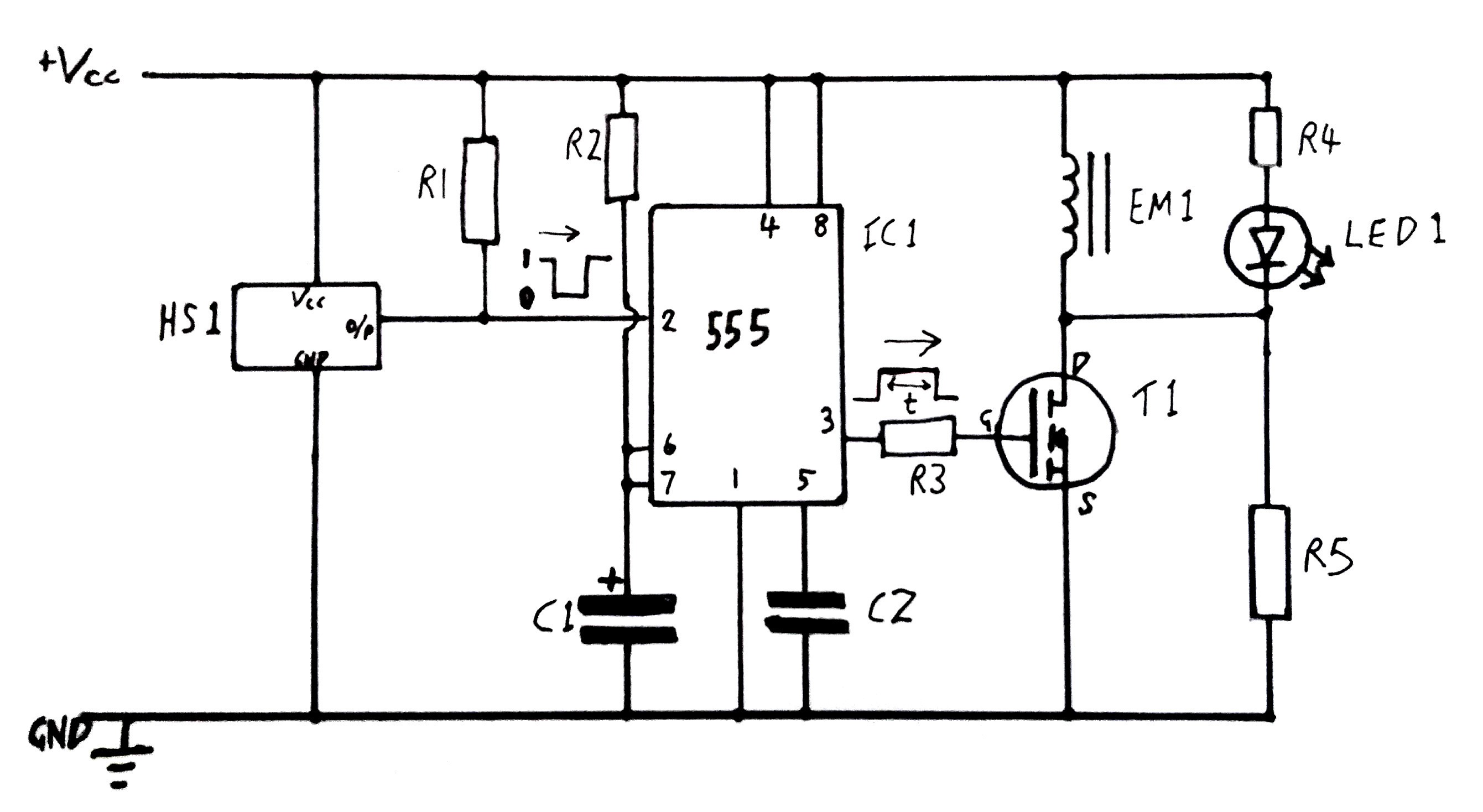 The 555 (IC1) is essentially acting as a switch de-bounce circuit - once the Hall Sensor (HS1) detects the presence of the magnetic puck, it switches on the current through the MOSFET (T1) and the electromagnet (EM1) for a few milliseconds. (The activation period t = 1.1 x R2 x C1, so for a pulse length of 30mS, R2 = 270k, C1 = 100nF.)
Note that, if you don't have the 555, then when the electromagnet activates its magnetic field interferes with the operation of the Hall Sensor.
I have suggested components in the component list, but I don't want to be too prescriptive; the performance of the system is governed to a great extent by the geometries of the electromagnet, magnet puck, air gaps etc. In other words, when I built this I decided on the basic geometries of the system to get the aesthetic and game-play that I was after, and then evolved the system by seeing what worked.
If you would like further advice on how to build an Accelerator, please message or email me, or write something in the comments. Thanks.

Other Kinetic Surfaces I have built