Thanks To JLCPCB.
$2 for 1-4 Layer PCBs.
Get SMT Coupons - https://jlcpcb.com/RTA
The article is being published in collaboration with JLCPCB. They supply high quality PCBs at a very reasonable price. They also can provide SMT circuit assembly.
We thanks to our sponsor JLCPCB https://jlcpcb.com/RTA for sponsoring us PCBs for this project circuit.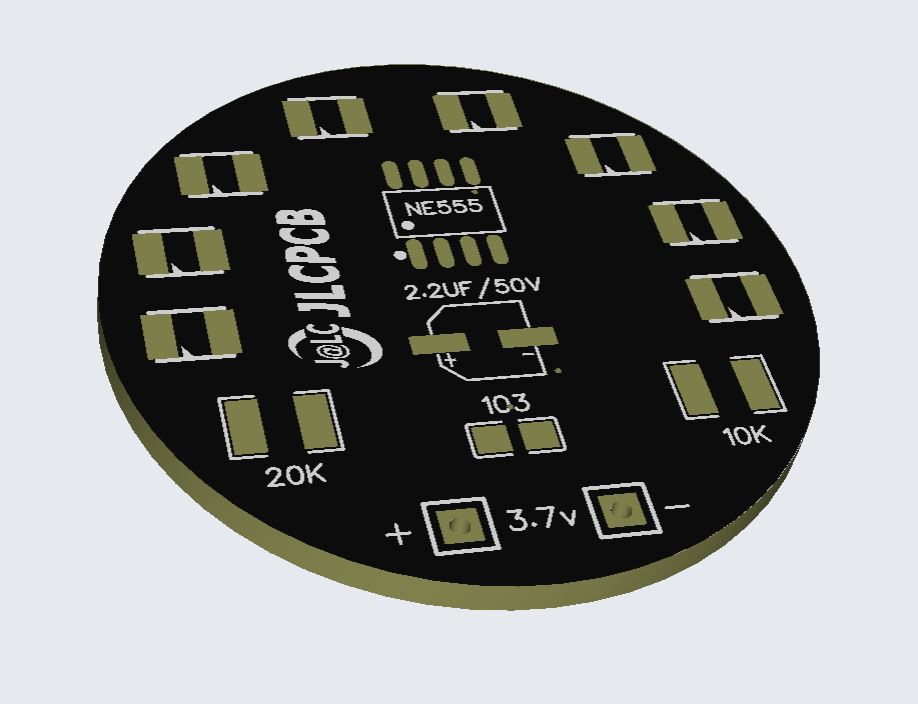 In this project circuit, we will teach you making a best quality SMT led blinker circuit. It is a very cheap and nice looking SMT project circuit.
To make this circuit, we use only DC-3.7v. You also can use 18650 battery pack to make this circuit. Without this battery, you also can make this circuit, but make sure that the power supply don't produce high ampere.
To making this SMT led project circuit, we are using some SMD components. You can order your assembled SMT circuit form JLCPCB. To order SMT PCBs Click here (https://cart.jlcpcb.com/quote?orderType=1&stencilLayer=2&stencilWidth=100&stencilLength=100&stencilCounts=5)
All components list have been given below –
Component List –
Time IC – NE 555
Resistor – 10 KΩ (103) and 20 KΩ (2002)
Ceramic Capacitor – 10nf
Electrolyte Capacitor – 2.2µf / 50v
LED – 3v (20mA)
Power Source – 3.7v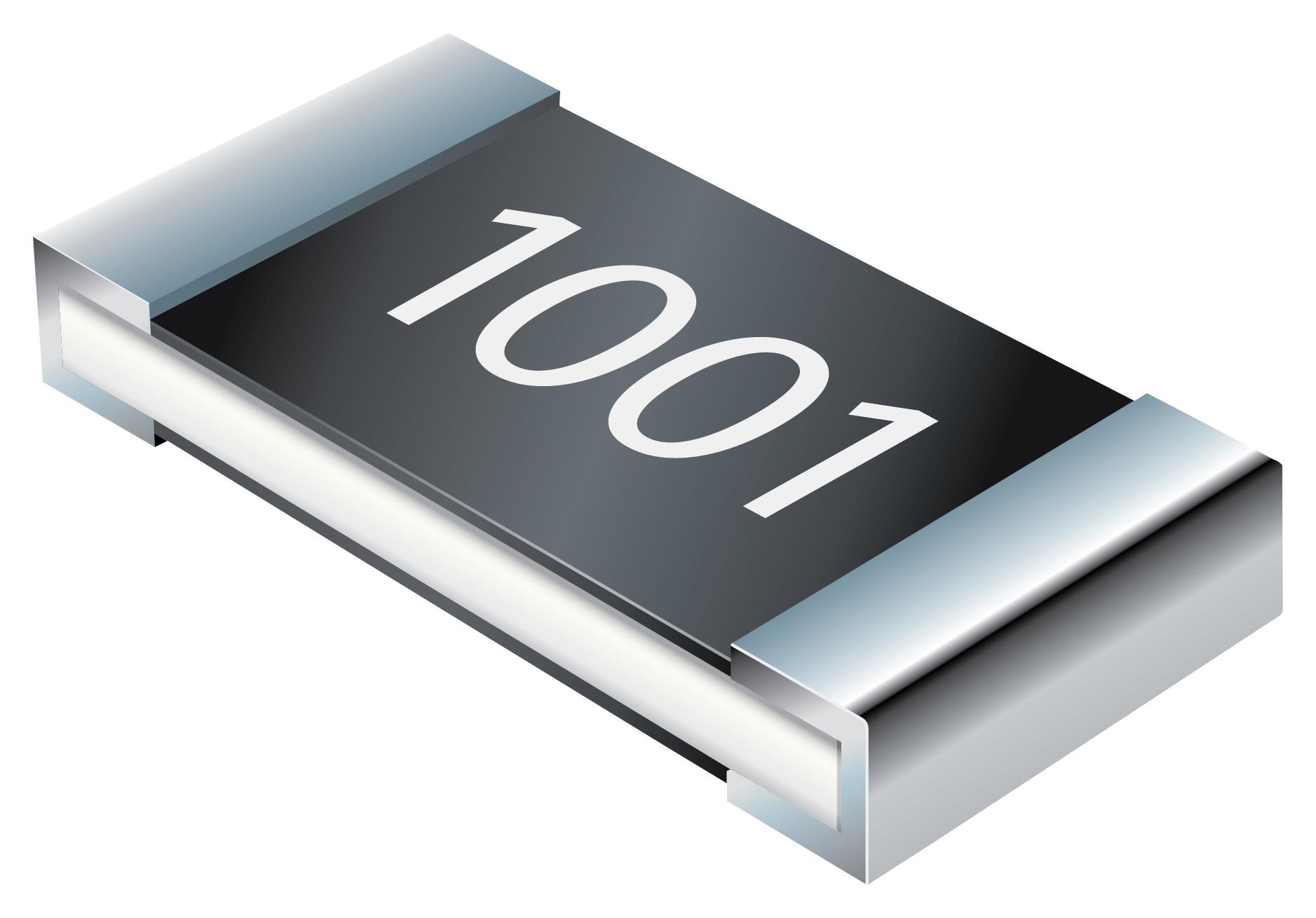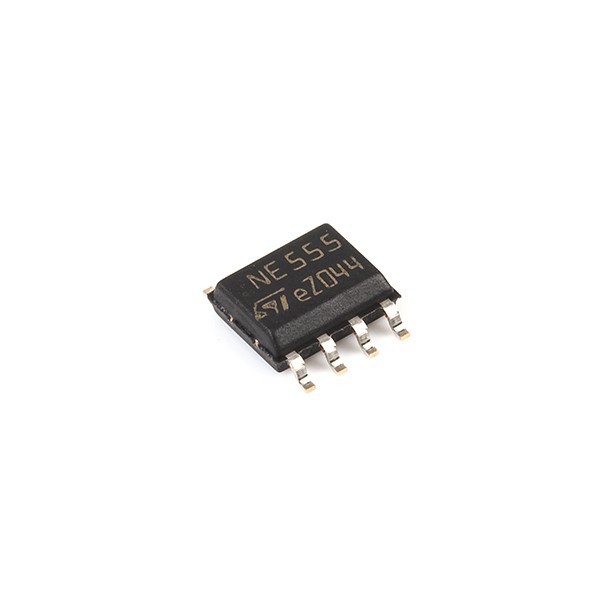 NE555 Pin Out -
NE555 timer IC is an integrated circuit used in a variety of timer. Derivatives provide two or four timing circuits in one package. There are totally 8 legs of a timer IC.
Its 8 legs pinout can be seen above -
GND
TRIG
OUT
RESET
CONT
THRES
DISCH
VCC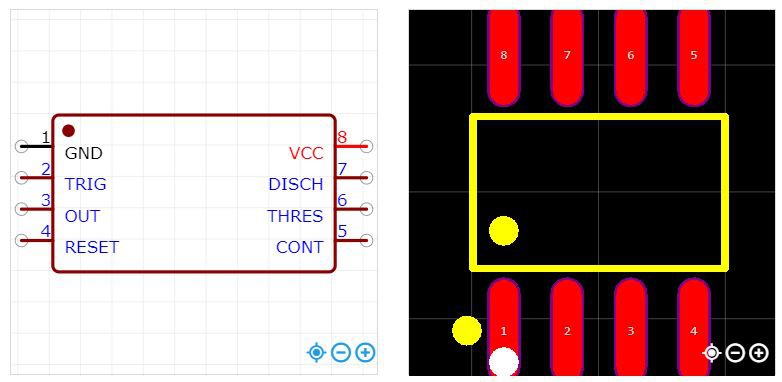 Feature of NE555 -
Variety of Timer
Delay Timer
Pulse generation
Oscillator Applications
Lamp and LED flashers
Logic clocks
Tone generations
Security alarms
Position Modulation
LED blinker
Schematics and PCB Design - 
The schematics of PCBs can be seen above.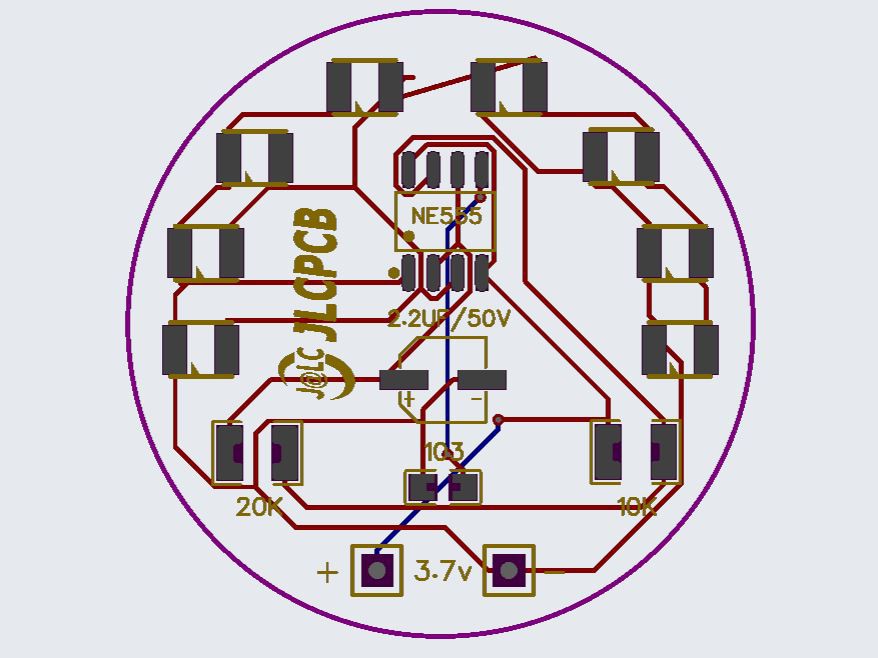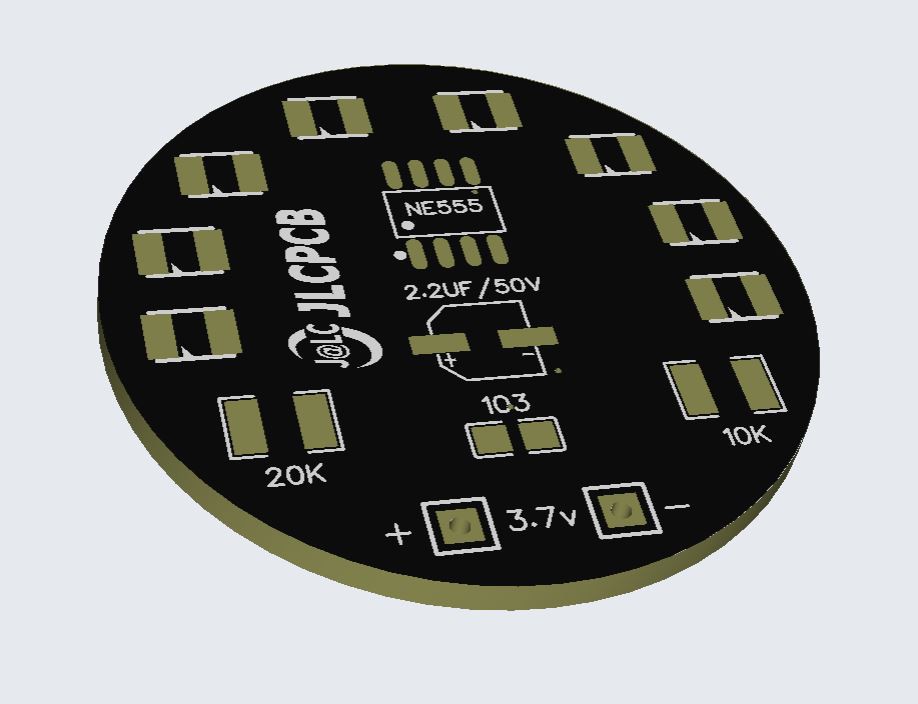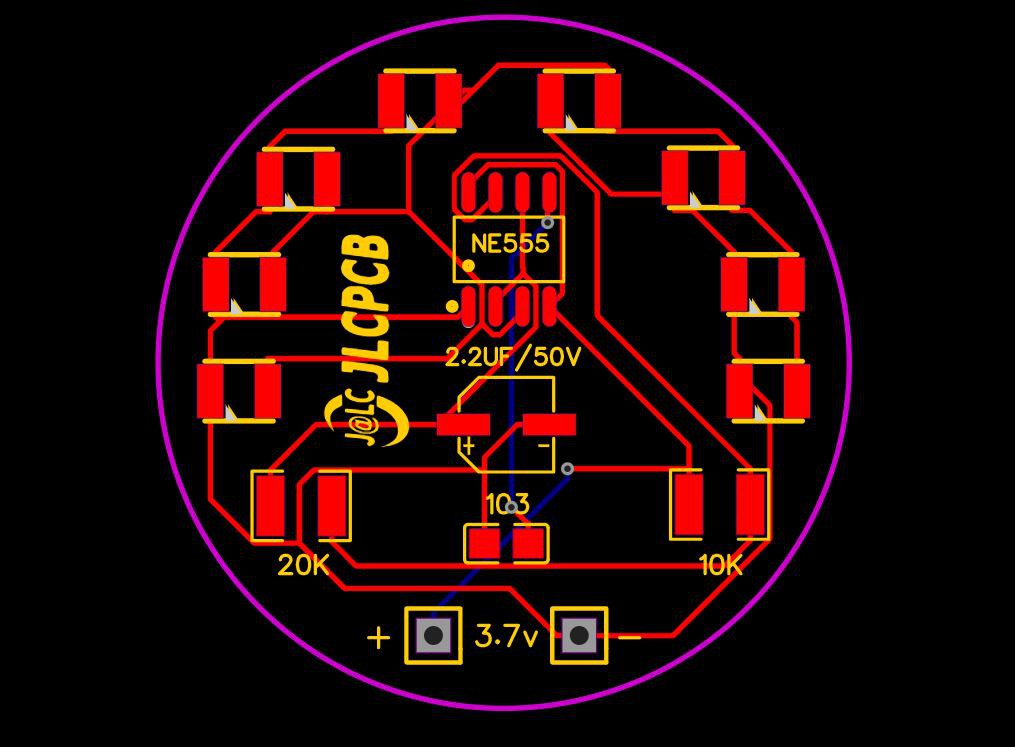 Step 1 - Order PCBs From JLCPCB
If you complete design of your PCBs, then it is time to order PCBs. To order best quality PCBs, just visit JLCPCB and click on the "QUOTE NOW" button.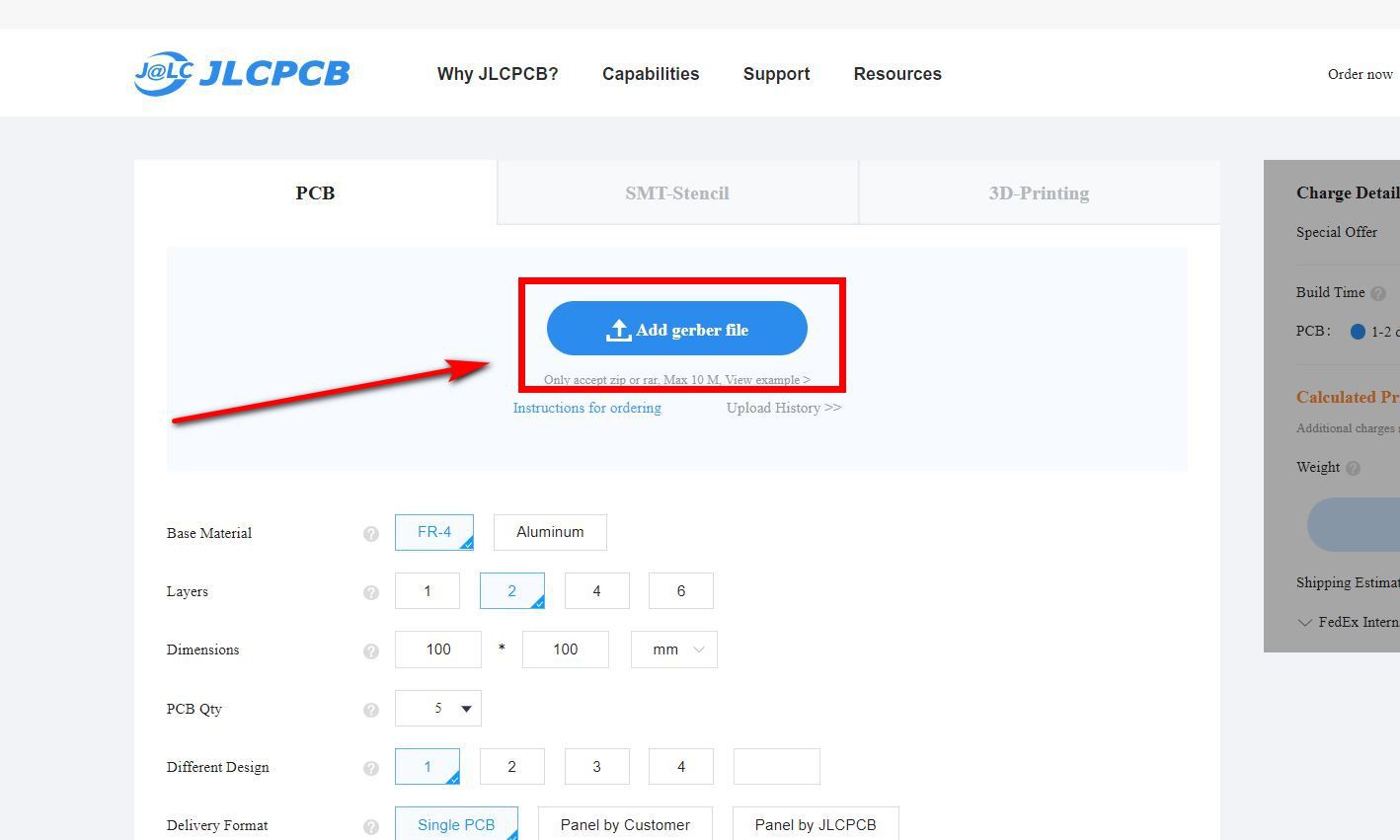 Since 2006, JLCPCB continuously driven to become more efficient and to reduce costs. They promise to offer customers the most economic PCBs forever. JLCPCB makes cheapest but top quality PCBs possibly because of scale effect, extremely high production efficiency and less manpower cost.
You can order minimum 5 pieces PCBs for only $2 costs.
To order PCBs, make your Gerber file. Then drag and drop the Gerber file on the following box.
Click on "Gerber Viewer" button you can check the PCBs design. Make sure everything is good, then choose color, quantity and order your PCBs at very reasonable prices.
If you are a new user, then you can order 10 pieces PCBs, costing only $2. To place your order click on "Save to Cart" button. Confirm your shipping address and shipping method.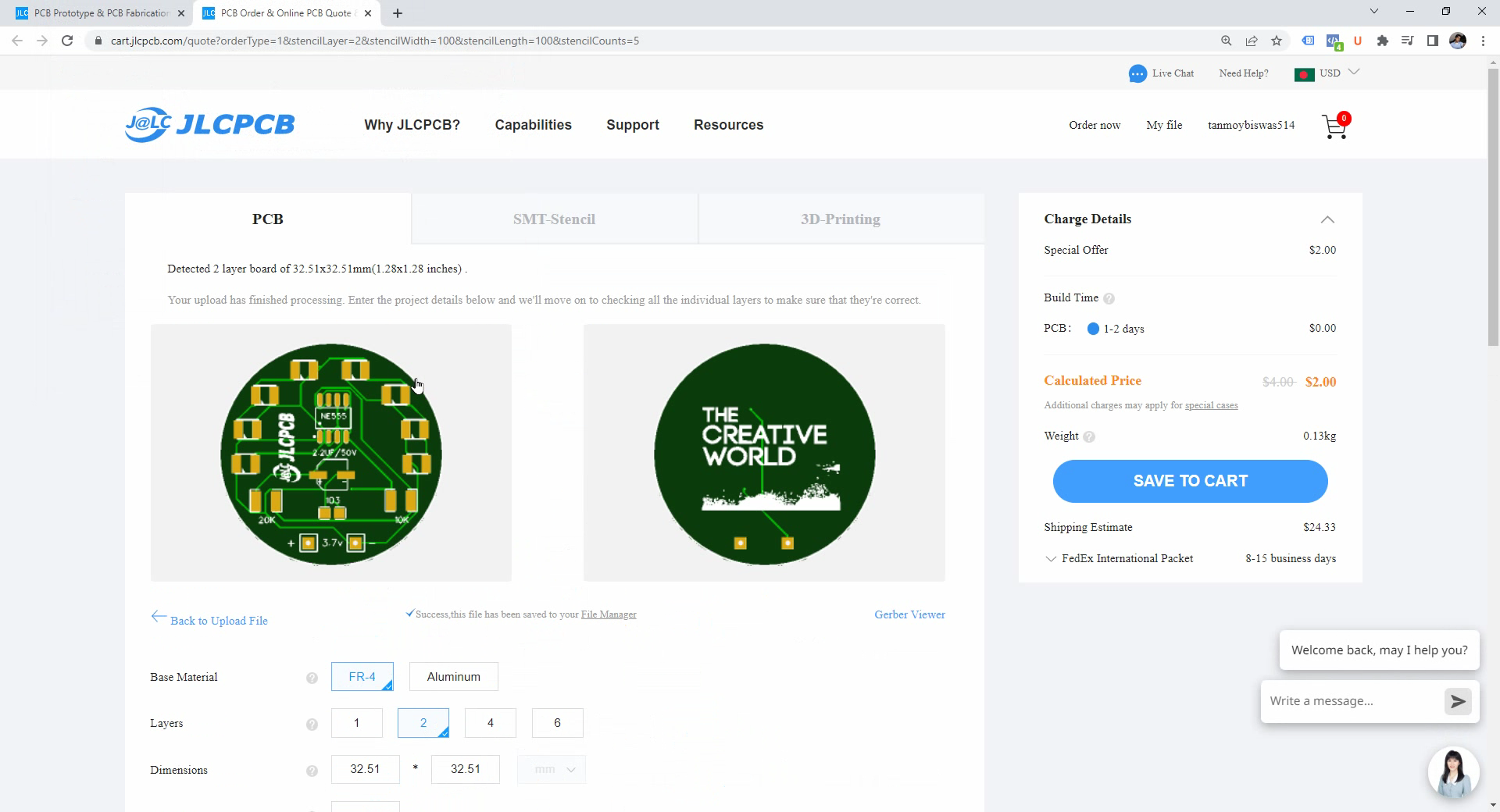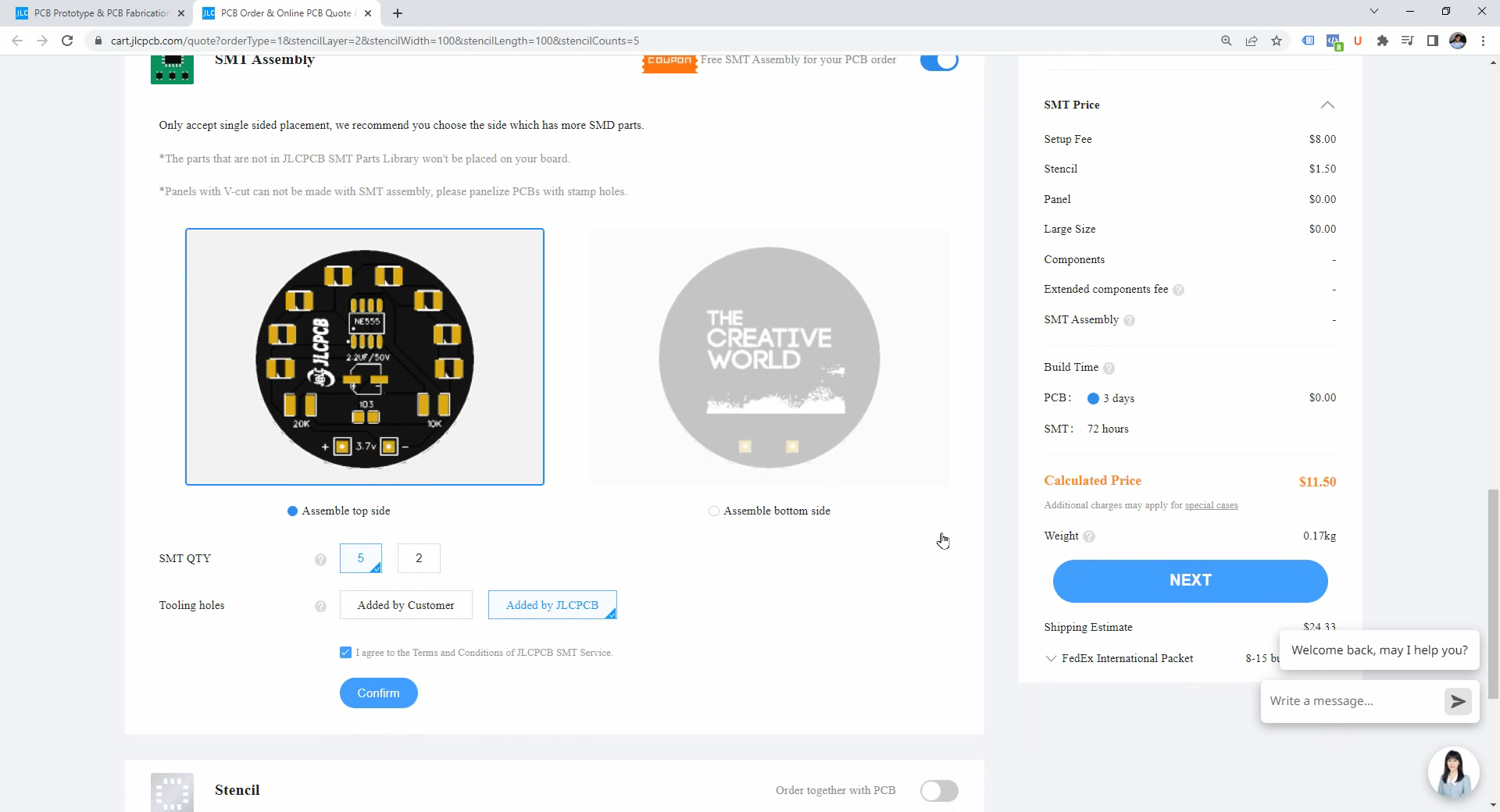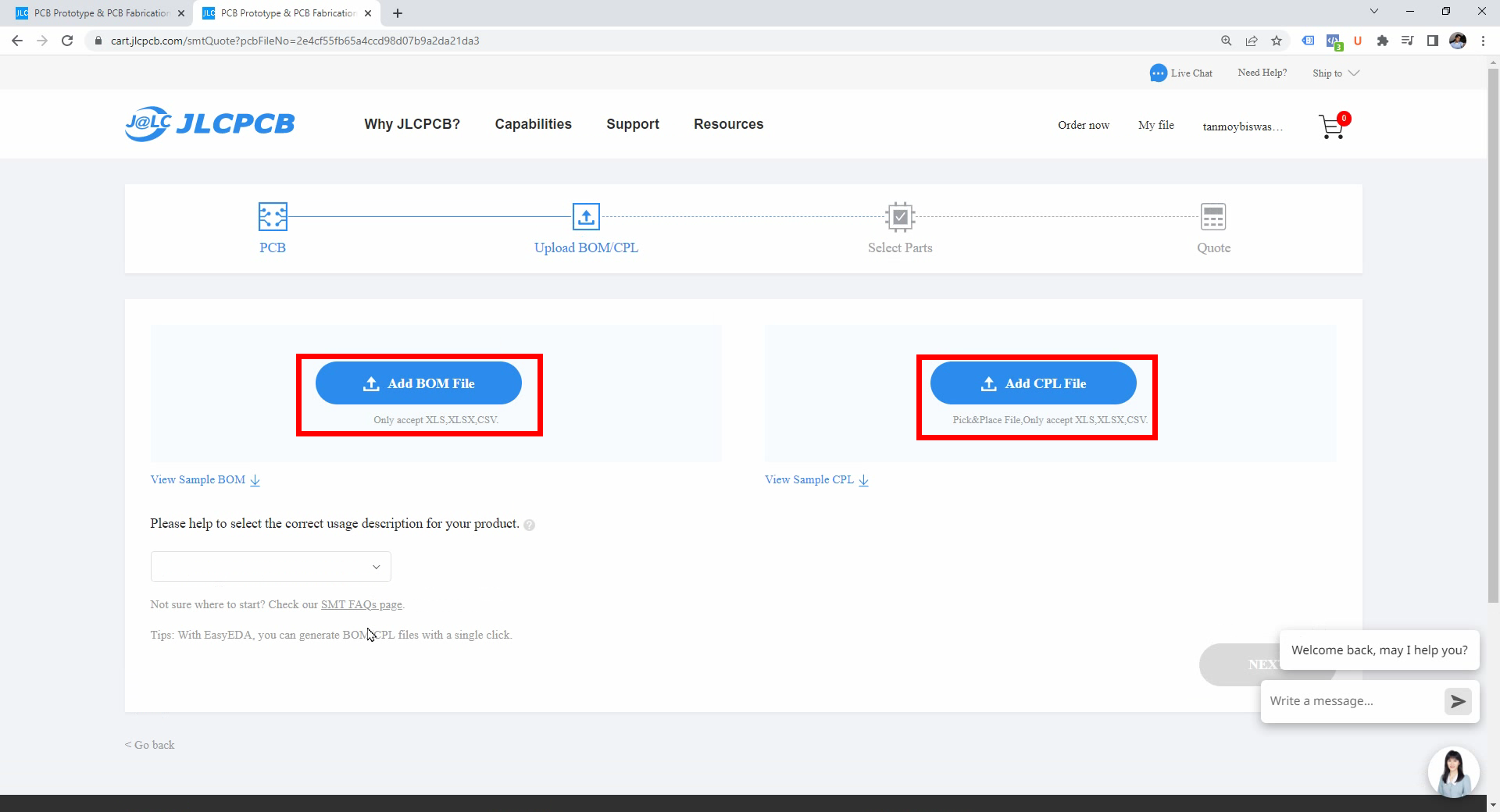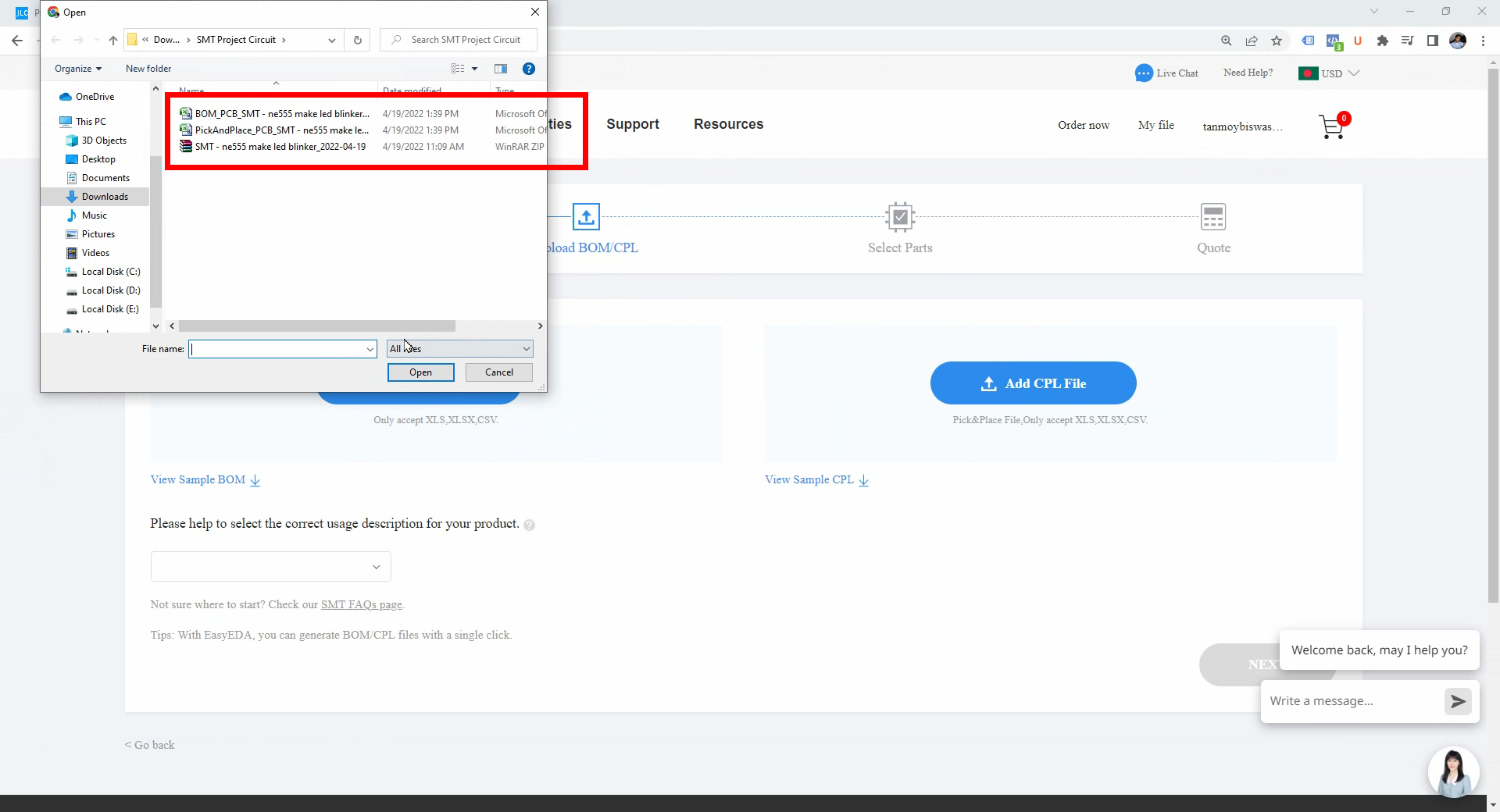 Step 2 - Order PCBs From JLCPCB
To order your SMT PCBs, visit JLCPCB.
Drag and drop SMT PCBs file on site.
Choose your PCBs color and quantity.
To free SMT assembly for your PCB click on "SMT Assembly" button and then confirm.
Add your Bom file and CPL file.
Place your order click on "Save to Cart" button.
Confirm your shipping address and shipping method.
Pay your payment
Wait for confirmation mail.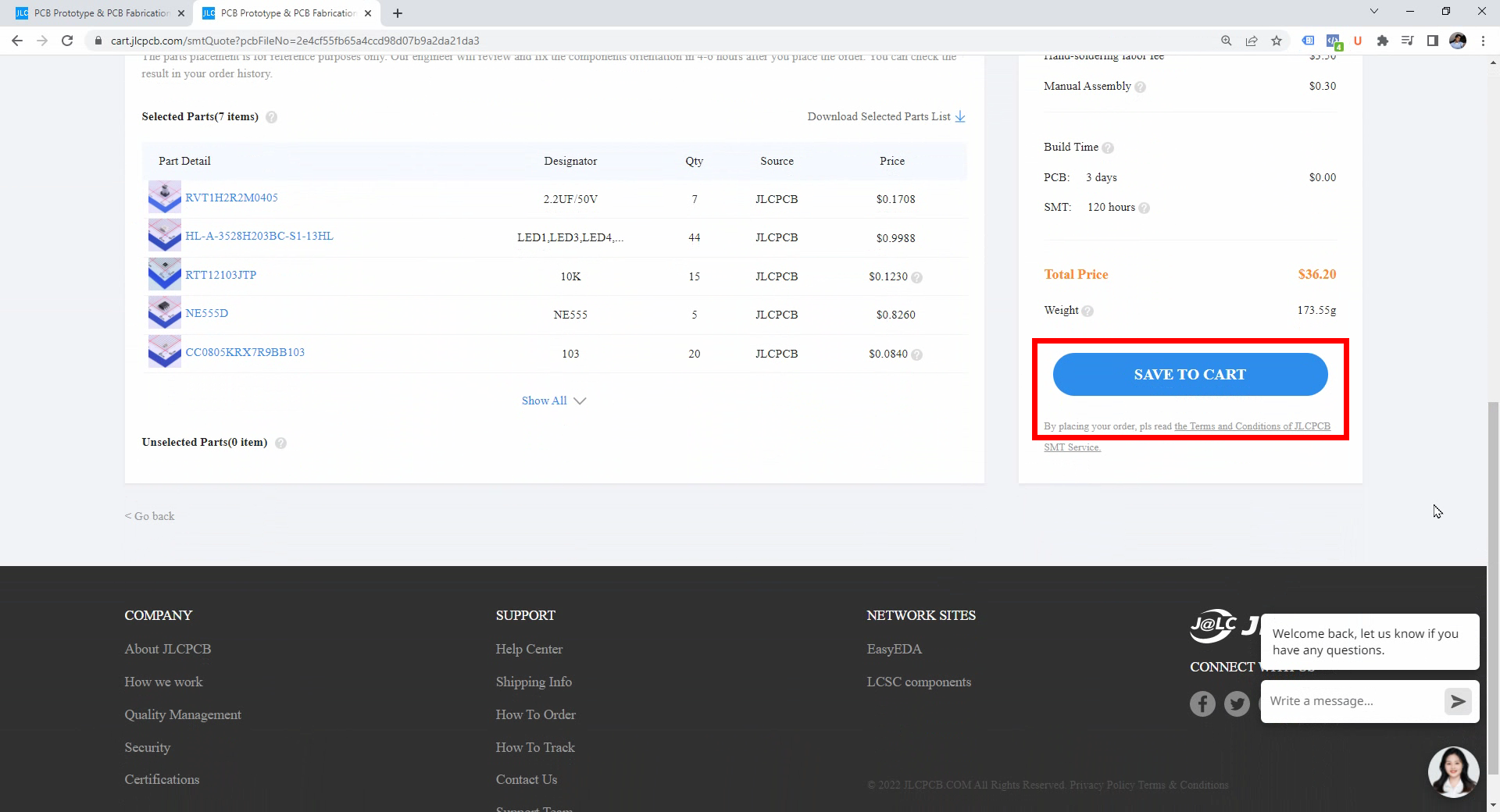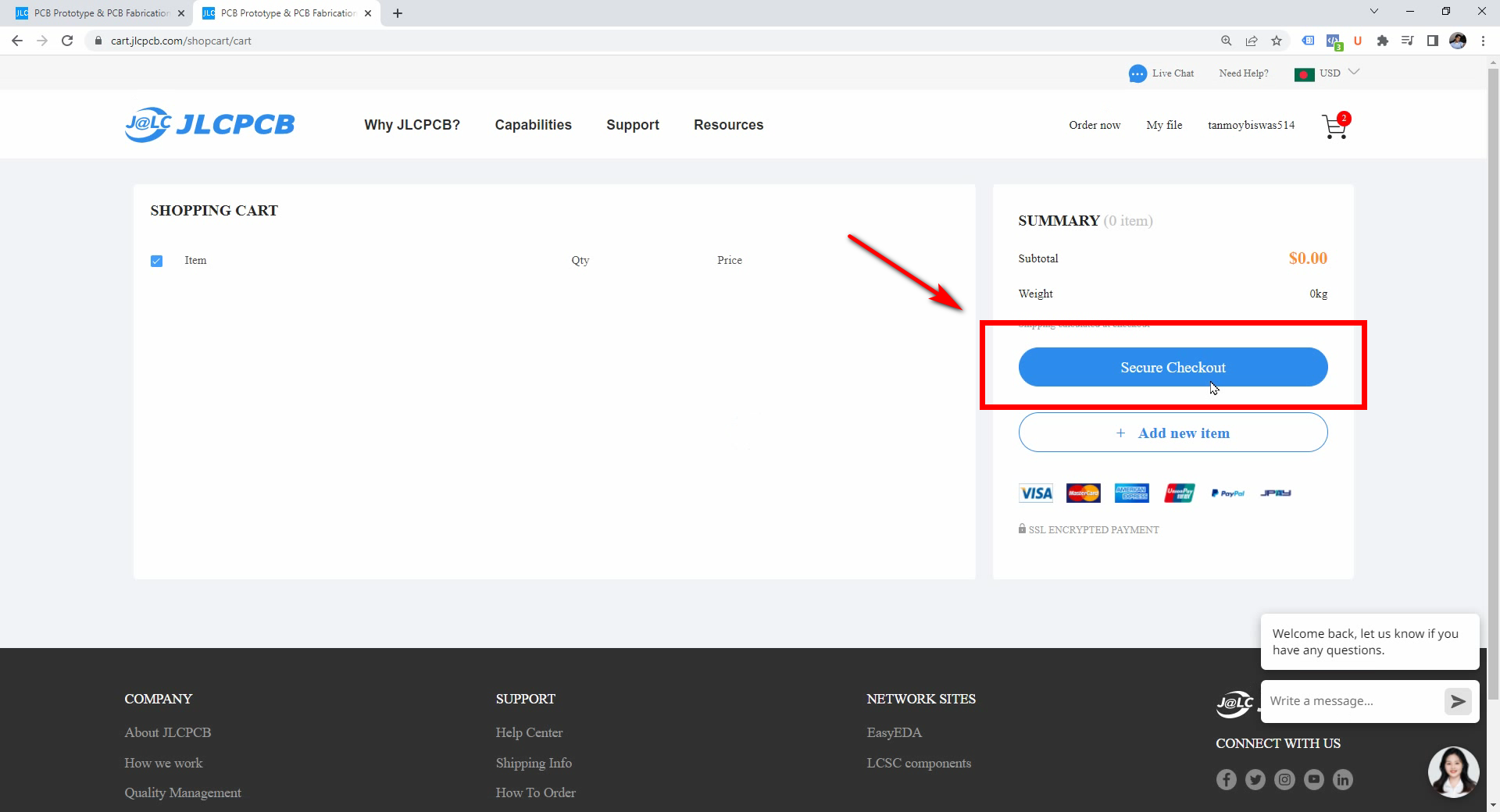 Shipping and Billing -
JLCPCB supported all shipping method can be seen below.
Estimated Delivery Time -
✔ DHL International Express 3-5 business days
✔ UPS Worldwide Saver 3-6 business days
✔ S.F Express(Standard) 5-8 business days
✔ S.F Express(Economy) 8-15 business days
✔ Singapore EMS 8-15 business days PostLink
✔ Registered Mail 15-20 business days ePacket 15-25 business days
✔ Registered Air Mail 15-20 business days
JLCPCB supported Payment method.
✔ PayPal
✔ Credit/Debit Card
✔ Prepaid wire transfer
Confirm PCBs Order -
To confirm your order, pay your payment. Then accept PayPal,
Credit/Debit Card, Prepaid Wire Transfer. To manufactured your PCBs, it'll takes about 2 days. DHL will be fastest shipping method to arrive your ordered PCBs...
Read more »