Introducing the new Azimut mechanics induced a side effect... My manual calibration procedure no longer worked for this axis.
This is due to the fact that:
the azimut motion is no longer linear and follows complex motion equations
the azimut bottom plate should be pointing to the south
So I decided to implement a new procedure of calibration into the Android application. Don't panic it is even simpler than before!
launch the App
put the phone on the ground parallel to the bottom plate and align the North (this calibrates the bottom plate)
put the phone on the panel (bluetooth enabled)
press the ESP32 reset button
the ESP32 automatically connects to the phone and gets the time and the location (as previously)
now push the "find Sun" button, this will send the current Elevation and Azimut angles to the ESP32 
quit the App to resume normal tracking mode.
---
Here is what you should see on the screen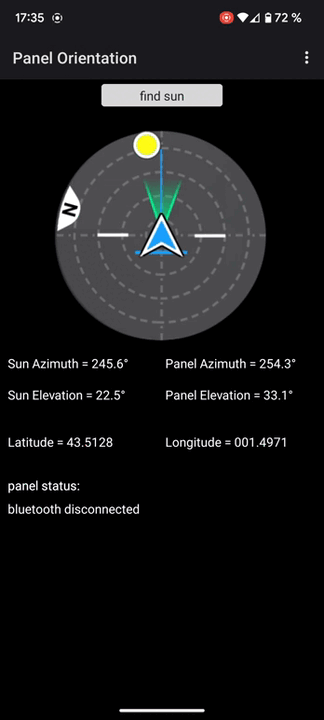 ---
And the panel will rotate to the right position, pointing to the sun ! 
---
This should be done only once after powering the ESP32. 
Once done this calibration will be kept into the memory of the ESP32 (even during night).