GERBER PCB
https://mega.nz/file/GdgWVbAR#t_qmgW546Oz4834_myRtPEgB19KCzrqy1DodzjxI4sA
DATASHEET NE555
https://mega.nz/file/aMJFzKCL#OPWVYu6sYgewD9sZpiSLyDCQ3EUIAd9BE4ngBr3sBnY
DATASHEET C106DG SCR
https://mega.nz/file/TN5RRK5J#LuROspQhA5OpTO6GbCLjuvHn70rFaZUFlkAKdgf7k1Y
DATASHEET LM2576
https://mega.nz/file/nQQGSTyY#6LNVz3kkNpO9UGndeycgyeO_x82Bwh-z7tKnYJq5FjA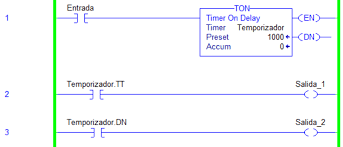 In this case we will make a control circuit using basic electronic components such as optocouplers, SCRs, transistors, resistors, etc., which will allow us to control effective timing.
The main brain of our circuit is the SCR that we will use as an interlock, this will allow us to activate the SCR and the timer that will start its delay count to be able to turn on. In this project we use the two functions when the timer is turned on, the first relay is activated until counting the established time, then the first relay will be turned off and the second relay will be activated and will remain there indefinitely until I turn off the system or disconnect the input power.
This circuit works with a VIN of 24VDC.
It consumes little current in the control system.
After this process we can activate a three-phase contactor, this would already be seen in the power system, that is, in the three-phase motor to be controlled and thus we can control motors with a high load capacity.
Electronic components
·        3 TIP31C
·        2 SCR C106MG
·        4 PC817(OPTOCOUPLERS)
·        4 LEDs 5MM
·        1 IC NE555
·        1 POT 500K
·        2 RELAYS 24VDC 3 WAYS
·        3 RESISTOR 1K 1/2W
·        4 RESISTORS 10K 1/2W
·        3 RESISTORS 100K 1/2W
·        2 RESISTORS 20K 1/2W
·        3 RESISTORS 15K 1/2W
·        2 PUSH-BUTTONS 4 PINS
·        2 1N4148
·        3 CHAP. ELECTROLYTES 100UF25V
·        1 RESISTOR 220 ohm 1/2W
·        1 RESISTOR 8.2K 1/2W
·        1 RESISTOR 680 ohm 1/2W
·        2 1N5819
·        1 COIL 100UH
·        1 LM2576
·        1 DC JACK
·        2 BLUE TERMINAL BOARDS 2 PINS
·        4 BLUE TERMINAL BOARDS 3 PINS
·        1 TRANSISTOR 2N2222A
Features:
·        VIN 24VDC
·        EFFECTIVE CONTROL SYSTEM
·        LOW CURRENT CONSUMPTION IN CONTROL SYSTEM
·        TIMER 11 seconds UP TO 66 second
JLCPCB
We thank JLCPCB for professional PCBs
Order your PCBs here
 5PCBS AT $2
GERBER PCB:
https://mega.nz/file/GdgWVbAR#t_qmgW546Oz4834_myRtPEgB19KCzrqy1DodzjxI4sA