Here are some of the most important key facts:
Compact design: Total size 120 x 50 mm. 70 x 50 mm area for electronics and additional 50 x 50 mm to mount the scintillator.
All-in-one detector: No external parts (e.g. sound card) required to record gamma spectra.
Easily programmable using the standard Arduino IDE.
Low-voltage device: No HV needed for a photomultiplier tube.
SiPM voltage range from 28 V to 33 V.
Low power consumption: ~15 mA @ 5V in standard operation.
Adjustable preamp gain for the SiPM pulses (affects energy range & resolution).
Customizable energy range with 4096 ADC channels.
Default Mode: Capable of at least around 40,000 cps while also measuring energy.
Geiger Mode: Capable of at least around 110,000 cps without energy measurement.
Additional broken-out power pins and I2C header for displays, etc.
More information can also be found in the GitHub repository...
Ok nice, but how do I get it?
DIY version: Download BOM and Gerber files or use Kitspace.
Buy a board: Go to the webshop of my partner Makerfabs.
---
The principle of operation for the detector looks like this: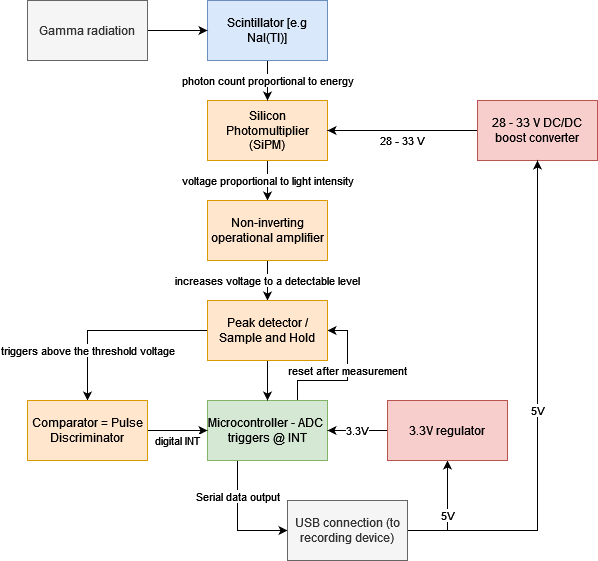 ---
Read more »