In my research I have looked at many materials which might help me achieve my goal to print bio degradable wood. I have bought several of these materials to test with. Below I will list all of the materials, and make remarks on some of the properties. Unless otherwise found, a material is assumed to be renewable and biodegradable if it is a natural product that is only lightly refined.

Below a list of the materials I will be testing with to get 3D prints out of wood.

I am of course open to any suggestion of materials which might have potential, so if anyone has an idea I am all ears.

Bulk powder

For the bulk powder I am using fine Beech wood powder. I got mine from a Dutch supplier called Bemap (https://www.bemaphoutmeel.nl/) who sent me a batch. The Batch I got is sieved to 0.05mm. With expected layers of 0.1mm, I wanted smaller grains than that.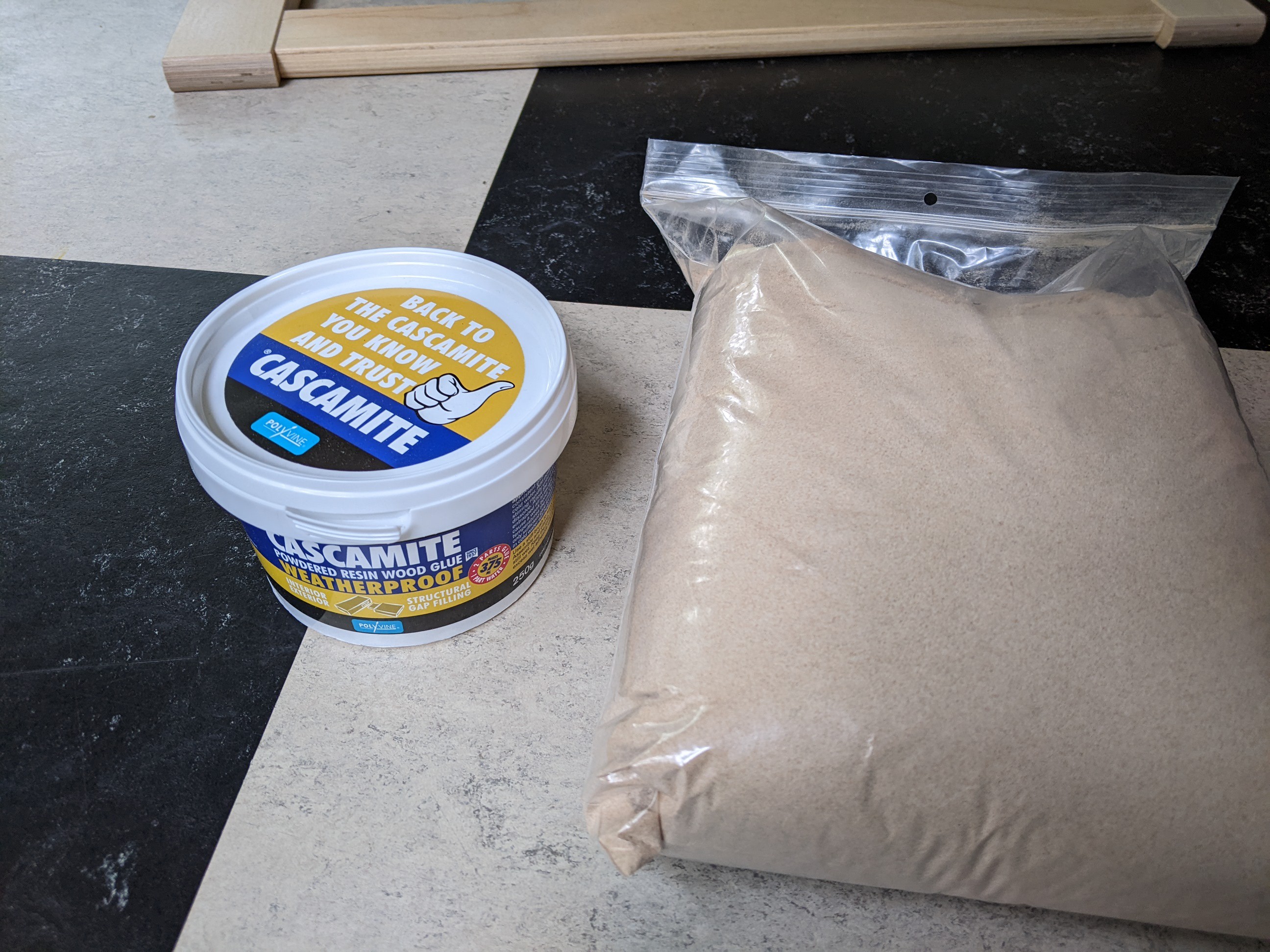 Powdered binder

For the powder binder I have a few materials I want to try.

Urea Formaldehyde UF glue (also called plastic resin glue) is the glue used in plywood, and is what the open3DP research used. UF glue itself I have a hard time getting, but it seems that a product called Cascamite is at least a good portion UF glue. From what I can find this compound is actually used as a fertilizer as well, and is thus fairly biodegrade.
Dextrine is a name for a collection of starches. An often used one mentioned later was my original goal, but my supplier only had "dextrine". Dextrine should be a fairly hydroscopic glue powder to bind the powder.
Starch, both potato and wheat will be tried. The expected result is similar to the dextrine one.
Powdered sugar is also known to be used a lot. Sugar slightly dissolves in water, and solidifies when it dries again. It is low cost and simple, but not the strongest binder.
Egg white / Meringue are fairly similar powders that are mostly dried egg white. Meringue has sugar added to it, but it otherwise is mostly the same. The idea is that egg white dissolves in water and dries into a fairly hard material. This should make it a decent glue to bind the powder.
Xantham gum was mostly bought because it was available. It is a thickening agent for liquids, so it is not known if it will really aid in printing in powder.
PVA: One of the best glues in 3DP. PVA dissolves in water and hardens when the water dissolves. Dry PVA is a hard plastic, making it very strong. It is technically biodegradable, but also slightly toxic and not renewable. It will be tested, but recipes without it will be preferred.
(Maltodextrine): The starch I wanted to get, but couldn't get for now. This starch is known to be a good 3DP printing binder powder.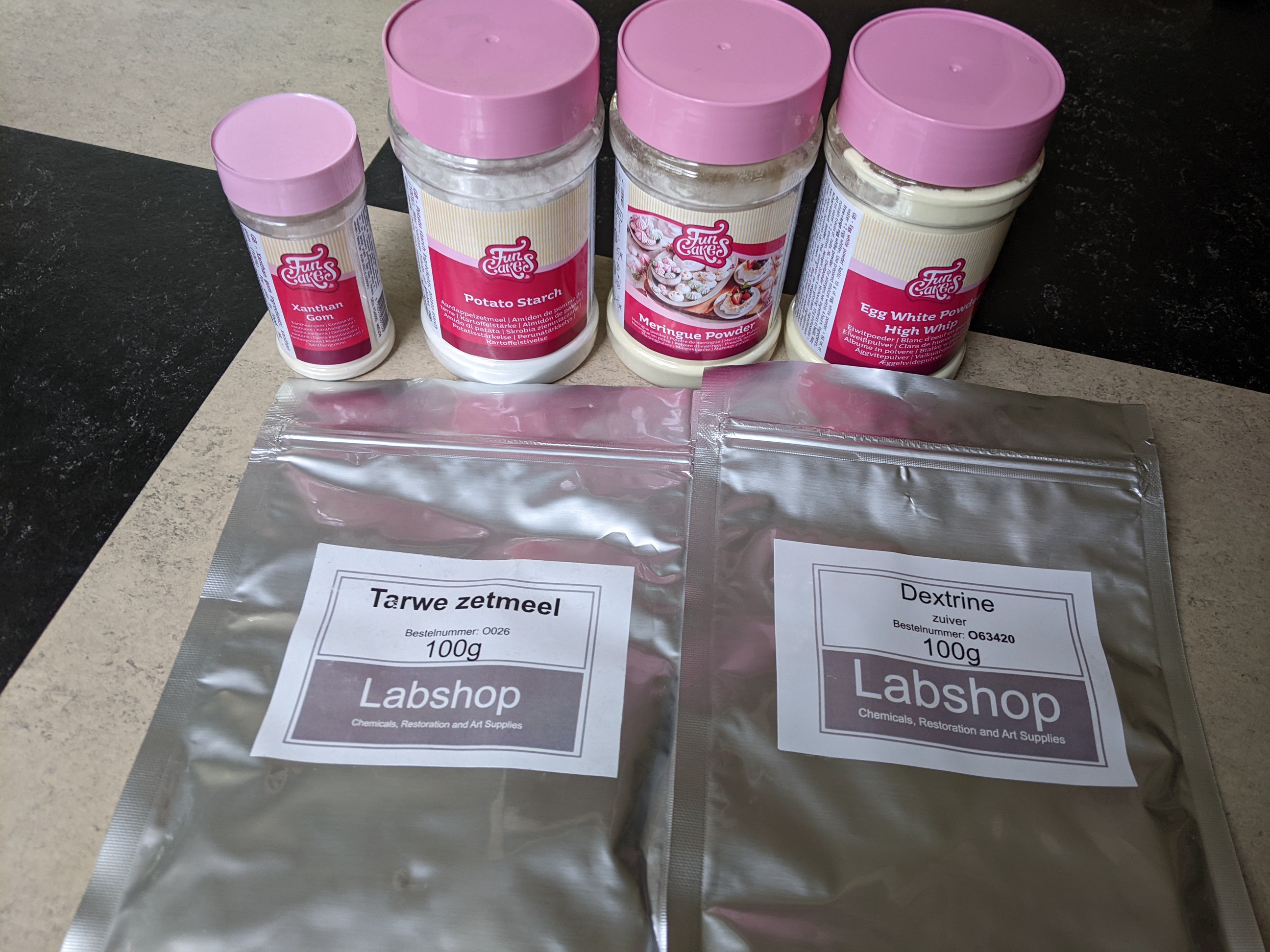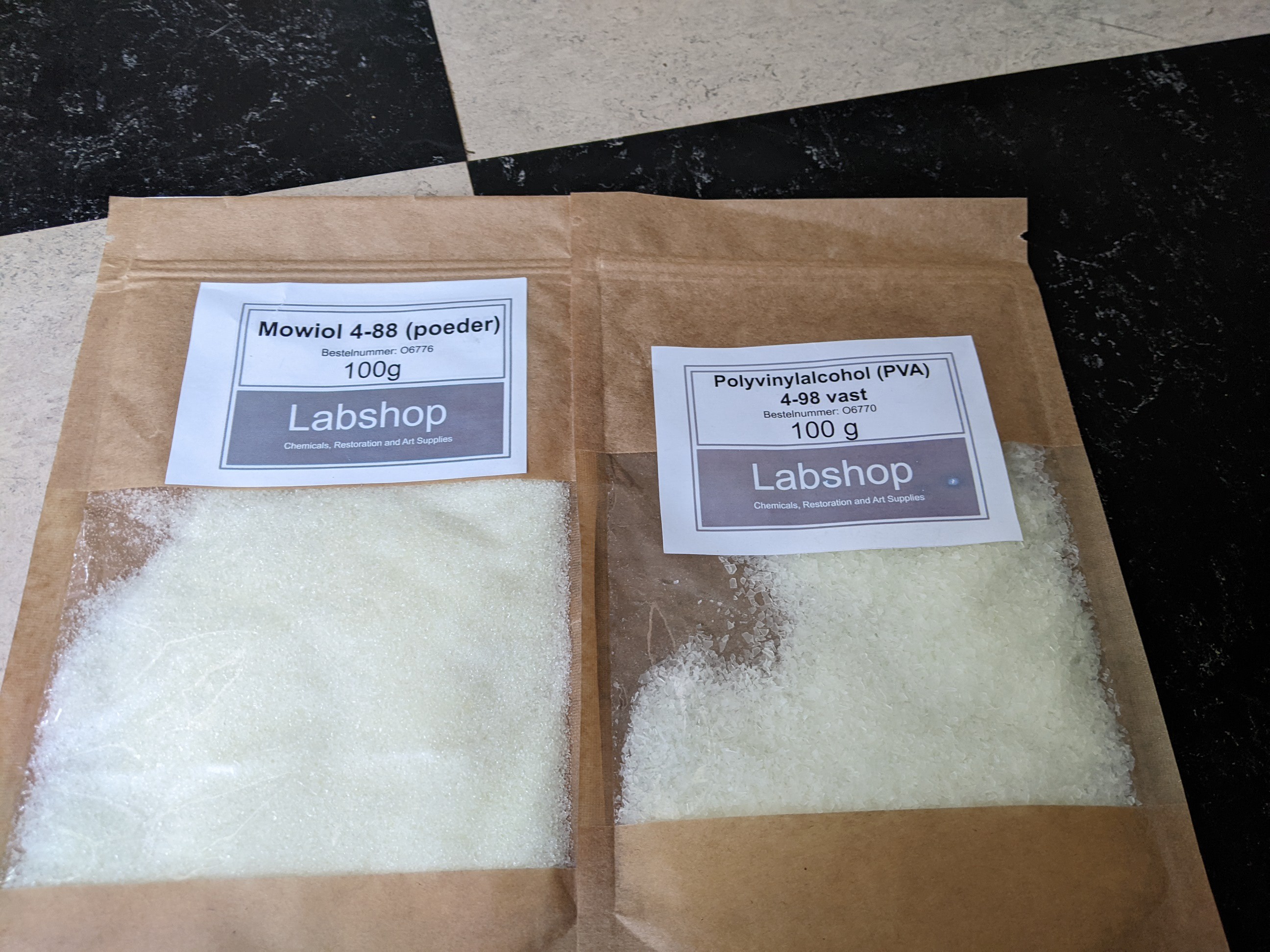 Liquid binder

Some additions to the binder will also be tried. These are materials which might be printed through a TIJ printhead and solidify. These include:
Sodium silicate (known as water glass) is a compound used in a ton of processes. It is used as an adhesive, and it is hoped that it might improve initial part strength. It is actually used in sandcasting molds, where the molds will set instantly when exposed to CO2 gas. It does not tick any of the boxes for biodegradability, it is toxic and not renewable, but it might work quite well. I do want to try it for sandcasting later, so having it available will be handy.
carboxy methyl cellulose (CMC or E466) is the main ingredient in a lot of edible glues. It is a cellulose derivative which dissolves in water. Since it is used as glue, I hope it can lead to stronger parts. The only worry is that the printhead might get clogged by the CMC.
Post processing
After a part is bound and cleaned, it still needs post processing to get the part to its final strength. For this a few materials will be tested.

Waxes and lacquers are turned to liquid either by dissolving into a liquid, or by simple heat. After the part has been infiltrated with the wax or lacquer, it solidifies and the part should be usable.

Carnauba wax (E903) is a palm wax which has one of the highest melting point of all natural waxes at 82-86°C. It is hoped that molten Carnauba wax can wick into a part and harden to create a strong part.
Beeswax is a natural wax produced by bees (you would have never guessed by the name). It melts at 62-64°C. The expectation is that it behaves similar to Carnauba, only with a lower melting point
Shellac is natural resin secreted by a bug. It can either be liquefied by melting it at around 75°C, or by dissolving it in alcohol. The wikipedia literally mentions it being mixed with wood flour and molded, so it is at least worth a shot.
On the other side are thermosetting materials. These will harden once, and then will no longer melt when heated, instead burning.

Linseed oil is oil from flax seed. It is referred to as a hardening oil, which means it actually polymerizes when it dries. Linseed oil does this by reacting with the air. This is an exothermic reaction, so it heats up when it hardens. There are warnings everywhere not to leave rags soaked in linseed in the open for risk of combustion. Linseed oil is also an important part in linoleum where it is mixed with (drum roll please...) wood dust. I have high hopes that linseed oil will be able to bind parts into fairly strong shapes.
(Tung oil) is an oil from the seeds of the tung tree. It also is a hardening oil, and has a lot in common with linseed oil. It is often mixed with a solvent to help it penetrate deeper into wood. I did not get Tung oil, mostly because it came up too late, but it is on the list.