I don't know when I'll receive my modules but I have found an online source of some Luminator Max 3000 arrays. 16 lines, 28 rows, this is perfect for my system. But how do we drive them ?
I've found a youtube video that seems to be a very similar model.
The implication is clear : it's a "typical" array, almost.

But there is a bit more than that, when looking closer.
We can see on the backside that there are 2 diodes per dot. So it's not a typical array like with LEDs. The solenoids must be driven in one direction or another, which is not the case with a classic diode array.
I have found an interesting description there http://electronics.stackexchange.com/questions/243030/how-to-drive-315-coills-in-flip-disc-display/243054 but I have independently come up with a little different approach that is suited to relay technology.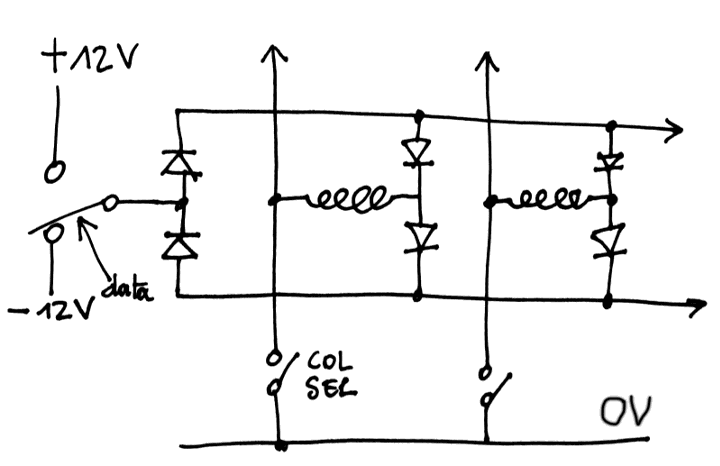 The +/-12V symmetric supply is already used for the DRAM bus of the #AMBAP: A Modest Bitslice Architecture Proposal but there is a difference : the column select switches to 0V, not -12V (which is required by the electrolytic polarized capacitors). The data driving circuit is shared with the data bus, but a separate column selector must be wired. A couple of diodes must also be added for each data line.
For semiconductor technology, it's quite simple as well : a high-side PNP or P-FET and a low-side NPN or N-FET will be enough, no need of a diode.
Of course, it must be tested.
---
PS: the diodes are not strictly required, if you drive one end with a high-side to +Vcc and the low-side to -Vcc. However the above circuit diagram requires the diodes because I get the data directly from the write bus of AMBAP. It already drives the data line at these levels to recharge the DRAM's capacitors. Without the diodes, the current wouldn't be correctly steered...