Good news, european fellows : the magic of eBay has struck again :-D Look at these beauties:

Like the previously seen LUMINATOR arrays, they are 28 dots wide, but 19 dots high instead of 16. That's why I took the display with the three broken dots : it's cheaper and I don't need the bottom 2 rows. That's 17 lines and I can still show the parity bits :-)
OK I also ordered the pristine one. But the seller still has other modules for sale at the time of writing (the 2 last links). Watch the seller http://www.ebay.com/usr/motozentrum in case more became available...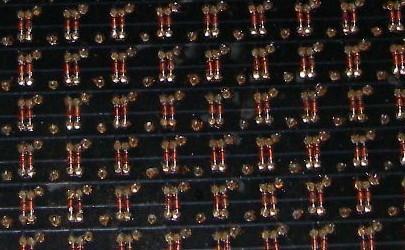 The shots of the back show the pairs of steering diodes and the matrix is very simple so I expect no surprise. I can un-socket the IC and do my things...
Unlike the LUMNATOR the PCB doesn't implement the magnetic coil, so I'm curious.

Ô the things I could do with them... ;-)