See the latest updates at the bottom :-)

---
The last log More on youtube introduced me to the tiny german webshop of https://hannio.org

I couldn't resist and bought two kinds items:
The pros:
brand new, at least for the 1×7 modules, so unlike eBay you don't gamble...
The 1×7 can be organised at will for any geometry, with a pretty good price.
convenient payment with paypal
fast delivery (5 days from order to delivery in France) for reasonable price
The cons:
packaging... 1/4 of the 1×7 were damaged. One of the flaps is missing from one 16×24 and I don't know how to repair it (no spare for this very unusual part). I don't blame the sender because the carboard box seems to have been crushed and/or "inspected". The crush has damaged the 16×24's connectors...
website only in German, not easy to contact the seller...
some of the 1×7 needed repair but that was easy.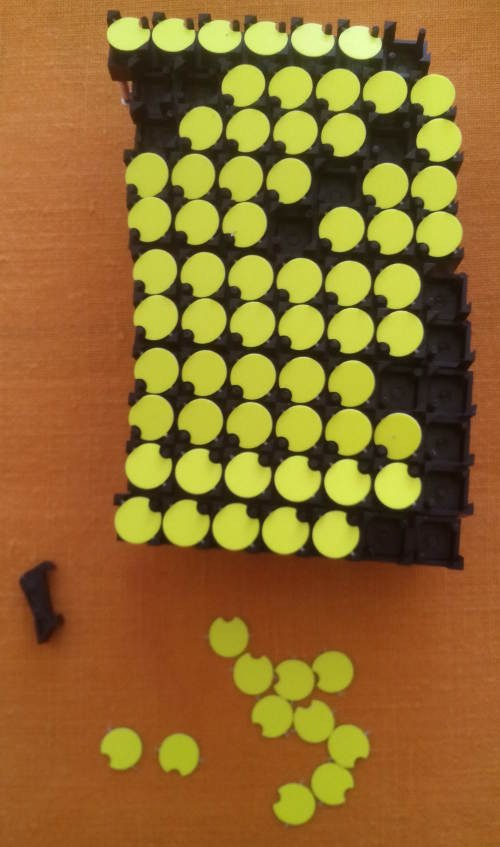 Overall: very positive, good quality, good price/dot, I could easily repair most of the 10mm dots and the connectors of the 16×24 modules can be desoldered/replaced. And speaking German helped me again :-D
And since my last order, there is a new model : 16×28 module with controller board ! https://hannio.org/produkt/flipdot-modul-16x28/ Who wants to try it ?
---
Update 20170516 :
The coil resistance is measured at 19 Ohms. However some resistances have been measured as "infinite" and the thin, fragile wire was damaged during shipment. I'll have to check how many need repair and who many survive (anybody wants to help manually check 350 coils ?). The really broken ones will serve for surplus/replacement discs and will be cut in smaller lengths (because 7 is not a very convenient size to create 16 or 18-wide displays).
The resistance of 19 ohms is a bit higher than the 16.6 ohms of the other german panel I have so I expect slightly different flipping characteristics, but not far from 130mA/2V : 100mA@2V is better, indeed (but quite slow). However, higher current in needed to overcome the hysteresis of the factory-set dots : 2.5V/125mA is a good bet. It works well and fast at 3V. Direct drive is easy with a 3.3V power supply. Adding the diodes' drop (2×0.8V), the dots are suitable for matrices running with 5V.
I must still characterize the 16×24 array, which uses a single-coil structure...
---
June 20, 2017:
A new batch with mooooore flip dots ! I have accumulated about 1500 dots in original packaging. The shipping was a bit turbulent but less problems than before. The store owner will stuff the next packages with bubble wrap.
Another 16×24 array completes the others, so I might be able to also create a 24×32 or even 24×47 display (the last column has a missing flap).
And following my advice, the site is now available in english too ! https://hannio.org/en/

The stock of stripes is slowly running out so don't wait to get yours :-P