GERBER PCB:
https://mega.nz/file/SVhniAYb#Q5Uxx3xHdMnzDK5-1-UweEwodLDQ0UUH3ZE4RUXcQRg
DATASHEET HT12D:
https://mega.nz/file/mVB3lYBQ#giHf9TfY2gHU69QNiYIu9T4Gl-BppJr0a23qcIbWe-w
The brain is the SCR C106DG that will allow us to interlock the starting circuit, once the START button is pressed, it will remain on until the STOP button is pressed, then it will just turn off.
We use digital electronics logic such as OR and AND for input comparisons and SCR activation and deactivation.
The activation of the motor will be through the coil of the contactor that is controlling this motor directly since through the relay we can control DC and AC loads for any type of three-phase contactor.
DIRECT START:
Direct starting is the simplest method of starting a three-phase induction motor. It simply consists of connecting the stator windings directly with the closure of power contacts (contactors).
RF MODULE:
433Mhz RF modules are very popular for their low cost and easy use. They come in a pair, emitter (FS1000A) and receiver (XY-MK-5V), the type of communication is simplex, that is, in a single channel and unidirectional, they have a low transmission speed but for basic applications they are very useful
The working frequency is 433MHz, since it is a free use band. To use these modules, simply power them and connect the data pin to the Transmitter (TX) on one side and the Receiver (RX) to the other. For programming it is not necessary to add any type of library, since it is a "transparent" process, so the program would be the same as using a serial communication (UART) between 2 MCUs, however there are some libraries that offer us certain advantages such as: error checking, better transmission, Addressing, Routing, meshes, etc.
Antenna for 433Mhz modules
The antenna has a great influence especially on the receiver module, so it is recommended to connect a copper cable about 17cm long to reach the 433MHz frequency. Helical antennas with a diameter of 5mm and 3.4cm are also very common and efficient. of length. The position of the antenna also affects data reception.
ELECTRONIC COMPONENTS:
1 x HT12D IC
1 IC 74LS08
1 IC 74LS32
1 SCR C106DG
1 TR TIP31C
1 TR 2N2222A
1 PC817 OPTOCOUPLER
2 LEDS 5MM
4 RESISTORS 100 ohms
6 RESISTORS 1K
1 50K RESISTOR
1 10K RESISTOR
1 RESISTOR 220 ohm
1 RELAY 5VDC
2 PUSH-BUTTONS NO
3 TERMINAL BOARDS 2 PINS
1PCB
1 RF TRANSMITTER MODULE
FEATURES
VIN 5VDC
IMAX 100mA
OUTPUT 220VAC
THREE-PHASE MOTOR CONTROL
RF communication MANUAL AND WIRELESS CONTROL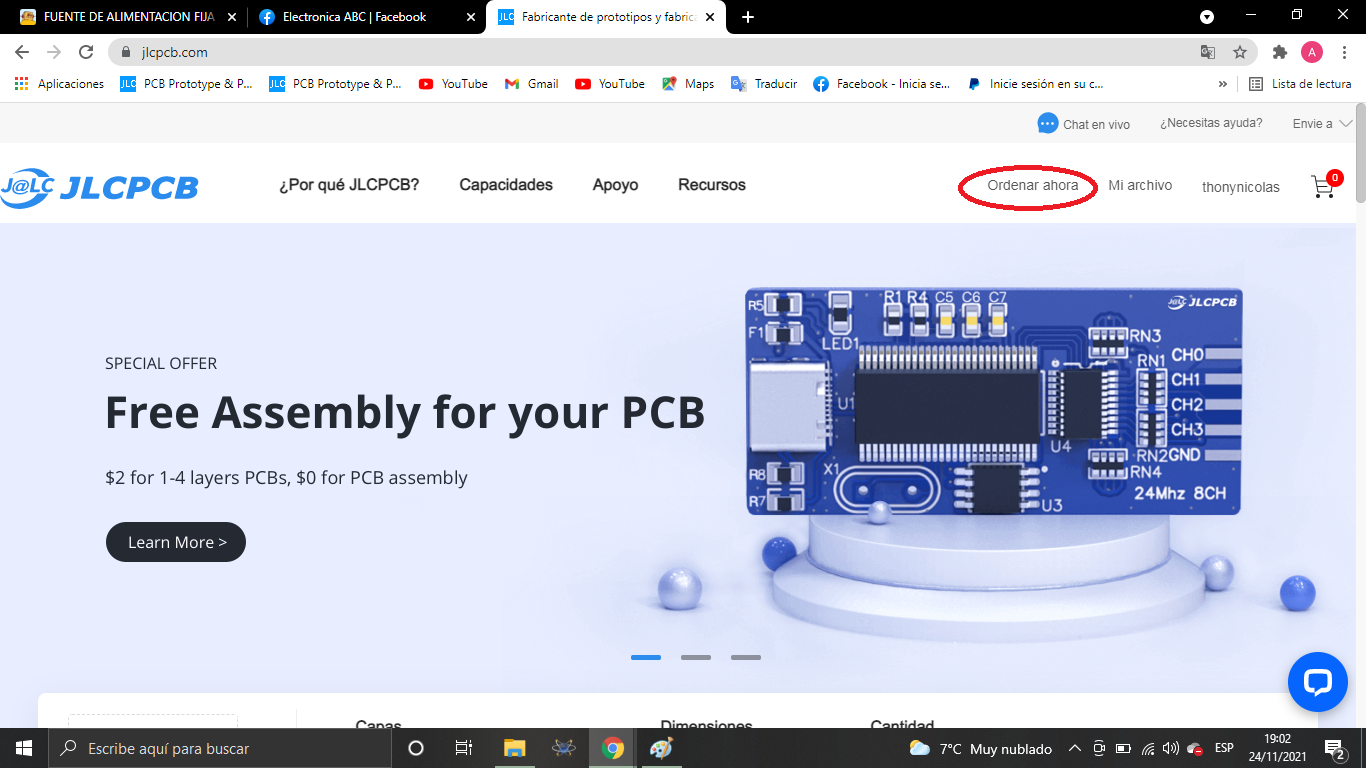 We thank JLCPCB for professional PCBs
Order your PCBs here
 5PCBS AT $2
GERBER PCB:
https://mega.nz/file/SVhniAYb#Q5Uxx3xHdMnzDK5-1-UweEwodLDQ0UUH3ZE4RUXcQRg