The Recreator 3D - PET#1 Pultrusion Unit
Make DIY 3D Printer Filament From Plastic Bottles
Reduce, Reuse, Recreate…with The Recreator 3D!
     Thanks for your interest in The Recreator 3D's Converted PET Plastic Bottle Filament. We hope that this gives you a great idea of what this filament can do for your production needs and what owning a Recreator 3D can do for you!     

   The Recreator 3D is 100% free as a community build. With the idea further adapt PET#1 recycling to be more accessible to every person in an even easier way. With this goal; we'll reshape our future's recycling methods, one bottle at a time!

     Using The Recreator 3D PET1 Pultrusion unit; you'll pultrude stripped down bottles to reform into a useable high grade weather and heat resistant filament, equal to commercial equivalents like PETG, ABS and ASA. 


     The Recreator 3D - http://recreator3d.com/ was established in 2020,
originally created with the XViCO X3S 3D Printers. Using It's base structure; a few accessories, and a handful of 3D Printed parts.

     
     While releasing the initial free build notes and video of the MK3, a small run of 25 units were produced inhouse by JRT3D - http://jrt3d.com/ the first two Quarters of 2021. Primarily delivered in the USA, a unit even made it's way to a trade school in Iraq. With complications on supply chain; the X3S printers soon became scarce and unattainable, and with community request expanded the project.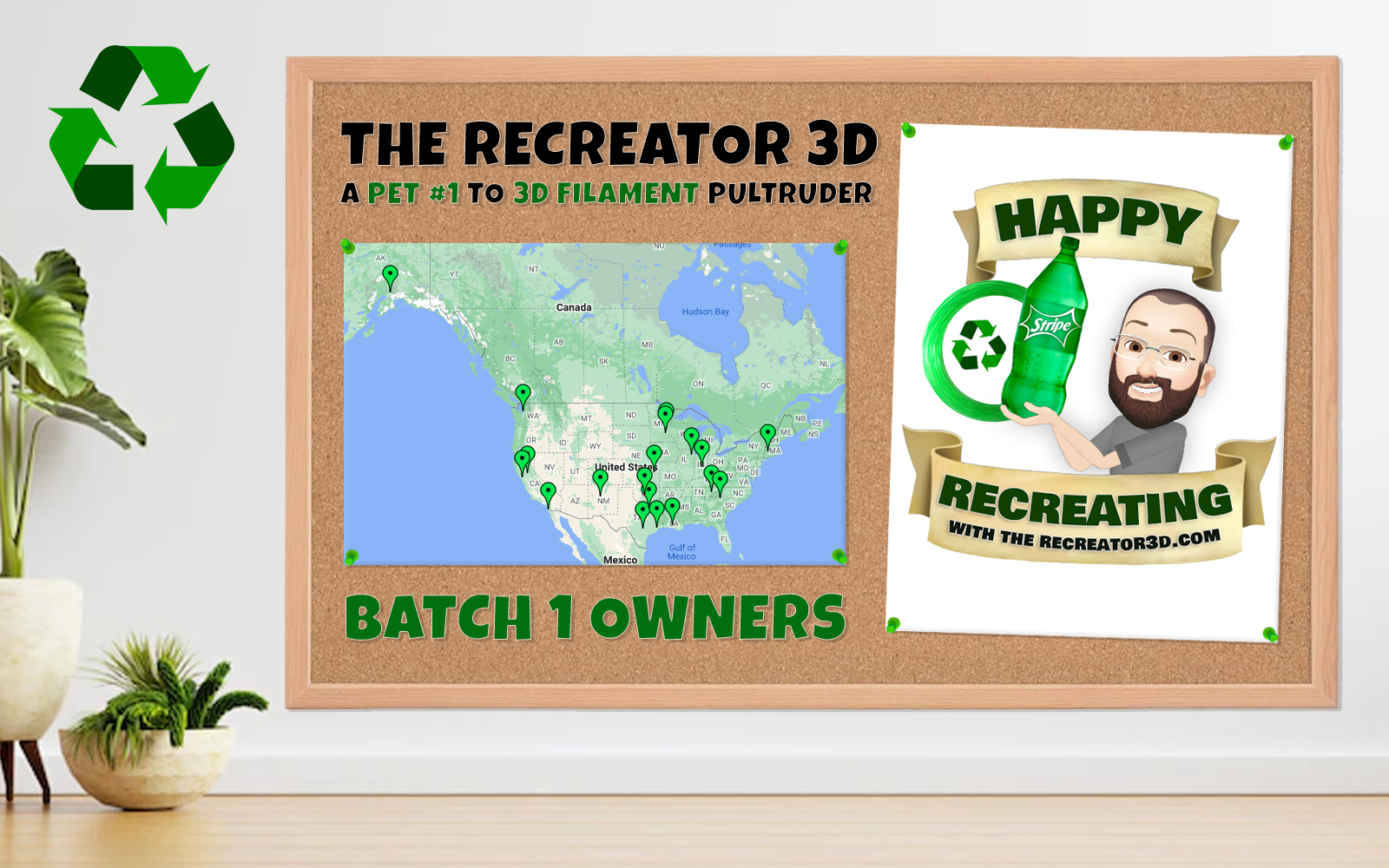 Since then the project has had several revisions, expanding away from MK3 and now uses an Ender 3 among the MK5 Universal Kit. We run several support groups for our Recreator3D Build's growing user base.
Facebook MAIN: https://www.facebook.com/groups/recreator3d 
Facebook FRANCE : https://www.facebook.com/groups/recreator3dfrance
Discord: https://discord.gg/AhPRjYXVJm
     The free files can be found at Printables.com:
https://www.printables.com/model/179820-turn-pet1-plastic-bottles-into-3d-filament-with-th

     Already 3D printers are vastly becoming items that are thrown away as freely as plastic bottles. Not only does this unit help stop plastic waste, it also helps us look at our aging technology as new viable forms of functions. Thus giving a new life and purpose. The Recreator 3D MK5Kit was made to be a universal solution for the use of most standard aluminum extrusions i3 style FDM printers. 
     The Recreator 3D - Mk5Kit: Ender 3 is one of the cheapest and easiest options available for PET#1 pultrusion for 3D printing filament. It's method of pultrusion is not a 100% solution to ending plastic waste, but is the easiest way to reclaim waste as usable filament. For under $220 (even cheaper in some options) these units can be created by average people and turn homes into small recycling centers as well manufacturers among 3D printing.
Unit Build Notes and Parts to Buy can be found here: 
http://recreator3d.com/mk5kitender3
Operations Manual can be found here: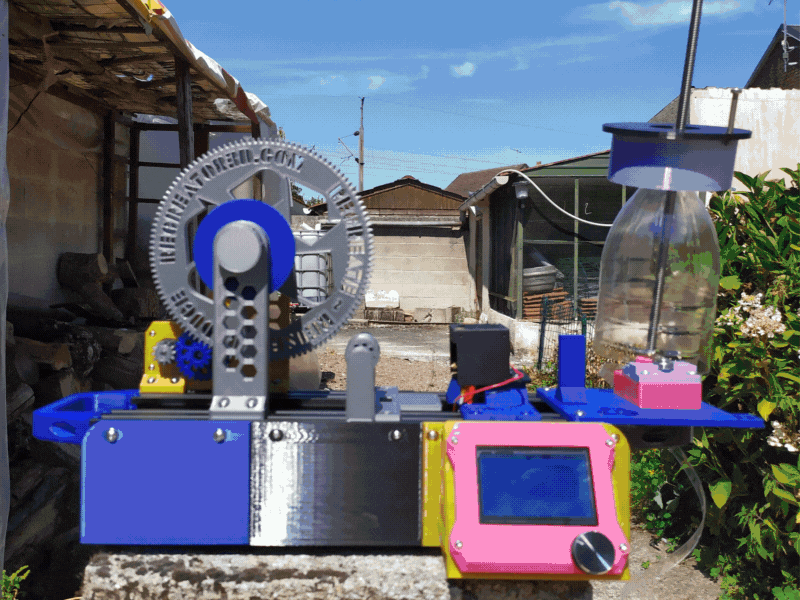 Our desire is to see the community expand the MK5 Universal Kit's main LCD and Driver board parts to further adapt to other branded 3D printers that may be considered e-waste. Sharing back to the Recreator3D community will allow other members to also use these modifications and the idea will expand beyond. 
     We've had a great response from the 3D Printing community and these are just a handful of videos out that showing off The Recreator 3D and PET Pultrusion!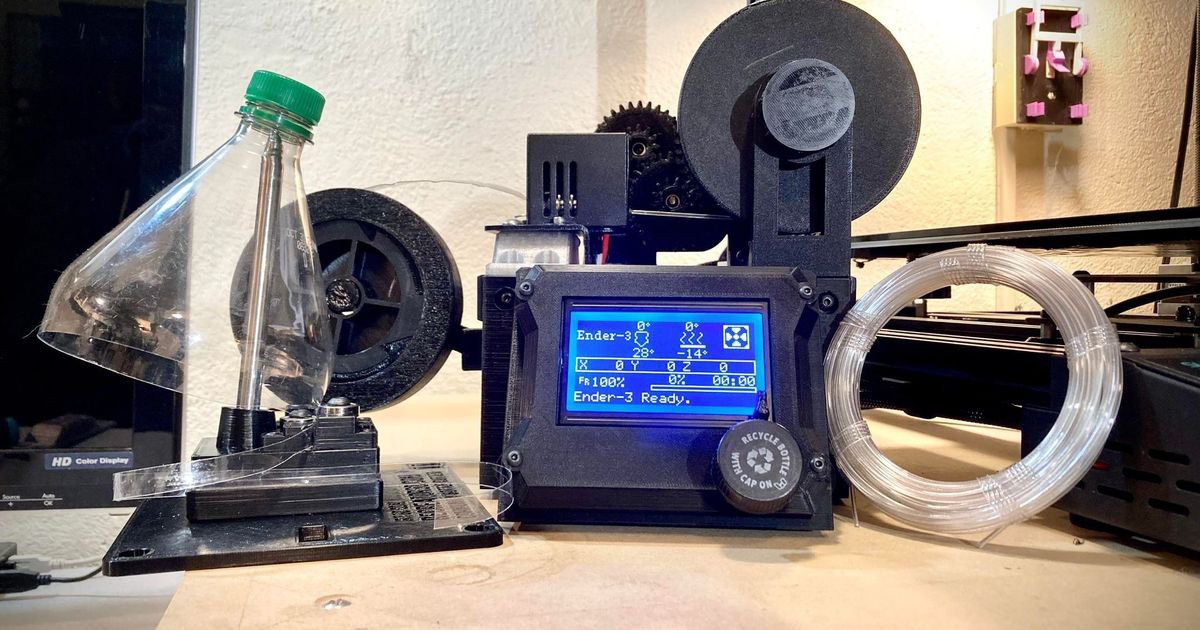 We're also working on our latest build, MK6 : Fun Size. It's currently in BETA as this becomes an eventual parts kit for our community members who desire a kit solution instead...
Read more »