As the deadline is fast approaching I seem to run from problem to problem on this project. Having made a brave leap from AVR studio to the GNU toolchain on OSX (because of computer problems that I already try to forget), I have been on a constant and steep learning curve this last week.
Things are finally starting to behave they way that was intended, but documentation and examples on these tools are scarce, so I have been practising a lot of trial and error along the way, and probably hit the bigger part of the "gotchas" that are out there. Just to show that this project is still alive I decided to post a screen-shot.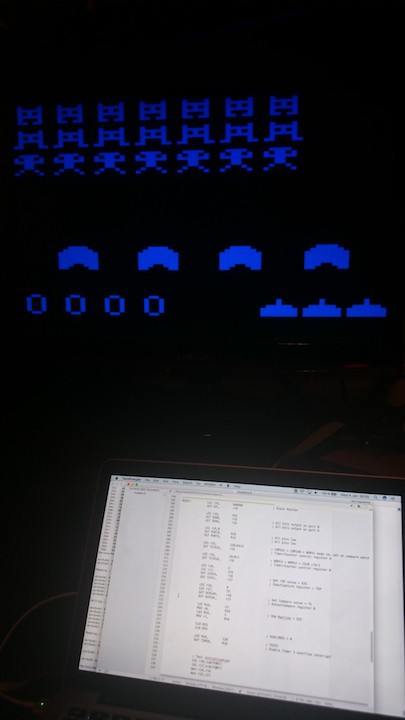 The VGA routine is up and running, as is the initialisation and house-keeping logic. I still need to add the the other VGA colours (solder the Red and Green signals to the VGA connector) and include the rest of the game logic. I ended up stripping it all down to individual components to make it easier to troubleshoot when things got really strange the other night.
Code and data is currently at 618 bytes, but some of that goes away when I´m done debugging. If all continues according to plan, I should be wrapping up this project with 5 minutes to spare before the deadline on Thursday.