I haven't mentioned this earlier because I didn't feel I was ready to make use of it, but I was contacted by a company named PCBWay with an offer of free pcb manufacturing for this project.
In an earlier project log I showed how I'd rigged up a Raspberry Pi to the keyboard ribbon by way of a breadboard. I had fiddled a bit with a little pcb design, but knew from the start that it wasn't going to be in the final product so I didn't really intend to have it manufactured.
Now, though, I'm further along, having upgraded to using a Teensy microcontroller on a perf-board. But the fact that I simply plunked down the components pretty much anywhere has now come around to bite me: the perf-board is getting too crowded to implement the remaining interfaces (lights and dials).

To expand to the full capabilities, I need to clean this up. And what better way than to take the opportunity to make a nice, real, pcb? I've tinkered with a design that meets a few criteria:
large enough to make ends meet, physically, wrt. the ribbon cables
small enough to fit comfortably in the enclosure (still need to double-check how much room there are for headers)
neat and logical double-sided routing
prepared for future expansion and re-work
With this in mind, here's what I've come up with: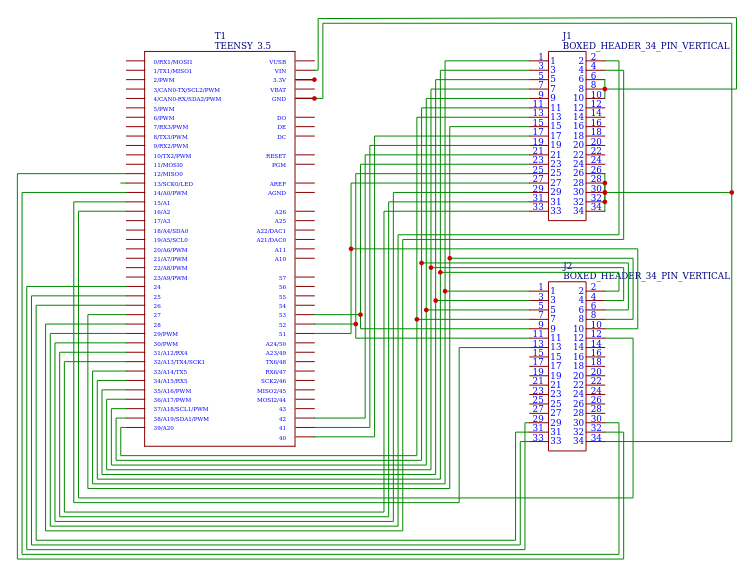 The ribbon sockets are far enough apart to make ends meet while keeping the board footprint small. The space in between is used for signal routing. Importantly, every single pin has a separate solder pad. This means I can patch in additions later on, and even repurpose the board entirely if I need to (possibly by cutting a few traces).
PCBWay does a minimum of 5 boards per order, so I can populate one with nice headers everywhere to finish up my prototyping work, and then use another to make a tidy final version. I'm submitting my order today, and am excited about when I'll get a package in return! 🤞🙂
----------

You know the feeling, right? You've ordered something online, and the minute you click "Confirm" you're antsily waiting by the door for the postman to arrive. That, at least, is me.

I am rather impressed by the detailed progress tracking PCBWay make available through their web site. Each of those items are clickable and take you to a video walkthrough of that particular manufacturing step. Taken together, it's pretty much a rather educational "How It's Made" episode.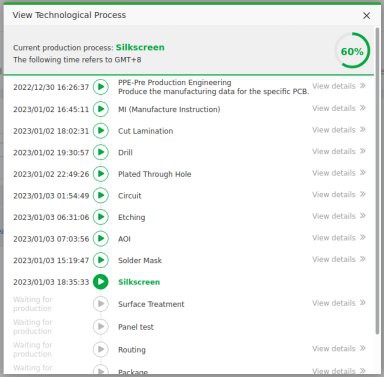 I placed this order on the 30th of December. It's now January 9th, and I just had a visit from the postman!

The five boards were shrinkwrapped onto a sheet of bubble wrap, which I've never seen before. I can't wait to transplant my Teensy onto this shiny thing!