Sorry, that title was clickbait. The design process is iterative, so of course I have improvement opportunities.

This is the primary view pf the chassis, it's pretty simple straight forward.
On the left hand wall, you can see a black spot where I was sloppy with the soldering iron while installing the heat-set screw inserts. /SHAME
It may be an improvement if I push the side walls out about 4 mm. As-is, my hands brush against the walls more often than I'd like. This would add a bit of volume to the chassis, but keeping things small is just a goal. It must not compromise functionality or comfort.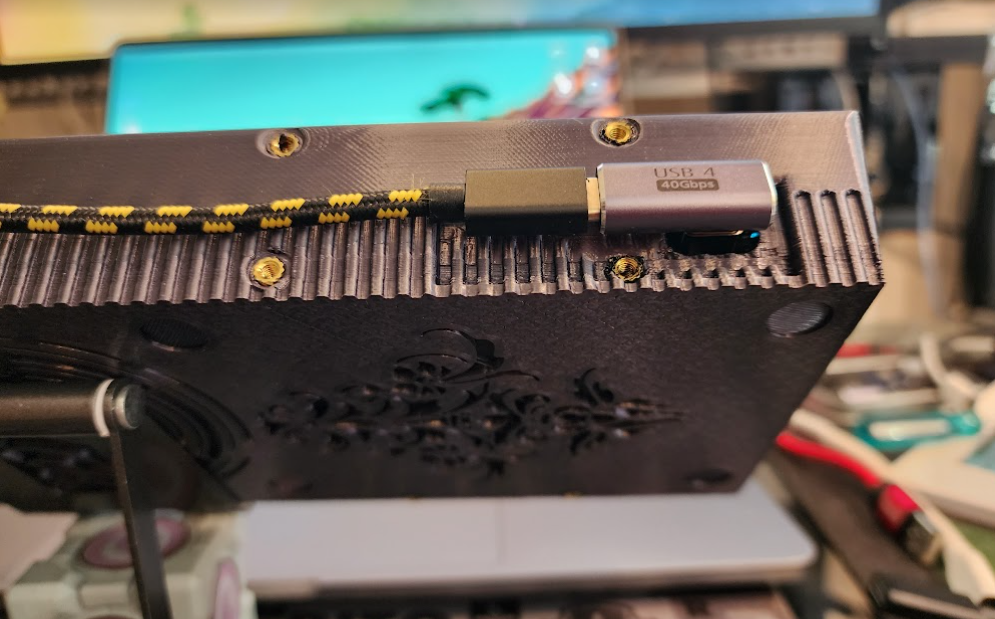 This is the view of the port connector on the rear of the chassis.
Still leaving a 1mm gap, there's 2.3 mm extra space below the USB-C Connector on the keyboard, and 1.9mm extra space to the left and right, so there's one opportunity to clean this up
The detail elements (the vertical columns) lost detail at my printing resolution, but it's no big deal. Lesson learned: don't bother to create sub-mm artful flourishes.
The Right Angle connector rests a lot higher than I expected, and actually protrudes farther than I expected as well. 

2.63 mm above the chassis on the top

3.84 mm above the chassis on the bottom.

This connection should be covered, and the cable should be secured, so I don't think this extra space will contribute to a situation that damages the keyboard connector port, but this makes the whole cutout a bit sloppy and possibly unnecessary. 
Here's the bottom of the Chassis:
Looking just about perfect!
You can see how the Hilbert Curve infill pattern adds both complexity and consistency to the feature.
I added 2 pairs of peripheral mounting points to the front of the chassis. I was concerned that they were too far forward, and would both be visible to the user, and that the 4mm of vertical space needed to house the heat-set inserts would interfere with the keyboard module positioning, but it looks like my initial modelling was accurate, and there is even a little wiggle room over them.
It may still be wise to push them back a little and create a recess for the screw holes, but that would create another obstacle that I need to work around if I get a steel plate cut.