General presentation:
Short video (8 seconds, to illustrate our mosquito net):
Longer video (4:25min) to explain the project: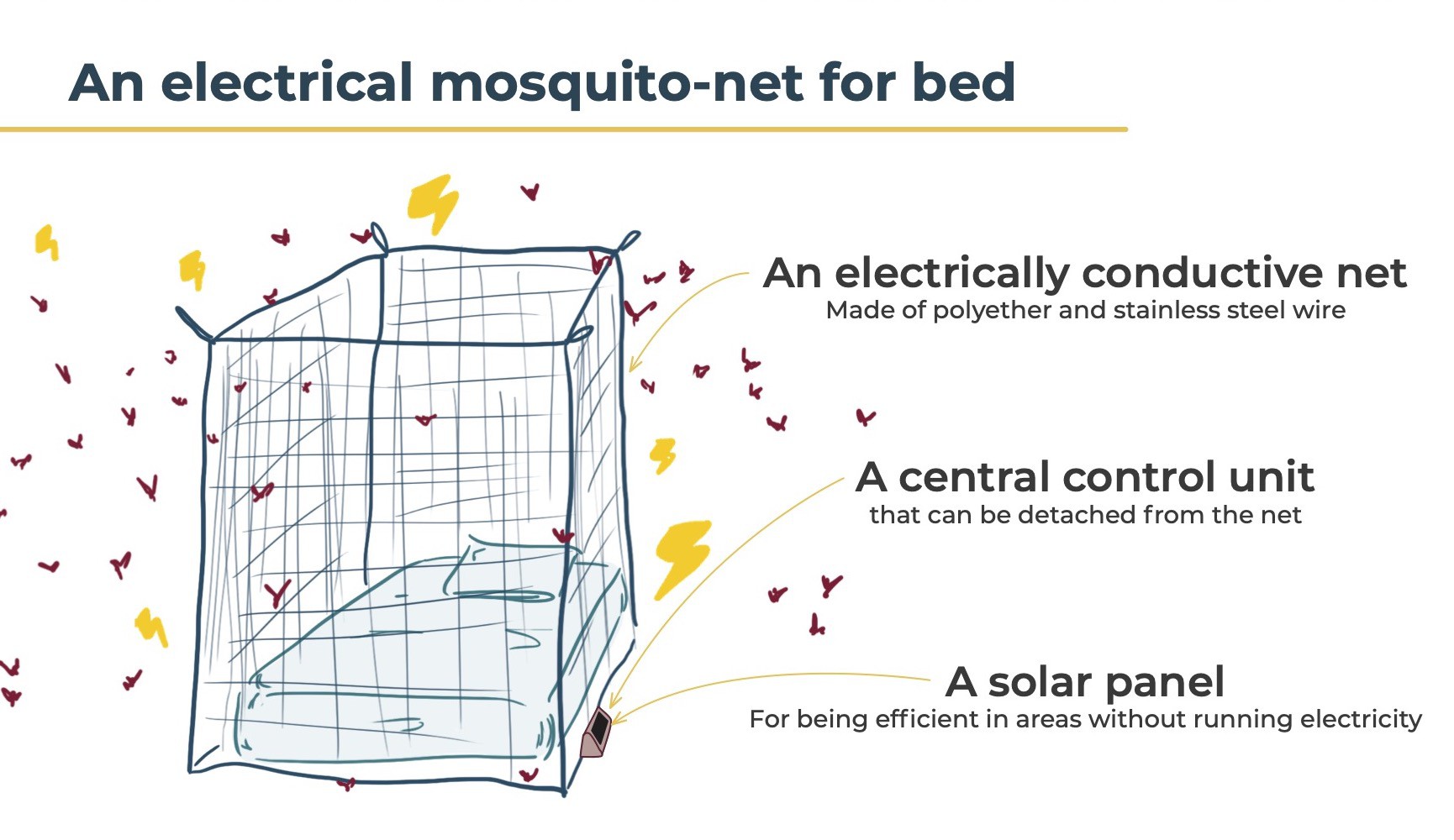 Our mosquito net is composed by 3 main elements: an electrically conductive net, a centrale control unit and a solar panel. This one allows the utilization of the in areas without running electricity and is couple with a USB-C plug for areas with it. The net can be separated from the electrical unit in order to being washed. 

---
Introduction
Mosquito borne diseases kill almost 1 million people each year in the world, and impacts the socio-economic development of the affected countries.  

For some of these diseases, there is no vaccine or effective treatment. The most efficient way is then vector control.
Insecticide Treated Nets (ITN) represent a solution with the highest level of evidence and recommendation to prevent malaria and aborvirosis (dengue, yellow fever, zika…). It offers individual protection (for people sleeping under the net) and also community protection: the nets kill the mosquitoes, so it reduces the number of mosquitoes in the area.

However, mosquitoes develop resistance to these pesticides. 29 countries have reported resistance to the 4 most commonly used classes of insecticides.
Moreover, these insecticides are toxic for humans (especially for the neurodevelopment of children) and for the environment (killing pollinating insects).
For these reasons, it becomes necessary to find new tools and strategies for vector control.

Electrocuting mosquitoes would permit to kill the mosquitoes, so it confers an individual and collective protection, without toxicity and with no risk of resistance.
---
Methods
Mosquito electrocution
We have to develop a grid which electrocute the mosquito when it lands on. The insect doesn't need to touch "perfectly" two electrodes: in fact, the mosquito modifies the disruptive field of the grid, generating an electric arc, which burns the insect.  
To determine which voltage and current is needed to kill mosquitoes, we place in a plastic transparent box 100 mosquitoes. On one side, plastic is removed and replaced by the electrified net. Then, we turn on the power supply, with a fixed voltage and a fixed maximum current. We leave the mosquitoes inside during 20 minutes, and then we put them in an observation cage. It isn't possible to say at this moment how much mosquitoes are dead, because some of them are just "KO" but not dead. The following days, we count the dead mosquitoes. We repeat this experiment for different values of voltage and current.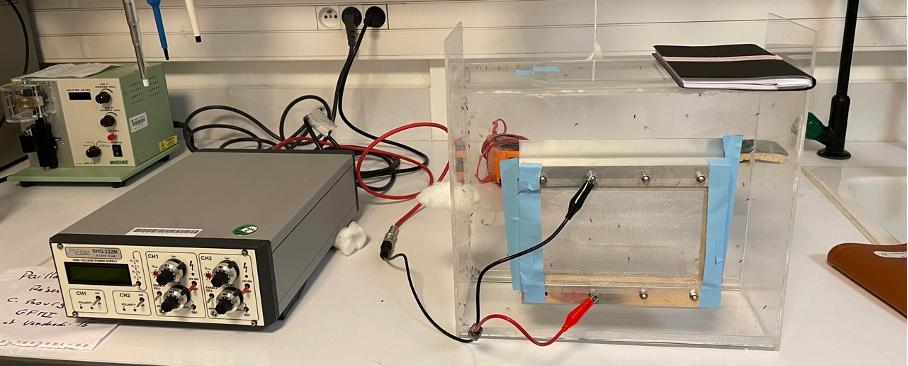 Power supply
This device must be able to be used in every place of the world, without running electricity. That's why it must be able to work with a solar panel, which charges a li-ion battery.
Li-ion battery has a nominative voltage of 3.7V. We need 1500V to electrocute mosquitoes (see the result section). We have to increase the voltage from 3.7V to 1500V.
To achieve it, we use a flyback converter that we have designed. The PWM signal is given by an Arduino uno board. In final version, Arduino board will be by an implemented micro-controller also used for capacitive sensing.
The transformer had been made by a Chinese company, customed for our need. We asked for 1:450 turn ratio, 22µH primary inductance and 30kHz nominal frequency.


Electrified net
To be electrocuted, the mosquito must make the connection between two electrodes of opposite polarity. Therefore, we need to weave a net with 2 conductive grids and non-conductive wires.  
We called the architecture of the net "double interdigitated comb".
For non-conductive wires, we use polyester, which is the usual thread for mosquito-net. For conductive ones, we use stainless steel, which are more cost-effective and much stronger than aluminum wires.  
It is not possible to weave this architecture with...
Read more »