---



Origin of this project

This is the origin of this project, the illustration of my idea sheet, drew in 1994.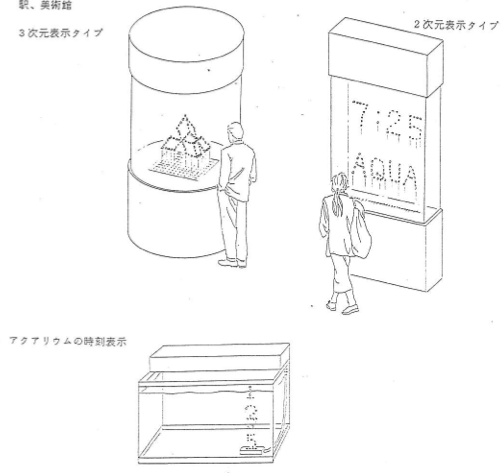 At that time, I didn't have the skills or the time to realize these ideas.
From around 2015, I started making things using electronic work and digital fabrications.
In 2019, I found a simple and cheap solenoid valve on an EC site, and started considering its realization.
I completed version 1 of Glowing Air-Bubble Clock, which can display characters one by one in water. In version 2, the liquid was changed from water to glycerin to improve display quality
In version 3, four characters can be displayed simultaneously, and an FFT display mode that responds to environmental sounds in real time has been added.
And with this work, which corresponds to version 4, it has finally become possible to display 3D shapes.
It took a while, and the scale was a little small, but in the 29th year of the concept, I have realized all the basic ideas I envisioned at the time.
---
System Configuration
The basic system configuration of this series is similar, but the number of nozzles in this version 4 is eight times that of version 2, and is arranged in a two-dimensional, 8x8.

ESP32 controls the following. The air bubble ejection timing is adjusted based on the measured value of the thermo sensor built int the Real Time Clock module (RTC).

64 solenoid valves
64 serial RGB LEDs (WS2813)
Real Time Clock module (

DS3231)

oled display (0.91"  128x32) 
Start up a WiFi access point, receive display character strings and operation parameter change inputs via browsers such as smartphones, and reflect them in operations 
Display content titles, etc. on M5stack using ESP-NOW communication.
- Body size : W220mm x D395mm x H369mm     + air-pump + power-supply

- Body parts : made up of laser-cut MDF and acrylic.
- Liquid : 99% or more pure glycerin in the transparent acrylic container (W190mm x D190mm x H290mm).
- Air : supplied by a home aquarium air-pump.

- Power : supplied by a DC5V x 14A power supply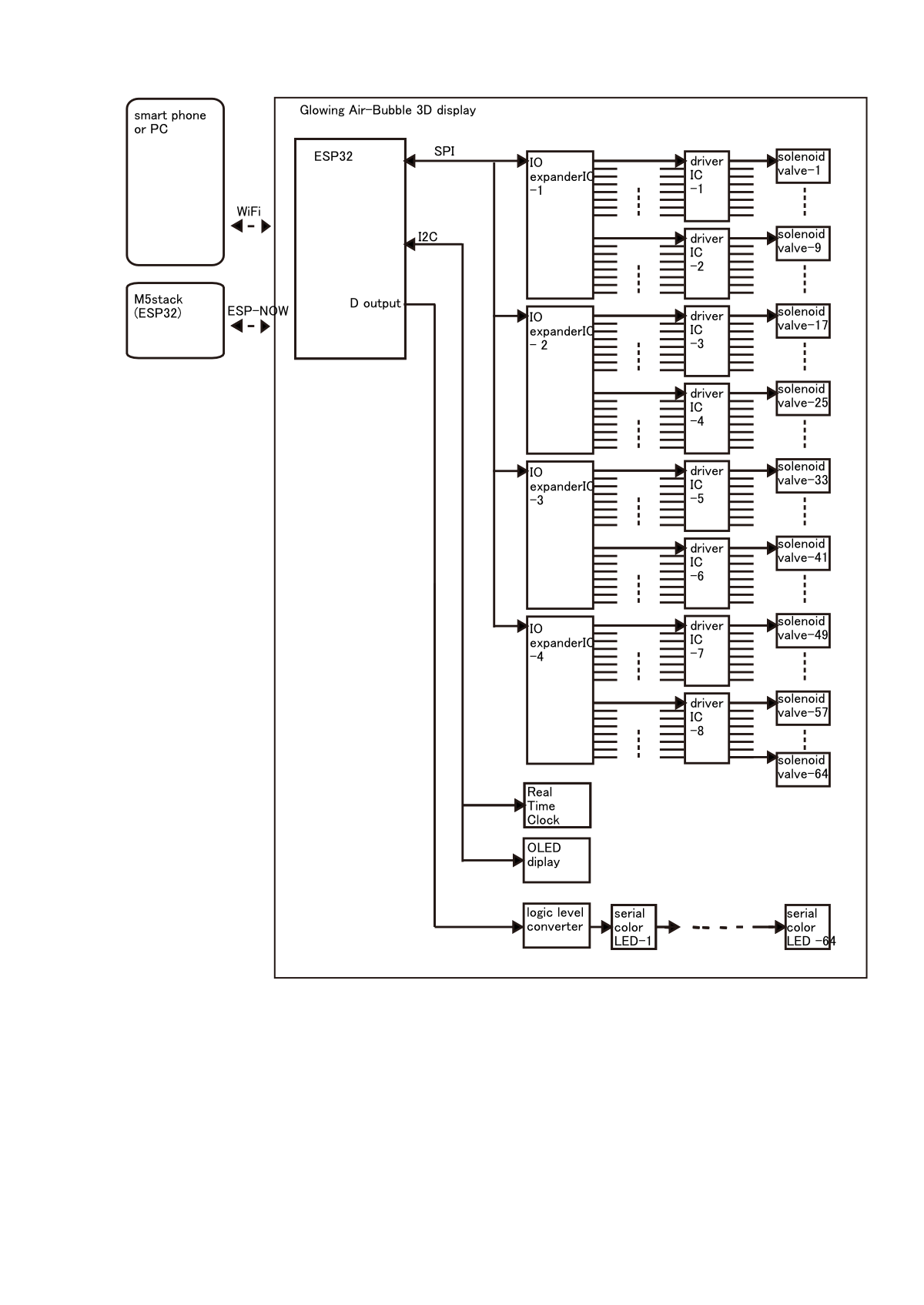 ---


Exhibition
Glowing Air-Bubble 3D display was exhibited at 
If you haven't seen it, check out the video below.
I definitely want people to see this 3D display in real, so I hope there will be more opportunities for exhibitions in the future.
---
Demonstration
 - Highlight Contents edition
as of NADYA Art Science Museum 2022 and Ogaki Mini Maker Faire 2022
 - Full Contents edition
as of NADYA Art Science Museum 2022 and Ogaki Mini Maker Faire 2022
Watching this video on the YouTube.com site , you can choose to view from 38 titles of 3D-shape contents.
Let me know which content you liked.
---
Initial Test run with water
I have added a video of the first test run with water before using glycerine.
Before using glycerine, this test was done using water to check if air bubbles are being emitted from all nozzles.
Note:
Since it is the stage of the initial operation test, the bubble size for each nozzle is not adjusted.
The kinematic viscosity of water is about 1/1000 that of glycerin, and the rising speed of air-bubble is proportional. If the liquid depth is deepened from the current 25cm to 100cm, it may be better to recognize the display contents.  :)