This is a experiment as a result of previews log entry. I think opening open doors is yyy for the sake of it ok. But it's open. 
Node-RED is not 100% fit to the job but 99.9% there. So idea is to move this logic arranged with some help of custom nodes to Flows. Connecting outputs with inputs. Is what all can do. For now is at 0.0.5 version it it I have nodes in early stages of phantom-to-battery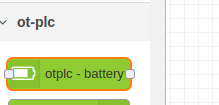 This tiny thing is Wow.
Read more in depth description what is going on whit it. link... to working example
Or Teaser